Scrutiny surprises NY's Isiah Thomas
AMERICAN BASKETBALL When you become manager of the Yankees, coach the Giants or president of the Knicks, you've essentially agreed to walk against traffic
Isiah Thomas admitted he was caught off guard by the fusillade of criticism he received for his maneuvers at last month's trade deadline.
I was surprised Thomas was surprised. How many times had he come to Madison Square Garden during his 13-year career with Detroit? You would think he would have been used to the scrutiny of the omnipresent news media.
On second thought, it is one thing to breeze in and out of New York, and it is something else to work here and be in control of a team that sophisticated New Yorkers cherish: the Knicks.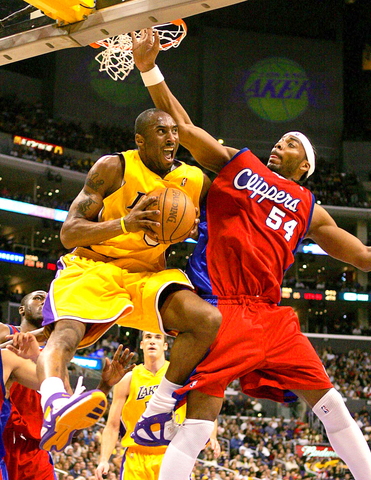 Kobe Bryant, left, of the Lakers, drives to the basket past Chris Wilcox of the Clippers in Los Angeles on Tuesday.
PHOTO: AP
He was called stupid; one of the players he acquired was called a bum. There were predictions that after only 14 months as president of basketball operations, Thomas was in trouble.
"I was surprised because I didn't understand where it came from and why it came," Thomas said on Tuesday. "You'd think that I had traded Patrick Ewing, or somebody."
These were no blockbuster deals. The Knicks traded Nazr Mohammed for Malik Rose, Maurice Taylor and two first-round draft picks. They traded Vin Baker, who was not playing; Moochie Norris, who was not playing; and Jamison Brewer, who was not playing.
From the reaction of the critics, you would think the Knicks had players other teams wanted and simply chose to hoard them. The problem these last few seasons is that the Knicks have plenty of nothing.
Now they have a little something. After Tuesday night's 93-83 victory over the Wizards, the team is 5-1 since the trade deadline. It has also won seven straight at home.
"When I came here last December, my job was to fix the toughest job in sports," Thomas said. "Our fans who come to the games every single night understand what's going on in our building and they see the difference."
Thomas may not be doing as great a job as he thinks, but he is certainly not doing it as miserably as critics suggest.
He took the job in December 2003 after being fired as head coach of the Indiana Pacers by Larry Bird. His selection was immediately criticized. The criticism was so scathing that James L. Dolan, the chairman of Madison Square Garden, asked Thomas if he was up to the task.
"He said, `Can you do this?'" Thomas said. "I said, `Yeah.' The only thing I want is time to fix it, because it's going to take a long time to fix it, because it took a long time for you to get here, so don't think it's going to magically turn around."
Dolan gave Thomas a seven-year deal. Given the events unfolding at Madison Square Garden, that is an eternity. What the Knicks, Madison Square Garden and even Dolan will look like in seven years is anyone's guess. Dolan is battling powerful forces -- including his father -- over a series of issues that include Cablevision, a possible West Side stadium and Time Warner, which is currently not showing Knicks games.
"He's done a good job of insulating the team from what is going on with the cable company; those are entirely different things," Thomas said of Dolan. "The Knicks are one thing, what happens with cable is another. Although they own it all, it hasn't affected our business at all."
Jason Richardson scored 22 points and Mike Dunleavy added 21 Tuesday to lead the Golden State Warriors to just their eighth road win of the season with a 104-85 victory over the tired Philadelphia 76ers.
Troy Murphy scored 17 points and Mickael Pietrus had 14 for the Warriors, who are in last place in the Pacific Division.
"We kept making shots, getting stops and never really let them go on a big run to let the crowd get into it," Dunleavy said.
Allen Iverson led Philadelphia with 33 points on 10-for-25 shooting, but had 12 turnovers. The Sixers played their sixth game in eight days, with all the games played as back-to-backs. They went 3-3 during the stretch.
For the third straight game, Chris Webber was basically a non-factor for the Sixers. The five-time All-Star acquired in a stunning trade deadline deal again sat out long stretches of minutes, including the last 4:38 of the third quarter.
"This is Philadelphia, the toughest place in the world," said Iverson. "I told him what to expect. I let him know they would expect him to be like the Chris Webber he was."
Webber finished with eight points on 3-for-12 shooting in 30 minutes.
Cavaliers 111, Magic 92
In Cleveland, LeBron James scored 23 points and Drew Gooden had 23 in his return to Cleveland's starting lineup as the Cavaliers beat Orlando to snap a six-game losing streak.
Cheered on by music star Usher, one of their new owners, the Cavaliers won for the first time since Feb. 23.
James added eight assists and seven rebounds in 40 minutes. Gooden finished 10-of-13 from the field and added five rebounds and five assists.
Zydrunas Ilgauskas added 18 points and Jeff McInnis 13 and eight assists for Cleveland.
Steve Francis scored 21 points and rookie Jameer Nelson had 17 for Orlando, which had its win streak stopped at three.
Knicks 93, Wizards 83
In New York, improving to 5-1 since the trade deadline, New York received 19 points from Jamal Crawford and solid all-around contributions from several players to defeat Washington.
Crawford also had six assists and six rebounds, Kurt Thomas added 15 points, 11 rebounds and four assists, and Stephon Marbury had 14 points, 10 assists and four rebounds.
The Knicks are now eight games under .500, the closest they've been to the break-even point since Jan. 31.
The Wizards, led by 27 points from Larry Hughes and 23 from Gilbert Arenas, were without All-star Antawn Jamison for the first time all season. Jamison, whose streak of 386 consecutive games came to an end, has tendinitis in his right knee.
Spurs 90, Nets 74
In San Antonio, Tim Duncan made a quick return to the Spurs lineup after leaving his last game with an injury, and had 19 points and eight rebounds to lead San Antonio past New Jersey.
Rockets 97, SuperSonics 95
In Seattle, Tracy McGrady had 35 points and Yao Ming added 16 of his 22 points in the second half to lead Houston to a dramatic win over Seattle.
Clippers 110, Lakers 101
In Los Angeles, Corey Maggette scored 30 points, Elton Brand had 22 points and 15 rebounds, and the Los Angeles Clippers beat the Los Angeles Lakers despite Kobe Bryant's 41 points. Bryant shot 12-of-21 from the floor and made all 16 of his foul shots.
Adam Morrison scored a career-high 30 points as the 11th-ranked Gonzaga Bulldogs won their seventh West Coast Conference Tournament title with an 80-67 victory over the Gaels of Saint Mary's-CA at the Leavey Center on Monday.
Morrison went 12-of-21 from the floor and added five rebounds for Gonzaga (25-4,) which has played in eight straight WCC tourney finals -- winning six.
The Bulldogs, which triumphed over SMC in the championship game last year, earned an automatic berth into the upcoming NCAA Tournament.
Ronny Turiaf added 18 points, 14 boards and four blocked shots, while Derek Raivio recorded 16 points for the Zags, who have won 12 straight games.
Leading the second-seeded Gaels (25-8,) who could still earn an at-large bid to the NCAA Tournament, was Daniel Kickert with 27 points on 8-of-17 shooting, including 7-of-13 from three-point distance.
Paul Marigney added 20 points and 11 rebounds in the loss.
The Zags zipped to a 5-0 lead before Kickert hit three consecutive three-pointers to give SMC a 9-5 advantage en route to a 23-14 lead 7 1/2 minutes into the first half.
Gonzaga closed the first half on a 13-6 run and went into the locker room trailing 35-34.
The Zags came out of the break on a 17-5 run to take a 51-40 lead with less than 10 minutes remaining in the game.
SMC trimmed the deficit to six points, but that would be as close as the Gaels would come.
Comments will be moderated. Keep comments relevant to the article. Remarks containing abusive and obscene language, personal attacks of any kind or promotion will be removed and the user banned. Final decision will be at the discretion of the Taipei Times.