Michigan lucky to get past Purdue
For the second consecutive week, the sold-out crowd at Ross-Ade Stadium stood silently late in the game, waiting for word from the officials. \nFor the second consecutive week, those officials had bad news for the Purdue fans, as the Boilermakers fumbled away another chance for a critical Big Ten victory. \nMichigan, ranked 13th, beat No. 12 Purdue, 16-14, sealing the victory Saturday when Boilermakers receiver Dorien Bryant fumbled with 2 minutes 3 seconds remaining and his team driving for chance at the winning score. \nBryant had dashed to the Purdue 41-yard line after catching a 25-yard pass from quarterback Kyle Orton. But Michigan cornerback Markus Curry hit Bryant low, setting up a crushing high hit by safety Ernest Shazor that jarred the ball loose. Cornerback Leon Hall pounced on the ball just before it went out of bounds, in front of a jubilant Michigan sideline. \nLast week, in a 20-17 loss to Wisconsin, Orton fumbled late in the game, and the Badgers returned the loose ball for the winning touchdown. \nThe script varied slightly Saturday, but for Purdue (5-2, 2-2), the results were painfully similar. Michigan (7-1, 5-0) took the lead on a 35-yard field goal by Garrett Rivas with 2:45 remaining, capping a solid drive led by the freshman quarterback Chad Henne. \nBut Michigan's true star of the day was another freshman, Michael Hart, who carried 33 times for 206 yards. \nIn a year when the freshman Adrian Peterson of Oklahoma has emerged as the best running back in the country, Hart may be the second best. Both are true freshman. None of Hart's 33 carries were for negative yardage, and he used a rugged, sturdy style that Purdue could not stop. \nWhile Hart used the game as a platform to shine, Orton never looked comfortable. \nHis passes lacked zip. One fluttered into an interception. Orton moved gingerly after getting a hip pointer in the first quarter. \nHe did not complete a pass to his favorite target, Taylor Stubblefield, until just over two minutes remained in the game. \nStubblefield, the NCAA's leader in touchdown receptions, came in with a streak of 41 consecutive games with a catch. But Michigan cornerback Marlin Jackson shadowed Stubblefield most of the day, making him virtually disappear. \nOrton finished the day completing 14 of 30 passes for 213 yards; he was sacked three times. Though hobbled, he nearly led his team to victory thanks to smart play. \nOrton gave Purdue a 14-10 lead late in the third quarter when he noticed that Michigan lined up linebacker Scott McClintock on tailback Brandon Jones. Split wide to the left in a five-receiver set, Jones sped past McClintock, and Orton lobbed him a pass that resulted in a 63-yard touchdown. \nWith that strike, Orton appeared to have rescued Purdue's sputtering offense. \nBut in the end, Michigan overcame its offensive problems and took the lead. The Wolverines had 10 more first downs than Purdue and outgained the Boilermakers, 381 yards to 236. \nHenne was 22 of 39 for 190 yards with a touchdown and an interception. \nBut Michigan missed a field goal and had a fourth-quarter field-goal attempt blocked by Purdue's Bobby Iwuchukwu, his seventh career blocked kick. \nThe Big Ten is experimenting with the instant replay this season, and it was fitting that the game's defining play was reviewed. \nThe officials figured prominently in the first half as well, which Michigan led by 10-7, overturning two key plays. \nThe first came on Michigan's first-half touchdown, as officials ruled Hart down on the 1-yard line after catching a screen pass from Henne. \nBut after the review, the officials correctly gave the Wolverines the touchdown. \nAt the end of the first half, Michigan appeared to take possession after defensive lineman LaMarr Woodley sacked Orton and forced a fumble. \nAfter the review, officials ruled that Orton's knee had touched the ground. That allowed Orton to lead Purdue into field-goal range, but Michigan's Patrick Massey blocked Ben Jones's 44-yard attempt. \nAfter last week's loss to Wisconsin, the Purdue coach Joe Tiller openly questioned the way that Big Ten officials called pass interference. \nWhether his comments resonated or not, Purdue drew interference calls on Michigan's star cornerback, Marlin Jackson, on its first two drives. \nThe first one kept Purdue's scoring drive alive, coming on a third-and-8 play deep in Michigan territory. Five plays later, Jerod Void rushed in from 1-yard to give Purdue a 7-0 lead. \nThat was all the scoring Purdue could muster in the half, however. \nNo. 6 Wisconsin 24, Northwestern 12 \nIn Madison, Wisconsin, Anthony Davis rushed for a pair of touchdowns and No. 6 Wisconsin beat Northwestern with star defensive end Erasmus James and his pass-rushing partner Jonathan Welsh on the sideline. \nBoth were out with ankle injuries but that didn't prevent the Badgers from going 8-0 for just the fourth time in the program's 115-year history. \nThe Badgers (5-0 Big Ten) turned to subs Joe Monty, Justin Ostrowski and Jamal Cooper to close off the edges and prevent Northwestern's mobile quarterback Brett Basanez from hurting them with his trademark rollouts and bootlegs. \nBoston College 24, \nNo. 24 Notre Dame 23 \nIn South Bend, Indiana, Paul Peterson threw a 30-yard touchdown pass to Tony Gonzalez with 54 seconds left to give Boston College its fourth straight victory over Notre Dame. \nA 55-yard field goal attempt by Notre Dame kicker D.J. Fitzpatrick fell well short as time expired. \nHarvard 39, Princeton 14 \nHarvard continued its unbeaten season with Clifton Dawson running for three touchdowns, and Ryan Fitzpatrick leading a potent passing attack, Harvard rolled to a 39-14 victory at Princeton Stadium. It was the ninth consecutive victory for Harvard against Princeton, as the Crimson (6-0, 3-0 Ivy League) remained tied for the league lead with Penn, which defeated Yale. The Quakers and the Crimson will play Nov. 13 at Penn. \nDawson, a star sophomore running back from Scarborough, Ontario, ran for 201 yards on 31 carries, while setting Harvard's single-season touchdown record. With 14 touchdowns this season, Dawson broke the record of 13 set by Chris Menick in 1997.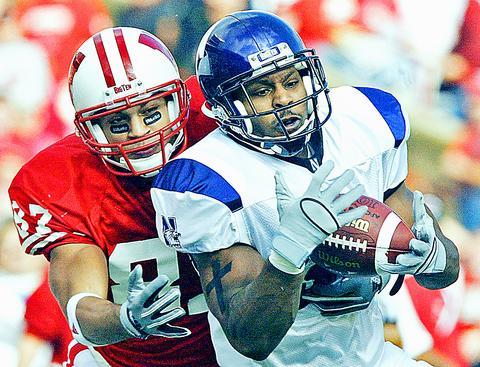 Northwestern's Marvin Ward, right, intercepts a pass in front of Wisconsin receiver Darrin Charles during the first half in Madison, Wisconsin on Saturday. UW won 24-12.
PHOTO: AP
Comments will be moderated. Keep comments relevant to the article. Remarks containing abusive and obscene language, personal attacks of any kind or promotion will be removed and the user banned. Final decision will be at the discretion of the Taipei Times.