UW upsets Boilermakers
College Football \nScott Starks returned a fumble by Purdue quarterback Kyle Orton 40 yards for a touchdown in the closing minutes to lift 10th-ranked Wisconsin to a 20-17 win over No. 5 Purdue on Saturday. \nThe Boilermakers (5-1, 2-1 Big Ten) were clinging to a 17-14 lead late in the game when Orton ran with the ball and lunged for a first down. Starks hit Orton low and safety Robert Brooks hit him high, forcing the fumble. \nStarks scooped up the loose ball and sprinted to the end zone with 2:36 to play, capping a stunning comeback for the Badgers (7-0, 4-0), who have started the season with seven straight wins for just the second time since 1912. \nThe Boilermakers came into the game averaging more than 500 yards and 41.8 points a game, but Orton and company were all but shut down on Saturday. They had yet to face a defense as tough as Wisconsin's, which entered the contest leading the nation in scoring defense with 6.5 points a game. \nOrton, one of the front-runners for the Heisman Trophy, was 25-for-45 for 235 yards and a touchdown. But he had three turnovers -- he was picked off once and fumbled twice in critical situations. \nNo. 1 USC 45, No. 15 Arizona St. 7 \nIn Los Angeles, top-ranked USC took command early against Arizona State and routed the 15th-ranked Sun Devils. \nASU (5-1, 2-1 Pac-10) was the third straight unbeaten opponent to challenge USC (6-0, 3-0). Stanford and Cal extended the Trojans, losing by a combined nine points. But the Sun Devils presented no such challenge, trailing 42-7 at halftime. \nIn the first half, Matt Leinart completed 11 of 16 passes for 193 yards and four touchdowns and ran for another TD. He finished 13-of-24 for 224 yards with no interceptions and was sacked once, before sitting out the fourth quarter. \nFreshman Dwayne Jarrett, filling in for the injured Steve Smith, made four receptions for 121 yards and three TDs in the first half and five catches for 139 yards overall. \nASU's Andrew Walter completed 19 of 34 passes for 181 yards and no TDs with two interceptions, one leading to a touchdown. \nNo. 2 Oklahoma 31, Kansas St. 21 \nIn Manhattan, Kansas, Jason White threw for four touchdowns, two each to Travis Wilson and Mark Clayton, and Oklahoma overcame its own mistakes to beat Kansas State. \nFreshman star Adrian Peterson added 130 yards rushing -- all but 26 of those after the half -- and helped the Sooners (6-0, 3-0 Big 12) control the tempo in the fourth quarter. He is the only Oklahoma freshman to go over 100 yards in each of his first six games. \nKansas State, which beat Oklahoma 35-7 for the Big 12 title a year ago, led three times but dropped to 2-4 overall and 0-3 in conference play for the first time since 2001. \nNo. 4 Auburn 38, Arkansas 20 \nIn Auburn, Alabama, Jason Campbell passed for a career-high 297 yards and three touchdowns to lead Auburn. \nWith Campbell completing 17 of 19 passes -- all in the first three quarters -- the Tigers (7-0, 4-0 SEC) won their ninth straight game and lived up to their highest ranking in 10 years. \nAuburn scored on its first five possessions for a 30-0 lead against a team that had given the Tigers fits in recent years. Devin Aromashodu had four catches for a career-high 102 yards and one TD. \nNo. 7 Florida St. 36, \nNo. 6 Virginia 3 \nIn Tallahassee, Florida, Wyatt Sexton completed 20 of 26 passes for 275 yards and a touchdown to help Florida State rout Virginia. \nSexton has completed 66.1 percent of his passes for 846 yards and five touchdowns since replacing Chris Rix as the starter last month. \nLorenzo Booker added 123 yards rushing and a pair of touchdown runs, and his defensive teammates limited Virginia to 20 yards rushing. \nFlorida State (5-1, 3-1 Atlantic Coast Conference) snapped a string of six straight losses against top-10 opponents, while Virginia (5-1, 2-1) missed an opportunity for a road win against a top-10 team for the first time. \nNo. 8 California 45, UCLA 28 \nIn Berkeley, California, Geoff McArthur caught two of Aaron Rodgers' career-high four touchdown passes, and California racked up 550 total yards. \nJ.J. Arrington ran for a career-best 205 yards and two scores to help the Golden Bears (4-1, 2-1 Pac-10) rebound from last week's heartbreaking loss to top-ranked Southern California. Arrington became the first running back in Cal history with five straight 100-yard games, breaking Chuck Muncie's record. \nIn Cal's first home game in five weeks, Rodgers was 19-of-29 for 260 yards -- and McArthur finished with nine receptions for 163 yards. \nDrew Olson also threw four touchdown passes for the Bruins (4-2, 2-1). Olson finished 20-of-36 for a career-best 299 yards for UCLA. \nNo. 14 Michigan 30, Illinois 19 \nIn Champaign, Illinois, Michael Hart rushed for 234 yards and No. 14 Michigan rallied from a halftime deficit, sending the Illini to their 12th consecutive conference loss. \nThe Wolverines rushed 39 times and outscored Illinois 20-2 in the second half. Michigan (6-1, 4-0 Big Ten) won its fifth straight. The Illini haven't won in the conference since the last game of the 2002 season.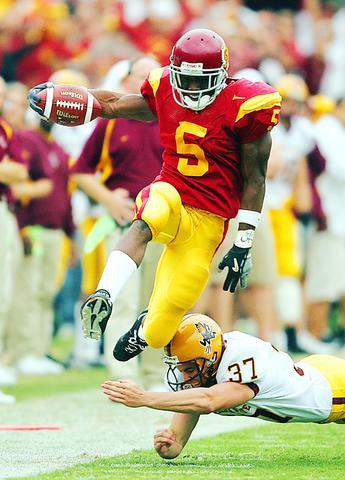 Southern California's Reggie Bush, top, leaps over Arizona State's Chris McDonald during a 41-yard punt return in the second quarter in Los Angles on Saturday.
PHOTO: AP
Comments will be moderated. Keep comments relevant to the article. Remarks containing abusive and obscene language, personal attacks of any kind or promotion will be removed and the user banned. Final decision will be at the discretion of the Taipei Times.