Els draws near to match-play record
PROFESSIONAL GOLF Ernie Els defeated Scott Drummond 2 and 1 in a first-round match early Friday, and he then slipped by Angel Cabrera in a quarterfinal 1-up
Ernie Els scored tight victories over Scott Drummond and Angel Cabrera Friday to stay on course for a record sixth World Match Play title. \nEls defeated Drummond 2 and 1 in a first-round match that was completed early Friday. He then slipped by Cabrera in a quarterfinal 1-up. \nIn two other quarterfinals completed on Friday, Padraig Harrington edged Thomas Levet 1-up, and Lee Westwood defeated Retief Goosen 2 and 1. \nThe fourth quarterfinal was called by darkness with Miguel Angel Jimenez leading Bernhard Langer 3-up after 28 holes in the 36-hole match. \nSaturday's semifinals at Wentworth just outside London have Els against Harrington and Jimenez or Langer facing Westwood. \nEls needed just one hole to finish off Drummond in the first-round match suspended by darkness Thursday after a 2 1/2-hour rain delay. \nHe trailed by one stroke after 18 against Cabrera, but forced his way back and won 1-up with a birdie at the par-5 18th. \nEls, ranked No. 2 in the world, drove poorly in the first 18 against Cabrera, highlighted when he went out of bounds twice at the long 17th. But it got better on the second 18. \n"This afternoon I started swinging like I wanted to. I've been working on something in my takeaway, snatching at it a little bit. Only now is it starting to click in with my body," Els said. \nThe day's big upset came in the first-round match, when Langer ousted the world's top-ranked player Vijay Singh on the first playoff hole -- the 37th. \nLanger said he victory over Singh reminded him of "that old Bible story when little David beat Goliath." \n"He's No. 1 in the world and I'm somewhere in the mid-70s. He was the hot favorite." \nLanger birdied the first extra hole, the 571-yard 17th, by reaching the green with a drive and 3-wood and then two-putting from 8m. Singh missed the green and his third shot finished 6m away. \nIn beating Ryder Cup teammate Levet, Harrington sustained an injury when his right hand hit a tree on the follow-through from a shot in the rough on the 27th hole. \nHe had it bandaged and was unable to swing freely for the rest of his round. \n"I thought I had loads of room. How I got my hand to the tree I don't know," Harrington said. \nEarlier at the third hole, Harrington broke his 4-iron when it struck a tree on the follow-through. It was repaired and returned to him at the 7th. \nAll four Americans in the field, and Canada's Mike Weir, lost in the first round. \nThe first-round losers all left with ?60,000. Losing quarterfinalists won ?80,000 and the winner Sunday receives ?1 million (US$1.8 million), billed as the biggest prize in world golf. \nChrysler Classic \nBrent Geiberger used a heat wrap to quell his ailing hip and shot a bogey-free 67 Friday to give him a one-shot lead after the second round of the Chrysler Classic of Greensboro \nHis 11-under 133 was one shot better than 2001 PGA champion David Toms (65), Tom Pernice Jr. (68) and journeyman Jeff Brehaut (66). \n"It's only Friday," Geiberger said. "It's one of those things you just don't get too caught up in, especially with the holes coming in. You start thinking about other things, you can make a 6 or a 7 out here in a hurry." \nAt 144th on the US PGA Tour money list, he needs a good week to avoid returning to qualifying school for the first time since 1996. Geiberger's lone career victory came at Hartford in 1999 -- the only previous time he played in the last group on a weekend -- and injuries have hampered him the past two years. \nHis best finish of 2004 is a tie for 14th at the Texas Open, and a victory here would match the one his father, Al, earned in 1976. \n"I would like to win any of the tournaments he's won," Brent Geiberger said. "He's got a pretty good list. So any time you win it's special, but it's kind of neat to have won at a place your dad has." \nHe and the rest of the field faced much more difficult conditions Friday, particularly in the afternoon when the wind kicked up and made club selection a guessing game. Fortunately, an early morning shower left the greens soft and receptive. \nKelly joined first-round leader Jason Dufner (70), Joe Ogilvie (67), Tom Lehman (66) and Bo Van Pelt (69) in a group two shots back. Defending champion Shigeki Maruyama had a 70 and fell five shots back. \nDavis Love III, who redesigned the greens at Forest Oaks Country Club before last year's tournament, finished at even-par 144 and missed the cut by three shots. \nSamsung \nGrace Park is brimming with confidence. After opening the Samsung World Championship with a 10-under 62, she felt she might go just as low in the second round Friday. \nShe left a few birdie putts short, but finished with a 67 to open a four-shot lead over Shi Hyun Ahn and Karen Stupples in the 20-player event. \nAsked if she began the second day thinking she could score as low as she did the first, Park replied, "I told myself, `Why not?' I feel like I could birdie every hole on this course, the way I've been striking the ball and putting." \nPark was 15 under on the Big Horn Golf Club's Canyons Course. \n"It's always hard to follow a round like I had yesterday," she said. "I played solid today. I left a few good chances out there, but 5 under, I'll take that." \nPark had her lone bogey of the second round when her drive sailed into desert brush -- and an unplayable lie -- alongside the fairway on No. 7. After making the turn at 34, she shot a 33 on the back nine, including three straight birdies beginning at No. 12. \nShe finished with a scrambling par. Her drive went into the sandy soil off the fairway and the ball was slightly embedded next to a lip of grass, with a prickly pear cactus not giving her much room on her backswing. \nShe recovered with a shot onto the front of the green and two-putted. Later, she said the lie wasn't as bad as it looked. \nSBC Championship \nTom Kite birdied of five of seven holes to start the back nine and shot a 5-under 66 Friday to earn a share of the lead after the first round of the SBC Championship. \nKite had a birdie and a par to be even after the front nine, but rallied to tie with playing partner Tom Jenkins, Dave Stockton and James Mason. \nJim Thorpe and Mark McNulty were one shot back, while points leader Hale Irwin and 2002 champion Dana Quigley were in a group of 13 at 68 at the Oak Hills Country Club. \nDefending champion Craig Stadler, who trails Irwin by just one point for the Schwab Cup and its US$1 million purse, had four bogeys on the front nine and finished at 74. \nKite, a Texas native, is looking for his first-ever professional victory in his home state. Coming into the SBC Championship, the Austin resident had not won any of his 103 tournaments in Texas. \nAfter three pars, he bogeyed the par-4 4th but got the stroke back one hole later before finishing the front nine with four more pars.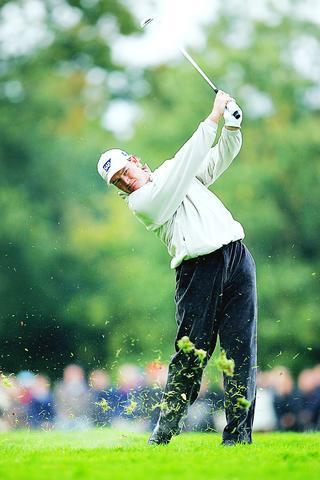 Ernie Els hits onto the 18th green during his match against Angel Cabrera in the World Match Play tournament at Wentworth Golf club, England, Friday. Els won the final hole to go through to the semifinal.
PHOTO: AP
Comments will be moderated. Keep comments relevant to the article. Remarks containing abusive and obscene language, personal attacks of any kind or promotion will be removed and the user banned. Final decision will be at the discretion of the Taipei Times.