Greece redoubles efforts after Euro 2004 victory
Teenagers ran through the streets waving Greek flags. Scooters and motorcycles zigzagged around them, honking horns in a raucous midnight celebration. Firework smoke obscured the view of the moon from the Acropolis.
The Olympics are a month away and Athenians finally -- after years of self doubt, worldwide criticism and clouds of construction dust -- are ready to party.
The nationwide celebration that followed Greece's shocking title in the European Championship earlier this month may have served as a taste of what's to come during the Aug. 13-29 Games.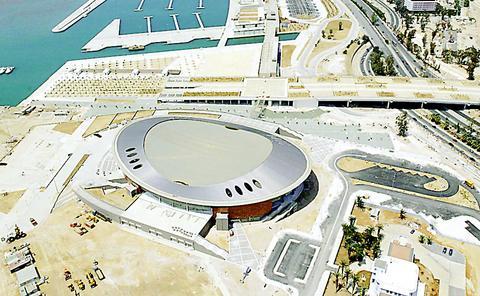 An aerial view of the Indoor Handball Hall at the unfinished Faliron sports complex in Athens, Greece is shown in this June 11, file photo.
PHOTO: AP
But it also seemed to lift the spirits of a city and nation that had grown collectively grumpy in the buildup to the Olympics. In a poll earlier this year found Greece to be the world's second-most pessimistic nation, behind Slovakia.
But the gloom seems to be lifting. Another survey, published Sunday, found that 85 percent of Greeks now support hosting the Olympics -- with nearly one-fifth of that group admitting they did not support the idea in the beginning.
Tired of constant international doubts about Athens' readiness for the games and frustrated with round-the-clock roadwork, Greeks welcomed the totally unexpected soccer title as a chance to raise a glass of ouzo and toast themselves.
"Until the Euro 2004 win, it didn't feel like there was going to be an Olympics here," says Jason Kazanis, a Greek-Australian who has been living in Athens since late May. "People are now saying, `It's our year, this is our chance to show the world what we can do.'"
Of course, not everything is ready. And Greece's worst blackout in more than a decade hit Athens and southern Greece on Monday, raising concerns about whether the lights will go out at the Olympics.
Roads are still being paved, seats are being installed in Olympic venues and landscaping has not begun around the butterfly-shaped Olympic stadium and other showpieces of the games.
And gaps remain in the US$1.2 billion security system. About 100 subcommand centers still have not been completed, and little time remains to test security networks at the main stadium complex -- where construction is still underway.
A taxi driver proudly points to a freshly repaved portion of Kifissias Avenue, the main road leading from downtown Athens to the Olympic stadium, only to burst out laughing a block later at the sight of a road crew fixing a pothole.
"That's the way it's been, all fixed one night and refixing it the next," he says. "That's the Greek way."
There's also the weather. It was 43? C on Sunday, and the power outage cut off air conditioning for up to four hours as temperatures pushed past 40? C. At one point, generators were pressed into service at Olympic venues.
July is traditionally the hottest month in Greece, with highs often topping 38? C. The Greek weather service said average highs in Athens during the Olympics should be about 32? C.
George Roussopoulos, an information technology consultant, quickly acknowledges Athens is not yet ready for the Olympics -- but says the soccer victory is giving Athenians a chance to believe they can pull it off.
"No one thought Greece would win the Euro and they did," he said, "so anything can happen."
The soccer title high-lighted the striking contrasts of Athens, a city that mixes classical with modern in a way perhaps unmatched by any other place.
Greek orthodox priests sit at sidewalk cafes. A new subway system and one of the world's most impressive airports lead visitors to chaotic downtown streets.
An Athens baker, hearing a visitor speaking English to his family, starts cursing in Greek about "Bush and Blair" and how Americans are ruining the world. Then he hands the children cookies and gives the visitor two free loaves of bread.
Vagelis Constantine, who sells gyros in the touristy Plaka district below the Acropolis, says the Athens Olympics will be in keeping with his nation's style.
"It might not be the most perfectly organized Olympics, but perfect is sometimes boring," he says. "It's going to be a Greek Olympics -- it's going to be totally unpredictable."
Comments will be moderated. Keep comments relevant to the article. Remarks containing abusive and obscene language, personal attacks of any kind or promotion will be removed and the user banned. Final decision will be at the discretion of the Taipei Times.