Phelps gets top spot on the US team
OLYMPIC TRIALS Ninteen-year-old Michael Phelps broke his own record in the 400m individual medley with a time of 4
Michael Phelps claimed the first spot on the US Olympic swim team with a world-record performance. He believes he can go even faster in Athens.
The 19-year-old broke his own record in the 400m individual medley with a time of 4 minutes, 8.41 seconds Wednesday on the opening night of the trials.
"I wanted to go into the Olympics with the fastest time in the world," he said.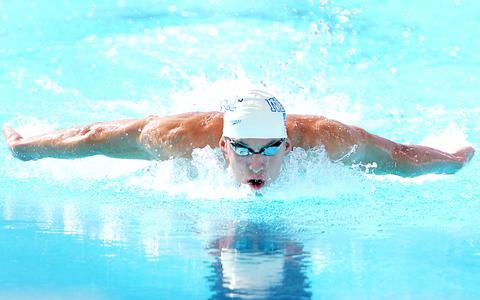 Michael Phelps during his world record-breaking swim in the 400m individual medley final at the US Olympic Swimming Trials in Long Beach, California, Wednesday.
PHOTO: REUTERS
Phelps set the previous record of 4:09.09 last year in the world championships in Barcelona, where he became the first swimmer in history to break five world records in one meet.
There's no telling what he'll do in his other five events in the eight-day trials. Phelps' goal is to break Mark Spitz's 32-year-old record of seven Olympic gold medals.
"There are a few things I can fix, so at least I hope there's another hundredth or tenth in that race," he said about possibly lowering his latest world mark in Athens.
Natalie Coughlin, also expected to emerge as a star in Athens, will swim her first event Thursday in the 100m backstroke.
Three-time Olympian Jenny Thompson, who has a record 10 Olympic medals but not an individual gold, qualified for the 100m butterfly final Thursday night. She was fifth fastest in the semifinals at 59.17 seconds.
"I look to get better and better," she said.
Ed Moses and Brendan Hansen, who shared the American record, set up a showdown in the 100m breaststroke final Thursday night.
Hansen's semifinal time of 1:00.13 gave him sole possession of the American record and just missed the world mark of 59.78 set by Japan's Kosuke Kitajima. Moses qualified fourth at 1:01.82.
Phelps was off record pace through the opening butterfly leg of the 400m IM, but made up for it in the backstroke. He even had a chance to sneak a glimpse at the scoreboard.
"If there's a clock there, I'm going to look," Phelps said.
The crowd of more than 7,000 fans chanted "Go! Go! Go!" each time Phelps poked his head above water during the breaststroke. They rose to their feet as he powered to the wall during the freestyle portion.
"Maybe it looked effortless, but it didn't feel effortless," he said, grinning.
Klete Keller won the 400m freestyle with an American record of 3:44.19, more than 2 seconds better than Phelps' mark set last August. Larsen Jensen was second at 3:46.56 -- also under the previous record.
"I was more nervous than I've ever been," said Keller, who won a bronze medal in the same event at Sydney four years ago. "I almost felt like I was going to cry before the start. I don't know why. I just remembered what my coach said, `You don't have to feel good to swim fast.'"
Keller has his work cut out for him in Athens. He was still more than 4 seconds slower than Australian star Ian Thorpe, who has the eight fastest times in history.
"I'm just going to enjoy this and keep working hard," Keller said. "Maybe I'll see if I can go a little faster.''
Phelps was relieved to make it through the first event in Long Beach, where the US team is being decided in a temporary pool set up on a parking lot along the shoreline.
"The trials are probably more stressful than the Olympic finals," he said.
Publication Notes
Speed demon
* Michael Phelps set the previous record of 4:09.09 in the 400m individual medley last year in Barcelona
* The American broke his own record in US team trials with a time of 4:08.41
* Phelps' goal is to break Mark Spitz's 32-year-old record of seven Olympic gold medals
Comments will be moderated. Keep comments relevant to the article. Remarks containing abusive and obscene language, personal attacks of any kind or promotion will be removed and the user banned. Final decision will be at the discretion of the Taipei Times.