Rosales continues to rock
Jennifer Rosales surged ahead at the US Women's Open with a 2-under 69, pumping her fists and slapping hands with her caddie as she walked off Orchard Golf Club with a three-shot lead over Sorenstam, Meg Mallon and Kelly Robbins.
Rosales was at 7-under 206 after a day when only seven players managed to break par on a gorgeous, summer afternoon in New England that began to dry out the fairways and put a higher premium on tee shots.
"I don't think it's hit me yet," Rosales said, still wearing her headband and tinted shades. "When I get to my room and shower and chill out, that's when I'll think about it."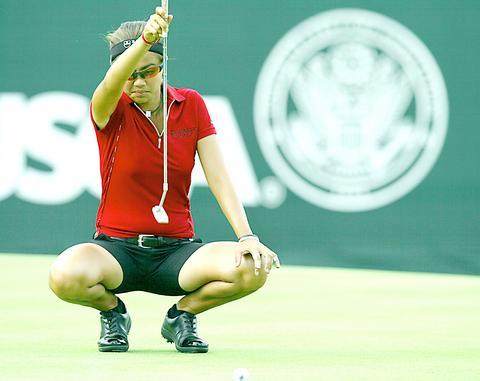 Current US Women's Open leader Jennifer Rosales of the Philipppines lines up a putt on the 16th hole during the third round at at the Orchards Golf Club in South Hadley, Massachusetts, Saturday. Roslaes finished at 7-under par and 206.
PHOTO: AFP
The only other time Rosales had a 54-hole lead was two years ago at the Women's British Open at Turnberry. She was tied with Carin Koch, shot 73 and wound up four shots behind Karrie Webb.
Sorenstam recovered from two bogeys on the first four holes with a couple of bursts -- consecutive birdies to make the turn at even par, then a 20-foot eagle putt on the par-5 13th and a shot out of the rough to 12 feet for birdie on the next hole.
Sorenstam wound up with a 70 and will play in the next-to-last group.
"I didn't get off to the start I wanted, but I kept grinding," Sorenstam said. "One under is pretty good at the US Open on Saturday."
Mallon, born in Massachusetts and beloved everywhere because of her infectious, freckle-faced smile, turned in the best round of the day with a 67 that put her at 209 and in the final group with Rosales.
Rachel Teske (70) was at 210, while Michelle Ellis (72) was another stroke behind.
Western Open
Australia's Mark Hensby shot a bogey-free 67 while Trinidad's Stephen Ames had a 64, giving each a share of a one-stroke lead after three rounds at the Western Open.
Ten years ago, Hensby was sleeping in his car on the driving range at Cog Hill Golf Club, where the Western Open is being played.
"One night I woke up and my toes were frozen because it was so cold," Hensby said, smiling at the memory. "So I used to drive around the block with the heater on, then go back to sleep.
"For some people it sounds outrageous. To me, it wasn't that big a deal."
Ames, having one of the best years on the tour with eight top-10 finishes, six in his last seven starts, closed his bogey-free round with birdies on his last four holes to give him a 9-under 213.
"I don't press myself to see if I should win or can win," said Ames, whose best finish this year was third at the Colonial. "I'm trying to play each day as it comes, and when the chips fall where they should or they shouldn't, I'll just take it from there."
Both were a stroke ahead of Geoff Ogilvy, who shot 68, and four strokes ahead of Tiger Woods. A day after flirting with the cut, Woods rebounded with a 6-under 65 to finish 54 holes with a 5-under 208.
Jim Furyk (68), playing his second tournament since wrist surgery in March, is also four back, as is University of Illinois golf coach Mike Small (69).
Stuart Appleby (67) and second-round co-leader Steve Lowery (70) are now tied for fourth at two strokes back.
"I have a chance," Woods said. "That's what I wanted to do is go out there and play well enough where at least I have a chance going into Sunday. Now if I play a very similar round like I did today, you never know."
Comments will be moderated. Keep comments relevant to the article. Remarks containing abusive and obscene language, personal attacks of any kind or promotion will be removed and the user banned. Final decision will be at the discretion of the Taipei Times.