Lance Armstrong: it is now or never
TOUR DE FORCE Texan Lance Armstrong, who returned to cycling after successful treatment for testical cancer, is poised to become the first man to win six Tours de France
History, the itinerary and half a dozen ambitious rivals stand between Lance Armstrong and his dream of becoming the first man to win six Tours de France.
The Texan, winner since 1999 after returning to cycling following successful treatment for cancer, is now attempting to go where no other rider has gone before. Great names such as Jacques Anquetil, Eddy Merckx, Bernard Hinault and Miguel Indurain all made it to five but not beyond.
In terms of class, talent, power, experience and professionalism, Armstrong again looks peerless this year.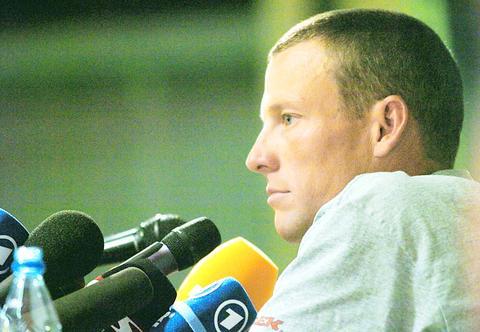 US Postal team leader and five-time Tour de France winner Lance Armstrong, of Austin, Texas, yesterday listens to reporters during a press conference at the Tour de France press center in Liege, Belgium. The 91st Tour de France cycling race starts with a prologue today -- a 6.1km individual time-trial trough Liege.
PHOTO: AP
At 32, however, the American is getting on and Tours get harder to win every time. The same, though, applies to the other contenders.
When he won for the first and only time in 1997, everyone predicted that Jan Ullrich would be the man to join the big four with five Tour wins behind them.
But the German has had to be content with a flattering but frustrating collection of five second places. The T-Mobile team leader showed last year when he challenged Armstrong until the last day that he was probably his only serious rival.
?
Ullrich has finished all six Tours he has entered and has always finished in the top two.
His recent victory in the Tour of Switzerland seems to indicate the Olympic champion is reaching his peak at the right time, while Armstrong's below-par performance in the Dauphine Libere hints at a faltering of sorts.
In that race, the Texan was humbled by Basque rider Iban Mayo, who looks one of the main threats in the mountains.
There are far fewer finishes at high altitude and fewer long individual time trials this Tour, meaning that opportunities to make a big difference in the three weeks of the 3,500km race will be scarce.
The course has obviously been drawn to favor an open race and most experts see the Tour being decided in a 15.5km individual time trial up l'Alpe d'Huez on July 21.
But Armstrong has in the past shown that he can adapt to circumstances and has always outwitted his opponents tactically.
"I feel good, I feel strong and I've had a high quality three weeks since my last race," Armstrong told a news conference on Thursday.
"The word legend is more than just six letters, it's a big, big word and I'm not ready to talk about it right now. The Tour de France is not a one-day race and many things could happen during the three weeks and I could lose.
"Every day is important and if I'm in yellow on July 25 when the race finishes in Paris we can talk about a legend but it's a daunting task and I want to simplify it and focus on it by taking things day by day."
Armstrong said he hoped to peak in the second half of the race.
"This year the final week of the Tour is incredibly hard with the mountain time trial and the mountains' stages. I feel strong and I feel healthy and would even say I'm stronger and I'm healthier than last year," he said.
Perhaps the two riders Armstrong should be fearing most are two of his former closest aides, Tyler Hamilton and Roberto Heras.
Despite a broken collarbone, American Hamilton finished fourth last year and leads a surprisingly strong Phonak team while Heras, a former Tour of Spain winner, could be, alongside Mayo, a leading contender in the mountains.
CSC's Italian leader Ivan Basso looks the only other serious hope of a podium place in this Tour after Spaniard Joseba Beloki, plagued by health problems all year, pulled out.
A sixth victory looks a clear possibility yet Armstrong's show could be stolen by an unpredictable Tour fixture -- doping.
Briton David Millar, one of the few riders who could have rivalled Armstrong and Ullrich in time trials, was forced out of the race after being charged in a doping investigation into his Cofidis team.
The scandal which rocked the French outfit, the death of 1998 champion Marco Pantani and police raids on the Giro have confirmed that cycling is far from having cleaned up its act.
Even before the start of the race, one rider, Spaniard Gorka Gonzalez, has been declared unfit to start. Tour direction sources said the decision was based on new blood tests introduced on the Tour this year and which could prove unusually effective.
dopers beware
Tour de France director Jean-Marie Leblanc could hardly have been clearer in his warning to doping cheats after scandal again threatened to engulf this year's race.
"The police will visit the Tour in July," he said in May.
To those who might not have heard, Leblanc announced last week that any rider involved in a doping controversy would be barred from entering the race, which starts today.
He was true to his word when time-trial world champion David Millar and his Cofidis team mate Cedric Vasseur were banned from taking part in the Tour because they are under judicial investigation.
Spanish team Kelme, accused by former rider Jesus Manzano of organized doping, were also ruled out.
Leblanc has uttered similar threats in the past, notably after the Festina scandal of 1998 when the team were expelled from the race after performance-enhancing drugs were found.
He tried to stop Richard Virenque taking part in the Tour the following year but the International Cycling Union (UCI) rescued the Frenchman on legal grounds and he went on to win the polka-dot King of the Mountains jersey.
This year, in a last ditch effort to tackle doping before the new Pro-Tour is launched next season, the UCI stood by Tour organizers.
"We will not accept at the start of the next Tour de France riders involved in a legal investigation or a police operation. We have received full support from the UCI," Leblanc said.
UCI chief Hein Verbruggen is expected to announce tough measures and tests to detect corticoids, human growth hormone and new forms of EPO at a press conference on Friday.
Recent doping allegations in a book about five-times Tour winner Lance Armstrong -- which he denies, the death of 1998 champion Marco Pantani from a cocaine overdose and police raids during this year's Giro d'Italia, have done little to restore the tarnished image of cycling.
Anti-doping experts have said that more efficient tests are ready and need only to be checked in practice.
Comments will be moderated. Keep comments relevant to the article. Remarks containing abusive and obscene language, personal attacks of any kind or promotion will be removed and the user banned. Final decision will be at the discretion of the Taipei Times.