Devil Rays blank Marlins
MAJOR LEAGUE BASEBALL Tampa Bay's Dewon Brazelton didn't allow a hit until the eighth inning, making it difficult for the World Series champions to round the bases
Dewon Brazelton took a no-hitter into the eighth inning and the Tampa Bay Devil Rays beat the Florida Marlins 2-0 Friday night for their 12th straight interleague victory.
Brazelton (1-0) lost his no-hit bid when Mike Lowell lined a ground-rule double with two outs in the eighth. The 24-year-old right-hander walked six, struck out five and hit a batter in his 15th major league start.
"There were some nerves involved, first of all because I knew we were coming off a big road trip -- all those wins in a row," Brazelton said.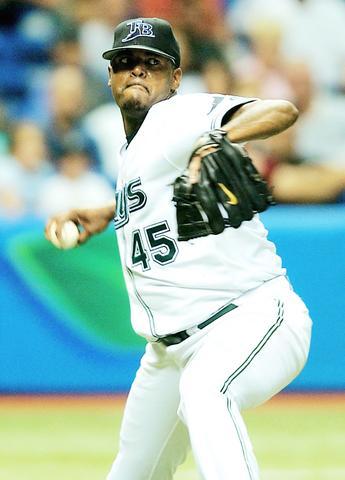 Devil Rays pitcher Dewon Brazelton prepares to throw out Juan Pierre of the Marlins after a bunt during the seventh inning in St. Petersburg, Florida, Friday. Tampa Bay won the game 2-0 after Brazelton took a no-hitter into the eighth inning.
PHOTO: AP
Danys Baez got four outs for his 14th save, allowing a single to Choi Hee-seop in the ninth before finishing the two-hitter.
"We didn't do anything," Marlins manager Jack McKeon said. "That kid did a good job. You can't take anything away from him."
The victory was the 14th in 15 games for the Devil Rays, who at 35-35 overall -- joined the 1899 Louisville Colonels as the only major league teams to reach .500 after being 18 games below at any point during a season.
A.J. Burnett (0-3) took the loss in his 10th career complete game.
Tigers 2, Diamondbacks 1
In Detroit, Jason Johnson allowed one hit in eight sharp innings as Detroit sent Arizona to its season-high seventh straight loss.
Johnson (5-7) set down the first 12 in order before Luis Gonzalez's triple to lead off the fifth inning. He struck out five and walked one in his first win since June 2.
The game was completed in 1 hour, 54 minutes, matching the shortest in the majors. The Chicago White Sox and Montreal played their game in 1:54 on last Sunday. It also tied for the shortest in Diamondbacks' history.
Ugueth Urbina pitched a perfect ninth for his 11th save.
Orioles 5, Braves 0
In Baltimore, rookie Daniel Cabrera pitched a four-hitter for his first major league shutout, leading Baltimore past slumping Atlanta.
Melvin Mora homered in his return to the Baltimore lineup but had to leave in the fifth after experiencing pain in his foot. Larry Bigbie hit three doubles and scored twice, helping the Orioles to only their third win in 12 games.
Cabrera (4-3) struck out six and walked two for his first complete game in his ninth big league start.
Paul Byrd (1-1) gave up three runs and six hits in 6 1-3 innings for the Braves, who have lost seven of nine.
Cubs 7, White Sox 4
In Chicago, Mark Grudzielanek hit his first homer and drove in his first runs of the season to lead the Chicago Cubs over the White Sox in the opener of their spirited interleague series.
A sellout crowd of 39,596 watched Grudzielanek's three-run shot give the Cubs the lead and Mark Prior (2-1) the victory on a sunny and cool day at US Cellular Field, where the Sox made three errors.
Trailing 6-1, the White Sox made a game of it when Paul Konerko hit a three-run homer off Kyle Farnsworth with two outs in the eighth.
Jon Garland (5-5) got roughed up in the loss.
Blue Jays 3, Expos 1
In Toronto, Josh Towers allowed one run in seven-plus innings and Reed Johnson had two RBIs as Toronto beat Montreal.
Towers (2-2) allowed six hits, struck out three and walked one a day after Toronto's pitchers were rocked in a 19-13 loss to Tampa Bay. Jason Frasor pitched a perfect ninth for his seventh save.
Zach Day (5-8) allowed three runs on eight his in 6 1-3 innings.
Rockies 10, Indians 8, 10 innings
In Cleveland, Larry Walker hit his third homer of the game -- and third of the season -- in the 10th inning as Colorado edged Cleveland.
Walker, playing just his fourth game this year after being sidelined for 68 games with a groin injury, drove the first pitch from former teammate Jose Jimenez (1-6) into the right-field seats.
The two-run shot scored Todd Helton, who opened the 10th with a single. Walker also connected for solo homers in the second and sixth innings for the Rockies, who trailed 5-2 after five before scoring six times in the sixth.
He went 4-for-4 with five RBIs, one coming on a bases-loaded walk in Colorado's six-run sixth.
Steve Reed (1-1) pitched a scoreless ninth for the Rockies. Shawn Chacon worked a perfect 10th for his 16th save.
Red Sox 12, Phillies 1, 8 innings
In Boston, Manny Ramirez hit his American League-best 20th homer, drove in five runs and made an impressive diving catch to rob Mike Lieberthal of a hit in Bostons's rain-shortened win over Philadelpia.
Pedro Martinez (8-3) allowed one run -- Jim Thome's major league-leading 25th -- on two hits in seven innings for Boston.
The game was called after a 49-minute rain delay with one out and no runners in the bottom of the eighth.
Kevin Youkilis hit two two-run doubles and David Ortiz homered to start an eight-run sixth -- Boston's biggest of the season.
Paul Abbott (0-2) took the loss.
Rangers 3, Astros 1
In Arlington, Texas, Kenny Rogers threw a three-hitter to become the AL's first 10-game winner as Texas Rangers spoiled Carlos Beltran's Houston debut, beating the Astros for their seventh straight victory.
Rogers (10-2) retired 13 straight batters before Beltran hit a leadoff double in the seventh. After a flyball moved him to third, Beltran scored the Astros' only run on Jeff Kent's sacrifice fly. Rogers joined Houston's Roger Clemens as the majors' only 10-game winners with his 35th career complete game.
Beltran went 2-for-4 a day after he was traded to the Astros from the last-place Kansas City Royals in a three-way deal that also sent reliever Octavio Dotel from Houston to Oakland.
Wade Miller (7-7) walked six and struck out two in 5 1-3 innings.
Cardinals 5, Royals 2
In Kansas City, Missouri, Scott Rolen's homer and three-run double added four RBIs to his major league-leading total, and Matt Morris (8-6) pitched eight strong innings as St. Louis downed Kansas City.
It was the fifth four-RBI game of the season for Rolen, who leads the majors with 75 RBIs. He also had a single and was 3-for-4 to raise his average to .341.
Zack Greinke (1-4), the youngest player in the majors at 20 years old, allowed six hits and four runs in five innings in the Royals' first game since trading star center fielder Carlos Beltran to Houston.
Yadier Molina had three hits for the Cardinals, who have won nine of 11 and own a major league-best 24-12 road record.
Twins 6, Brewers 3
In Minneapolis, Johan Santana won his fourth straight start, and Cristian Guzman homered and scored four runs to lead Minnesota past Milwaukee for its third consecutive victory.
Santana (6-4) gave up one run and four hits in seven innings, and picked up right where he left off after striking out 12 Brewers on Sunday. He struck out the first four batters he faced Friday, finished with 10 overall and leads the American League in strikeouts with 100.
Joe Nathan pitched the ninth for his 22nd save in 23 opportunities.
Wes Obermueller (3-3) gave up nine hits and five runs -- four earned -- in 4 1-3 innings for Milwaukee.
Giants 6, Athletics 4
In Oakland, California, Jason Schmidt pitched into the ninth inning to win his career-best 10th consecutive decision -- tying him for the major league lead in victories -- as San Francisco beat Oakland for its seventh straight victory.
Schmidt (10-2), coming off a one-hit gem against Boston last Sunday, hasn't lost since dropping his first two starts of the season. He allowed four runs and five hits, struck out four and walked three in 8 1-3 innings before a sellout crowd of 48,189.
Matt Herges got two outs for his 20th save for the Giants, who have won 11 of 12 overall to regain the lead in the National League West.
Barry Zito (4-5) allowed one earned run -- on Michael Tucker's sacrifice fly in the fifth. Scott Hatteberg and Bobby Crosby homered for the A's.
Padres 3, Mariners 2
In Seattle, Brian Lawrence (9-5) earned his ninth win, Phil Nevin hit a two-run single and San Diego held off Seattle when pinch-runner Hiram Bocachica made a baserunning mistake for the final out.
Bocachica was running for Dave Hansen, who drew a leadoff walk from Trevor Hoffman in the ninth. With two outs and Bocachica on second, pinch-hitter Edgar Martinez hit a grounder up the middle.
Second baseman Mark Loretta made a tough stop, but Martinez beat the throw to first for an infield single. Bocachica made a wide turn around third, then scampered to try to get back. Nevin threw to the plate, and catcher Humberto Quintero nailed Bocachica attempting to return to third.
Freddy Garcia (4-7) threw a complete game, but gave up three runs shortly after the first pitch.
Angels 13, Dodgers 0
In Los Angeles, Darin Erstad hit his first homer of the season and drove in four runs, and Jarrod Washburn and Derrick Turnbow combined on a four-hitter as Anahem routed Los Angeles.
Washburn (8-3) gave up three hits in seven innings to win for the first time since May 15. Vladimir Guerrero hit his 18th homer for the Angels.
Los Angeles lost its fifth in a row overall and fell a season-worst 3 1/2 games behind San Francisco in the NL West.
Jose Lima (6-3) gave up eight runs and 11 hits in four-plus innings. Robin Ventura pitched a scoreless ninth, the first position player to pitch for Los Angeles since Chris Donnels on May 5, 2001.
Pinch-hitter Wily Mo Pena came through with a grand slam in the seventh inning, capping a six-run rally that sent the Cincinnati Reds past the slumping Pittsburgh Pirates 6-4 Friday night.
Before the game, the Reds honored Ken Griffey Jr. for hitting his 500th home run last Sunday in St. Louis. Griffey went 0-for-3 with a walk to fall to 1-for-19 since his historic home run. He's hitless in his last 16 at-bats.
Pena gave the Reds their sixth consecutive two-out hit in the seventh as Cincinnati wiped out a 4-0 deficit and sent the Pirates to their 16th loss in 19 games.
Jose Acevedo (4-6) rebounded from a four-run first inning, highlighted by Jason Bay's three-run homer, to earn his first win in five starts. Danny Graves got his major league-leading 29th save in 36 opportunities.
Salomon Torres (4-3) took the loss.
Comments will be moderated. Keep comments relevant to the article. Remarks containing abusive and obscene language, personal attacks of any kind or promotion will be removed and the user banned. Final decision will be at the discretion of the Taipei Times.