Lucky break pushes Lightning to victory
ONE OF THOSE DAYS A deflected shot gave Tampa Bay a 2-1 win over the New Jersey Devils in a tightly-contested match that went right to the wire
Brad Richards scored with 4:58 left to give the Eastern Conference-leading Tampa Bay Lightning a 2-1 victory over the New Jersey Devils on Thursday night. \nRichards' pass from behind the net appeared to deflect into the net off New Jersey defenseman Viktor Kozlov. \n"It was just a lucky bounce," Richards said. "In those type of games, with the amount of shots both teams had, you knew it was going to come down to something like that. It was one of those games that was grind it out." \nNew Jersey tied it at 1 midway through the period on Patrik Elias' 35th goal of the season. \nPavel Kubina opened the scoring midway through the second period for the Lightning, who swept the four-game season series with the Stanley Cup champion Devils. \n"We've had a really good season, the whole team," Kubina said. "I'm looking forward to the playoffs. I want to go far in the playoffs." \nNikolai Khabibulin stopped 18 shots for Tampa Bay, and Martin Brodeur made 15 saves for New Jersey. \nIslanders 4, Flyers 2 \nIn Philadelphia, Wade Dubielewicz came off the bench to stop all 14 shots he faced in his NHL debut to lead the New York Islanders over Philadelphia for its fourth straight victory. \nAdrian Aucoin had two goals in the first period, Mark Parrish scored the game-winner on a breakaway in the second, and Janne Niinimaa had a third-period goal. Dubielewicz replaced Garth Snow after the first period. \nJohn LeClair and Michal Handzus scored for Philadelphia. Flyers center Jeremy Roenick returned to the lineup after missing 19 games because of a broken jaw and a concussion. \nMaple Leafs 3, Bruins 0 \nIn Boston, Ed Belfour made 33 saves for his eighth shutout of the season, and Toronto cut Boston's lead in the Northeast Division to one point. \nToronto got goals from Joe Nieuwendyk and Ron Francis in the first nine minutes of the second period and an empty-net goal from Nik Antropov with 1:43 left in the game. \nHurricanes 3, Panthers 2 \nIn Raleigh, North Carolina, Josef Vasicek scored with 11:51 left to help Carolina overcome a two-goal deficit and beat Florida. \nRod Brind'Amour and Kevyn Adams also scored for the Hurricanes, eliminated from postseason contention Tuesday. \nNathan Horton and Niklas Hagman scored for Florida. Roberto Luongo made 42 saves, giving him an NHL-record 2,219 this season. He broke the mark of 2,214 set by Toronto's Felix Potvin in 1996-97. \nPredators 4, Rangers 2 \nIn New York, Andreas Johansson snapped a third-period tie as Nashville beat the New York Rangers to move into seventh place in the Western Conference with its team-record 35th victory. \nNashville, which missed the playoffs its first five NHL seasons, has a one-point lead over eighth-place Edmonton and St. Louis. \nDefensemen Marek Zidlicky and Mark Eaton, and Martin Erat also scored for Nashville. Jaromir Jagr reached 30 goals for 13th straight season and Karel Rachunek also scored for New York, which dropped its eighth straight (0-5-0-3). \nSenators 4, Canadiens 0 \nIn Montreal, Daniel Alfredsson scored twice and added an assist, and Patrick Lalime made 29 saves for Ottawa for his fifth shutout of the season. \nBrian Smolinski and Jason Spezza also scored for Ottawa. \nMontreal, 2-1 losers in Buffalo on Wednesday night, failed for the second straight game to earn the single point it needs to clinch a playoff spot. \nRed Wings 3, Avalanche 1 \nIn Denver, Manny Legace stopped 34 shots as Detroit scored twice in the final 2 1/2 minutes to beat Colorado. \nDetroit managed just 23 shots, but Tomas Holmstrom scored on a power play in the first period and Pavel Datsyuk sealed the win with 2:32 left. Henrik Zetterberg added an empty-net goal to push the Red Wings over the 100-point mark (101) and seven points ahead of Colorado in the Western Conference. \nSteve Konowalchuk scored for Colorado, 0-4-1 in its last five games.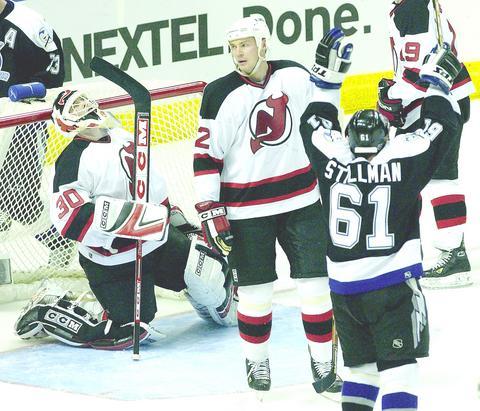 Tampa Bay Lightning Cory Stillman, right, raises his hands as he celebrates a goal against the New Jeresy Devils goaltender Martin Brodeur, left, during the third period of their NHL ice hockey match at the St.Pete Times Fourm in Tampa, Florida, on Thursday.
PHOTO: EPA
Comments will be moderated. Keep comments relevant to the article. Remarks containing abusive and obscene language, personal attacks of any kind or promotion will be removed and the user banned. Final decision will be at the discretion of the Taipei Times.