The Gunners take Portsmouth to task
EUROPEAN FOOTBALL Fredrik Ljungberg and Thierry Henry each scored twice as Arsenal raced into a 3-0 lead by half time and led 5-0 after 57 minutes into the match
Defending champion Arsenal marched into the FA Cup semifinal with a 5-1 demolition of Portsmouth at Fratton Park on Saturday. \nPompey's only reply in front of their own fans came in the final minute from veteran former Tottenham striker Teddy Sheringham. \n"It wasn't easy at the beginning," said Henry who scored the first in the 25th minute. "But as soon as we scored a goal we looked comfortable." \nKolo Toure also hit the target as Arsenal, aiming to become the first club for 118 years to win the cup three straight times, reached the semifinal for a record 24th time. \nEarlier Ruud van Nistelrooy scored twice as Manchester United made it 23 semifinal appearances by edging Fulham 2-1. \nMillwall plays Tranmere and Sunderland hosts Sheffield United in two all-division one FA Cup quarterfinals today. The semifinal draw is on Monday. \nVan Nistelrooy scored once in either half to keep United on track for its 11th FA Cup title and its first since 1999. \nAt Old Trafford, Fulham took the lead with a 23rd minute penalty, awarded when Luis Boa Morte was tackled by United defender Wes Brown. \nSteed Malbranque converted, firing the ball into the top of the net as United's goalkeeper Tim Howard leapt the other way. \nUnited leveled two minutes later with Nistelrooy's 25th goal of the season. The Dutchman volleyed the ball into the net from a Ryan Giggs cross. \nVan Nistelrooy scored past his international teammate Edwin Van Der Sar again in the 62nd minute. Cristiano Ronaldo ran down the right and crossed for an advancing Van Nistelrooy to chip home. \nIn the weekend's only Premier League match, Birmingham beat Bolton 2-0 to rise to fifth -- level with fourth-placed Newcastle. \nBirmingham is on course for the chance to qualify for next season's Champions League with its 2-0 win over Bolton. \nThe Blues scored from Mikael Forssell and Bryan Hughes against a Bolton side that's still recovering from its 2-1 League Cup final defeat to Middlesbrough last Sunday.. \nSpanish league \nTop scorer Ronaldo left the field after pulling a muscle in his left thigh Saturday as 12th-place Racing Santander held leader Real Madrid to a 1-1 draw in the 27th round of the Spanish league. \nIsrael striker Yossi Benayoun scored the equalizer in the 32nd minute for Racing after Madrid midfielder Santiago Solari of Argentina had opened the scoring four minutes earlier. \nRonaldo, who left the match in the 74th minute, will miss Madrid's second leg Champions League match against Bayern Munich on Wednesday, according to team doctor Alfonso del Corral. \n"Ronaldo will probably miss between two and three matches, he's definitely going to miss Bayern, the league match against Zaragoza and most likely the final of the Copa del Rey," Del Corral said. \nThe Brazilian striker leads the Spanish league with 22 goals. \nMadrid remains in first place with 60 points from 27 matches, followed by Valencia with 54 and Deportivo with 50. \nGerman League \nProlific Dutch striker Roy Makaay netted a pair of headers Saturday as Bayern Munich beat Leverkusen 3-1 to keep the pressure on front-runner Werder Bremen. \nMakaay, Europe's leading scorer last season at Deportivo de La Coruna, scored in the air in the 39th and 76th minutes -- his 23rd goal in 32 matches for the German champions since donning the club's jersey this year. \nBayern can now turn its attention to next week's key Champions League match against Real Madrid, perhaps the hottest European match on tap after a 1-1 first leg between the two old rivals. \n"The way we played today, I hope we can play like that on Wednesday," Makaay said. \nThird-place VfB Stuttgart also may be ready for Chelsea in their Champions League matchup after a 2-0 win against Borussia Dortmund finally ended a scoring drought. \nMichael Ballack added Bayern's third goal -- a deflected long-range shot in the 58th that popped high into the air and dropped under the crossbar -- as Bayern cut Bremen's lead back to four points. \nBremen could restore that lead against 1860 Munich on Sunday. \nThe Bavarians overcame a sluggish start against fifth-place Leverkusen and needed some heroics from goalkeeper Oliver Kahn to stop from going a goal down. \nBut as usual, Bayern could count on Makaay to conjure up a goal when its attack doesn't click. The Dutchman turned around the match with his first goal, backpedalling away from a defender on Ze Roberto's cross from the right, then nudging the ball into an unreachable part of the goal. \nBremen (16-4-2) has 52 points with a match in hand, followed by Munich with 48 and Stuttgart secure in third with 43. \nItalilan league \nDefending champion Juventus rallied from a two-goal first-half deficit to beat Roberto Baggio's Brescia 3-2 Saturday and lift the Turin team into second place in the Serie A. \nFabrizio Miccoli and Marco Di Vaio, usually sitting on the substitutes bench, scored two minutes apart early in the second half to even the score, and Czech midfielder Pavel Nedved netted the winner in the 75th with a powerful drive off a corner kick. \nA quick goal by midfielder Stefano Mauri and a 39th-minute tally by striker Andrea Caracciolo, fed by Baggio, had given Brescia a deserved 2-0 lead. \nSaturday's hard-fought win vaulted La Juve to 55 points, three behind league leader AC Milan, which plays host to Sampdoria on Sunday in the 24th round. \nAS Roma, with 53 points, takes on Inter Milan at Stadio Olimpico. \nMiccoli's goal came on a penalty in the 52nd following a dubious foul by Luigi Di Biagio on Nedved. \nMiccoli converted on his third attempt as the referee disallowed the two previous kicks because the player had slowed his run before shooting. \nMiccoli, who transferred from Perugia in the off season, fed Di Vaio for Juventus' second goal in the 54th. Di Vaio scored with a diagonal shot as he was left unmarked close to the net. \nBrescia defenders vainly protested for an offside position of the Juventus forward, later evidenced by slow motion in sports telecasts. \n"We outplayed Juventus in the first half and deserved victory. Some dubious episodes in the second half revived the Turin team and helped its comeback," Brescia coach Giovanni De Biasi said. \nDutch league \nAjax extended its lead in the Dutch premiership to nine points by edging RKC Waalwijk 1-0, but the Amsterdam powerhouse failed to impress. \nThe win relieved Ronald Koeman's team after two successive losses. PSV Eindhoven, Ajax's only remaining title rival, needs to win Sunday at FC Utrecht to close the gap to six points. Utrecht upset Ajax last weekend. \nAZ Alkmaar twice came from behind to down ADO The Hague 3-2 and strengthen its position in third with 45 points, 13 adrift of Ajax. Martijn Meerdink hit AZ's last-minute winner. \nIt took a 39th-minute own-goal from Steve Olfers to secure the win for Ajax. The RKC defender extended a leg to toe-poke an inswinging Rafael van der Vaart corner past his own goalkeeper from close range. \nVan der Vaart's return from a groin strain injected some enterprise into the recently impotent Ajax offense as the young international three times popped up in scoring positions in the first half. \nAjax's Belgian striker Wesley Sonck twice spurned inviting chances which arose from persistent work down the flanks from Van der Vaart and Romanian winger Nicolae Mitea. \nAnd Mitea produced an inspired and rapid dribble to cut the RKC defense wide open but scooped his shot over the bar. \nFrench league \nParis Saint-Germain stayed in third place in the French first division on Saturday and extended its unbeaten streak to 15 league matches after a 1-1 home draw with close rival Sochaux. \nPortugal striker Pauleta notched his 12th league goal of the season from the penalty spot to give PSG a 49th-minute lead. But Tunisia striker Santos leveled for fourth-place Sochaux in the 55th. \nMonaco tops the table with 58 points, with Lyon second on 54 and PSG chasing hard on 51. Monaco beat Guingamp 3-1 and Lyon crushed Ajaccio 4-0 in Friday's games. \nIn the basement battle, Le Mans remains in last spot, with Montpellier and Guingamp making up the relegation places. \nToulouse climbed away from the drop zone after winning 1-0 away at struggling Montpellier.
Arsenal's Thierry Henry, right, and Portsmouths Matthew Taylor, left, battle during their FA Cup sixth-round match at Fratton Park, Portsmouth, England, Saturday.
PHOTO: AP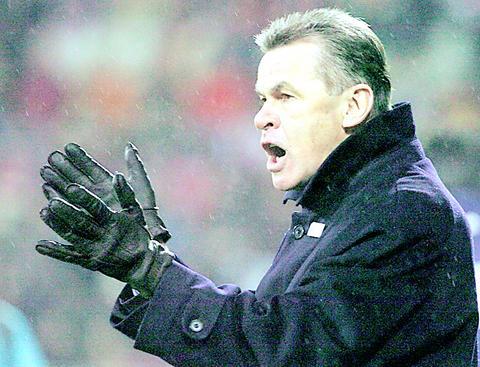 Bayern Munich coach Ottmar Hitzfeld gestures on the sideline as his team beats Bayer Leverkusen 3-1 at the BayArena in Leverkusen, Saturday.
PHOTO: EPA
Comments will be moderated. Keep comments relevant to the article. Remarks containing abusive and obscene language, personal attacks of any kind or promotion will be removed and the user banned. Final decision will be at the discretion of the Taipei Times.