Rwanda shocks Nations Cup with win over Congo
Tiny Rwanda upset giant neighbors Democratic Republic of Congo 1-0 on Sunday for their first-ever African Nations Cup victory, only to have a quarterfinal place snatched from them when Guinea drew 1-1 with Tunisia. \nGuinea finished second in Group A, one point ahead of the east Africans, after Aboubacar Titi Camara equalized in the 84th minute with his third goal in as many games. \nTunisia, who went ahead with a superbly-taken Slim Benachour goal, had already qualified with a game to spare. \nDebutants Rwanda, who lost 2-1 to Tunisia and then scored an injury-time equalizer to draw with 1-1 Guinea, chalked up their first win thanks to Said Abed Makasi's 74th-minute goal in the Mediterranean port of Bizerte. \nThe defeat completed a disastrous tournament for the Simbas, who went home after losing all three group games, and prompted coach Mark Wadsworth to criticize Congolese officials. \n"The amount of pressure the players have to put up with from politicians and the federation is intolerable and unacceptable," said the Englishman, who left yesterday after a brief two-month contract. \n"They have spent more time talking to my players than me." \n"Even at halftime today, I had to put up with a delegation of politicians that came in to address the players. To me that's unacceptable, but what can I do?" \n"It was the unprofessional preparation that destroyed our chances." \nRwanda, who qualified at the expense of four-times champions Ghana just nine years after genocide killed hundreds of thousands in the country, held on as Kabamba Musasa twice headed against the woodwork in a match peppered with schoolboy errors. \nMakasi, born in Bukavu in the Democratic Republic of Congo and one of three players in the Rwanda side playing against their former homeland, then rounded goalkeeper Muteba Kidiaba to score the only goal. \nRwanda still needed a Guinea defeat against Tunisia to progress and their hopes were lifted when Slim Benachour fired the hosts ahead in the 58th minute at Rades. \nThe Paris St Germain player, returning from a one-match suspension after being sent off in the opening game against Rwanda, collected a pass outside the area, cut inside a defender and fired his shot past goalkeeper Kemoko Camara. \nTunisia, who again indulged in the niggling and playacting that has become an unfortunate hallmark of their game, threatened to run away with the match but could not convert their openings into goals. \nTiti Camara, the former Olympique Marseille, West Ham and Liverpool striker, took advantage as he rounded goalkeeper Khalid Azaiez to fire home the crucial equalizer. \n"We've done what we had to do," said Tunisia coach, Frenchman Roger Lemerre. "We wanted to hold on to the win but Guinea were very combative right up to the end." \nGuinea became the third team to book their quarterfinal place, following Tunisia and Mali.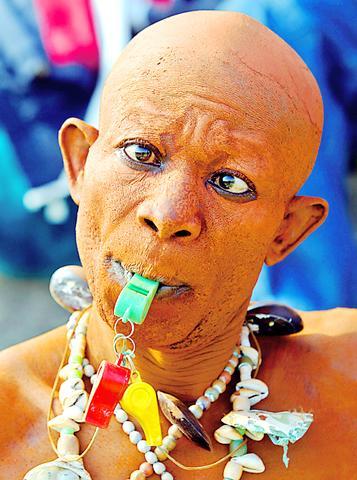 A painted Congo supporter blows a whistle before his team's match against Rwanda on Sunday.
PHOTO: REUTERS
Comments will be moderated. Keep comments relevant to the article. Remarks containing abusive and obscene language, personal attacks of any kind or promotion will be removed and the user banned. Final decision will be at the discretion of the Taipei Times.