Experience rules in Super-G events
WORLD CUP SKIING Lasse Kjus won his first race in two years. Stephan Eberharter was runner-up, and Hermann Maier third
Super giant slalom requires the most intuition and guesswork of all the skiing disciplines.
In the slower and more technical disciplines of slalom and giant slalom, skiers can gauge their final run from what they saw on the first. Two days of official training at full speed precede each World Cup downhill.
In super-G, competitors are allowed only one course inspection shortly before the race. Skiers descend slowly along the course and have to imagine what line to take at full speed.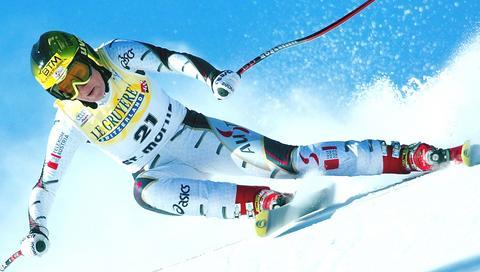 Austria's Renate Goetschl takes a curve to win the women's World Cup Downhill race in St. Moritz, Switzerland, yesterday. Goetschl won in one minutes 39.78 seconds.
PHOTO: REUTERS
It is a discipline for veterans, as was demonstrated Friday when three former overall World Cup winners finished atop the World Cup podium after racing the Saslong course.
Lasse Kjus of Norway, 32, won his first race in two seasons. Stephan Eberharter of Austria, 34, was runner-up, and countryman Hermann Maier, 31, was third.
Two more skiers in their thirties, Hans Knauss of Austria and Daron Rahlves of the US, shared fourth.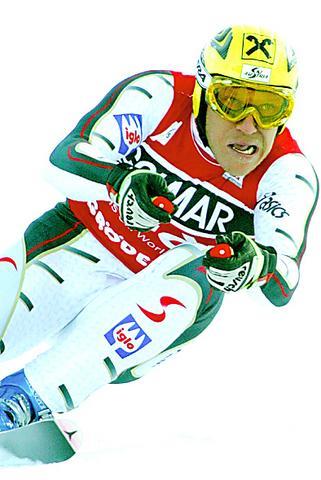 Austria's Hermann Maier clears a gate during the men's World Cup Super-G in Val Gardena, Friday.
PHOTO: EPA
"Super-G is the toughest event because you get one look at it and you got to really figure out how much you can push yourself," said Rahlves, the 2001 super-G world champion. "That's what makes this event the toughest. You see guys like Eberharter and Maier doing it every race."
Kjus' victory was the biggest surprise Friday.
Once known as skiing's everyman for his consistent top results in every discipline, the Norwegian had not won in two seasons.
He struggled due to asthma problems and the slight deterioration of skills that every skier faces after they pass their prime.
"It's a long time without any good results, so it's a good feeling right now," said Kjus, now bearded and balding. "I was a little surprised I was this fast.''
Kjus covered the twisting Saslong in 1 minute, 36.94 seconds. Eberharter, last season's overall winner, was 0.10 seconds behind, and Maier was 0.48 seconds back to retain this season's overall lead.
"I'm very happy, because I'm the youngest guy on this podium," said Maier, who was greeted with the biggest cheers of the day in this resort just south of the Austrian border.
As his winless streak grew over the past two seasons, Kjus began to wonder if he would ever win again.
"Last year, I started to doubt if I had it in me anymore. Everything was just a struggle," he said. ``Even if I had doubts, I tried to find solutions and this year finally some of the pieces are coming together.
"I hope I can lift my skiing performance to a consistent level. That's my goal this year. Now it's payback time."
Neither Maier nor Eberharter were surprised by Kjus' finish.
"We all know he's a great skier, one of the best in the world," Eberharter said.
Maier returned to action at the end of last season after nearly losing his right leg in a motorcycle accident.
"My leg was great today," Maier said. "There was only one point where I didn't go full out.''
Knauss and Rahlves were 0.84 seconds behind.
"I was kind of hoping for a while to be on the podium," said Rahlves, who finished his run before the top three finishers hit the course. "It was close.''
Rahlves won a downhill in Beaver Creek, Colorado earlier this season. He has never won a super-G on the regular World Cup circuit.
"I know I'm skiing good enough to do it," he said. "Just tactically, I've got to keep my head on straight and execute well."
Australian skier A.J. Bear fell during his run and was diagnosed with a left knee injury before being flown by helicopter to a nearby hospital.
A downhill race is scheduled for the Saslong on Saturday, when experience will be key and outright speed the deciding factor.
moguls
Olympic champion Janne Lahtela of Finland scored his second season win in as many men's moguls events at a World Cup freestyle meet in this north Italian winter resort Friday.
Canada's Jennifer Heil rallied from ninth place in qualifying to victory in the women's final, edging Shannon Bahrke of the US and Austria's Margarita Marbler.
In the men's event, Lahtela, who had won the season opener at the home course of Ruka, piled up 28.01 points to beat fellow Finn Mikko Ronkainen, who had 26.50, and American Toby Dawson, with 26.13.
Heil, second to Norway's Kari Traa in the previous World Cup event, took first place down the steep 3-Tre course with 34.91 points.
Bahrke was second with 24.71. Marbler, who led qualifying, placed third with 34.70. Traa finished fourth.
With a perfect total of 200 points in two races, Lahtela led the overall standings of the specialty ahead of Ronkainen (140) and Jeremy Bloom of the US (120).
Heil led the women's overall with 180. Traa was second with 150 and Bahrke third with 125.
Friday's events made up for the moguls meet canceled at Tignes, France.
The meet at the course which hosted men's and women's World Cup Alpine slaloms earlier this week continues Saturday with men's and women's moguls.
Comments will be moderated. Keep comments relevant to the article. Remarks containing abusive and obscene language, personal attacks of any kind or promotion will be removed and the user banned. Final decision will be at the discretion of the Taipei Times.