Chicago Bears remain in hibernation
PRO FOOTBALL Ahman Green ran for 176 yards on 19 carries, and Brett Favre threw three touchdown passes, leading Green Bay past Chicago on Monday
New Soldier Field or old Soldier Field, it makes little difference. Ahman Green, Brett Favre and the rest of the Green Bay Packers just love to play the Chicago Bears. \nThe Packers (2-2) won for the 17th time in the last 19 meetings between the NFL's oldest rivals, building a 24-6 halftime lead against the winless Bears (0-3). The Pack eventually won 38-23. \nFavre improved his career record against the Bears to 19-4 and has now directed 10 straight road wins against Chicago. He also reached another milestone, jumping ahead of Dan Fouts to No. 5 on the career passing yards list with a total of 43,089. \nFavre completed 21 of 30 passes for 179 yards. Green ran for two TDs -- one an early 60-yarder. \nWhen the Bears got within eight points in the final quarter, Favre put it away with a pair of TD passes, a 9-yarder to Javon Walker with 8:51 remaining and a 1-yarder to Bubba Franks with 4:21 left. \nFavre also connected with William Henderson on a 14-yard scoring pass in the first half and now has 47 career TD passes against the Bears -- his most against any team. \nThe Bears, booed in their new-look stadium that is part of a US$606 million lakefront beautification project, appeared to get back in the game with 12:36 left when Anthony Thomas broke off a 67-yard TD run to make it 24-16. \nBut then the Packers responded, moving 64 yards in seven plays. Green's 32-yard run through the porous Chicago defense move the ball to the 13. Minutes later, Favre rolled right and found Walker alone in the corner of the end zone. \nGreen Bay put it away with a seven-play, 54-yard drive capped when Franks -- wide open, as Packers receivers were all night -- made the TD catch that made the score 38-16. \nBears quarterback Kordell Stewart, who was sacked five times, scored on a 1-yard run with 1:28 remaining. By that time, most of the crowd of 58,937 had gone home. \nThe Bears hoped to make it a gala night. They invited many of their stars of the past -- including Dick Butkus -- to line the field as the current team charged out for introductions. \nBut it was the Packers who were ready to play from the outset. \nGreen, who has averaged 4.5 yards per carry in his career against the Bears, wasted little time attacking them. \nThree minutes into the game, he took a handoff, headed left, juked Chicago defensive back Jerry Azumah and raced from his 40 for a score. \nWhen the Packers got the ball back, Favre went to work, hitting Donald Driver with passes of 23 yards and 14 yards to set up Ryan Longwell's 34-yard field goal that made it 10-0. \nWhen Stewart, under a heavy rush, was hit for a loss and then threw short on the next play, the boos began to intensify. \nIt quickly got worse for the Bears. \nBrad Maynard's punt was blocked by Marcus Wilkins, giving Green Bay the ball at the Bears 20. \nFavre then hit Franks for 14 yards before Green bulled his way through the defense for a 6-yard TD to make it 17-0 with 19 seconds remaining in the opening quarter. \nMike Green picked off Favre -- the QB's seventh interception of the season -- and returned the ball to Green Bay's 34. The Bears reached the Packers 12 before Stewart was sacked, and Paul Edinger kicked a 31-yard field goal early in the second quarter. \nBut Favre was masterful on the next series, hitting four of five passes while directing a nine-play, 72-yard drive. \nGreen had two 11-yard carries, and Favre hit a wide open Henderson, making it 24-3. \nThe Bears cut it to 24-6 at the break on another Edinger field goal from 38 yards. Edinger kicked his third field goal, from 41 yards, to make it 24-9 after three quarters. \nESPN Taiwan shows NFL games on Monday and Tuesday, with commentary in Mandarin, but will not broadcast playoff games.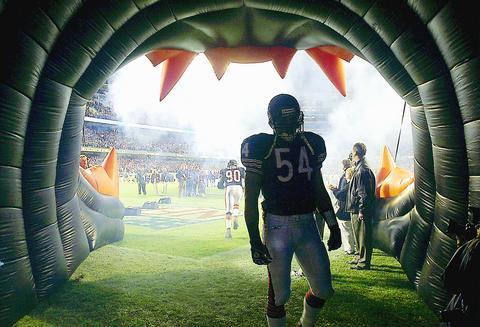 Chicago Bears' Brian Urlacher waits to be introduced to the crowd before the game against the Green Bay Packers, in Chicago's Soldier Field, Monday night.
PHOTO: REUTERS
Ahman Green, center, of the Packers looks for running room between Warrick Holdman, left, and Jerry Azumah of the Bears. Green ran for a 67-yard touchdown on the play.
PHOTO: REUTERS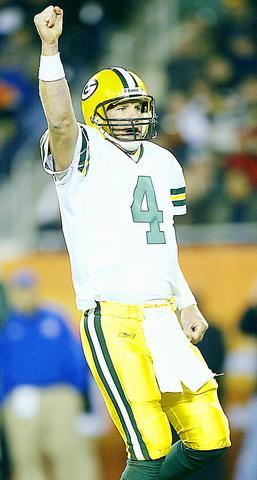 Packers' quarterback Brett Favre celebrates after completing a touchdown pass against the Bears on Monday.
PHOTO: REUTERS
Comments will be moderated. Keep comments relevant to the article. Remarks containing abusive and obscene language, personal attacks of any kind or promotion will be removed and the user banned. Final decision will be at the discretion of the Taipei Times.