Suzuki wins game in grand style
American League \nThe Seattle Mariners just needed a hit. Instead of slapping a single somewhere, Ichiro Suzuki pulled out his power stroke. \nSuzuki hit a grand slam with two outs in the ninth inning off All-Star closer Mike MacDougal, sending Seattle to a 6-3 victory over the host Kansas City Royals on Friday night. \n"That's a big win right there. We got some big hits in the last inning that we hadn't been getting," Mariners manager Bob Melvin said. "That's the kind of game that you can bring into the next day. That's a very good club over there that's playing about as well as they can play." \nThe Mariners and Royals have split the first two of a four-game series between division leaders. \nMike Cameron also homered for Seattle, which scored five runs off MacDougal (3-4) with two outs in the ninth. The rookie had converted 10 save chances in a row. \n"When he connected, I knew it was gone. I tried to get it to the outside corner, but it just didn't get there," MacDougal said. \nIn other AL games, it was: Toronto 4, Boston 1; Baltimore 6, Anaheim 5; New York 10, Cleveland 4; Tampa Bay 2, Texas 0; Minnesota 3, Oakland 2; and Chicago 7, Detroit 5. \nWith Seattle trailing 3-1 in the ninth, Edgar Martinez drew a leadoff walk. Ben Davis' one-out single and Willie Bloomquist's two-out single loaded the bases before pinch-hitter John Mabry's infield single off MacDougal's leg cut it to 3-2. \nSuzuki then hit an 0-1 pitch over the right-center fence for his first career slam and ninth homer of the season. \nThe speedy Suzuki has 111 singles among his major league-leading 140 hits. This time, though, he turned on MacDougal's pitch and drove it. \n"He throws a 97, 98mph fastball," Suzuki said. "I cannot miss that pitch when it comes over the plate.'' \nArthur Rhodes (2-1) pitched a scoreless eighth for the win. Shigetoshi Hasegawa got three outs for his sixth save in six chances. \nAaron Guiel and Angel Berroa homered for the AL Central-leading Royals, who had their four-game winning streak snapped and lost for only the fourth time in 14 games. \nYankees 10, Indians 4 \nAt New York, Armando Benitez made a successful debut in pinstripes, pitching two scoreless innings to help preserve Roger Clemens' 302nd win. \nJason Giambi homered twice, Ruben Sierra also connected and Alfonso Soriano hit a two-run double for New York, which rallied against Cleveland for the second straight night and opened a four-game lead over second-place Boston in the AL East. \nBlue Jays 4, Red Sox 1 \nAt Boston, Kelvim Escobar gave Toronto its second straight strong pitching performance against the best-hitting team in the majors. \nMike Bordick homered off Tim Wakefield (6-5) and Escobar allowed five hits in seven innings to break a five-start winless streak. The Blue Jays, 3-12 heading into the All-Star break, improved to 2-0 afterward. \nEscobar (6-6) became the first Toronto starter other than Roy Halladay to get a victory in the last 21 games. \nOrioles 6, Angels 5 \nAt Baltimore, Tony Batista ended his longest slump of the season with a grand slam in the first inning, then hit the tiebreaking homer in the eighth for the Orioles. \nBatista was 0-for-14 over a four-game span before his sixth career slam put the Orioles up 5-0. After Anaheim rallied to tie it, he homered against Francisco Rodriguez (5-2) to put Baltimore ahead to stay. \nGarret Anderson hit his 23rd homer for the Angels. \nDevil Rays 2, Rangers 0 \nAt St. Petersburg, Fla., Jeremi Gonzalez allowed five hits over eight sharp innings and Rocco Baldelli had a pair of RBI singles for Tampa Bay. \nGonzalez (4-4) struck out six and walked one for his first victory since June 17. All-Star closer Lance Carter worked a two-hit ninth for his 16th save. \nWhite Sox 7, Tigers 5 \nAt Chicago, Mark Buehrle won his sixth straight decision and Paul Konerko homered and drove in two runs for the White Sox. \nBuehrle (8-10) has won six of seven starts after losing nine straight decisions. He gave up 10 hits and four runs -- one earned -- in 6 2-3 innings. \nTwins 3, Athletics 2 \nAt Minneapolis, Chris Gomez hit a go-ahead RBI single in the eighth inning and Johan Santana took a shutout into the eighth as Minnesota beat Barry Zito (8-7). \nThe Twins have won two straight after going into the All-Star break with eight consecutive losses.National League \nIn San Diego, Steve Finley hit a three-run homer for the second straight game and Miguel Batista pitched a five-hitter for his second career shutout as Arizona beat San Diego. \nDiamondbacks manager Bob Brenly began serving a two-game suspension for throwing a ball into the stands in Phoenix a week earlier after being ejected for arguing balls and strikes during a pitching change against San Francisco. Bench coach Glenn Sherlock is managing in Brenly's absence. \nFinley scored three runs. He's hitting .514 (19-of-37) against his former team this year, with four homers and 12 RBIs. Shea Hillenbrand also homered for Arizona. \nBatista (7-4), backed by four double plays, struck out five and walked one in his fifth career complete game. \nBrian Lawrence (5-11) lost for the sixth time in eight decisions. \nGiants 7, Rockies 0 \nIn San Francisco, Jim Brower pitched six sharp innings, Pedro Feliz hit a two-run homer and Rich Aurilia added a three-run triple as San Francisco defeated Colorado. \nBarry Bonds went 3-for-4, doubled twice and scored a run during San Francisco's five-run sixth. He also threw out Jay Payton at second from left field in the seventh. \nBrower, a converted reliever, tied his career high with seven strikeouts as the NL West-leading Giants won for the seventh time in 10 games. Brower (6-2) allowed three hits and walked one in his third start this month after 27 relief appearances to start the year. \nJason Christiansen, Joe Nathan and Felix Rodriguez finished the five-hitter. \nDodgers 8, Cardinals 5 \nIn Los Angeles, Rickey Henderson hit his first home run since returning to the majors, and Los Angeles rallied to beat St. Louis. \nHenderson's 296th career homer and first since Aug. 17, 2002, trimmed the Cardinals' lead to 4-3 in the third inning. The former AL MVP spent last year with Boston but wasn't re-signed and played 56 games for Newark of the independent Atlantic League before the Dodgers signed him last Monday. \nKazuhisa Ishii (9-3) allowed five runs -- four earned -- in six innings, improving to 5-0 in 10 starts at Dodger Stadium this season. Eric Gagne got three outs for his 41st consecutive save and 33rd this season.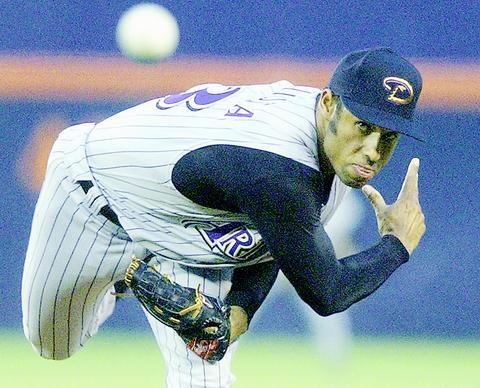 Arizona Diamondbacks starter Miguel Batista pitches in the third ining against the San Diego Padres, Friday. Batista allowed no runs and only one hit through four innings.
PHOTO: AP
Comments will be moderated. Keep comments relevant to the article. Remarks containing abusive and obscene language, personal attacks of any kind or promotion will be removed and the user banned. Final decision will be at the discretion of the Taipei Times.