Armstrong looks to road ahead
PEDDLING IRON The US Postal rider posed with Arnold Schwarzenegger after an easy stage 11, but Armstrong will have to play the predator today to erase his closest rivals
Lance Armstrong's struggle to dominate a surprisingly difficult Tour de France could hinge on beating the clock yesterday's individual time trial -- a decisive race on undulating terrain that tests riders to their limits. \nThe American cycling star may hold the overall lead in this year's Tour, but only by a razor-thin margin of 21 seconds that could be in danger if he is not on top of his game in the time trial. \nUnlike in past years, his top rivals feel victory is within their grasp. \n"The standings are very close," Armstrong, soaked in sweat, conceded in brief remarks to reporters. \nNo contender, including American Tyler Hamilton, competing with a double fracture of his right collarbone, bothered to mount a challenge Thursday on one of the Tour's least punishing stages. \nInstead, they rode alongside Armstrong on the flatlands from Narbonne to Toulouse, always staying within the main pack and finishing in the same time. \nThe top rivals -- Alexander Vinokourov of Kazhakstan, 1997 winner Jan Ullrich, Spanish rider Francisco Mancebo, Iban Mayo of Spain, and Hamilton -- chose to conserve their forces, hoping to chip away at Armstrong's lead during yesterday's vital individual time trial. \n"The time trial is totally going to dictate how the rest of the Tour is raced," said Frankie Andreu, a former US Postal Service teammate of Armstrong. \nThe 47km run across the sun-drenched hills from Gaillac to Cap'Decouverte is raced against the clock and riders leave several minutes apart. \nArmstrong has himself conceded the stage poses the toughest challenge since he first won the Tour in 1999. But the 31-year-old Texan has scouted the course numerous times and knows it well. \n"I've been doing extra work on the time trial bike in training," he said. But one factor that could play against him is the wind. \n"We'll have to see at the end because the wind direction might change," he said. \nBut Armstrong isn't alone in setting time aside to prepare for the time trial. \n"It's obviously a huge thing," said Australia's Baden Cooke, a fdjeux.com rider who won an earlier stage and currently holds the green jersey for best sprinter. \nVinokourov said he felt in top shape and was pleased with his performance so far. \n"It gives my morale a boost ahead the race against the clock and the Pyrenees," he said. \nIf Armstrong fails to gain a stranglehold on the race with the time trial, he knows front-runners could give him a tough time during the four stages in the mighty Pyrenees mountains, starting today. \n"He will have to respond and go with these guys when they attack on the climbs, that's what's going to be the difference," said Andreu. \nThursday's race gave lesser-known riders a chance to grab the spotlight. Armstrong finished 42 seconds behind the winner, Spanish rider Juan Antonio Flecha, competing in his first Tour. Dutch cyclist Bram De Groot finished second, and Spanish rider Isidro Nozal was third. \nHollywood star Arnold Schwarzenegger, who is following part of the Tour, returned the leader's yellow jersey to Armstrong when he ascended the podium. Earlier in the day, the two posed for pictures outside the Postal team's bus. \nPrior to Thursday's stage, Hamilton's entourage angrily denied speculation by fans and the French media that his collarbone fracture, sustained in a mass crash on July 6, was not as bad as team doctors made it out to be. \nIn front of the Team CSC bus, Bjarne Riis, the team's director and a Tour winner in 1996, held a copy of the medical X-ray showing his injuries to a crowd of photographers. \n"If they look at the X-rays and they can't see the fracture, then I can refer them to an eye specialist," said Hamilton, who has repeatedly suffered injuries and is known to persevere through pain.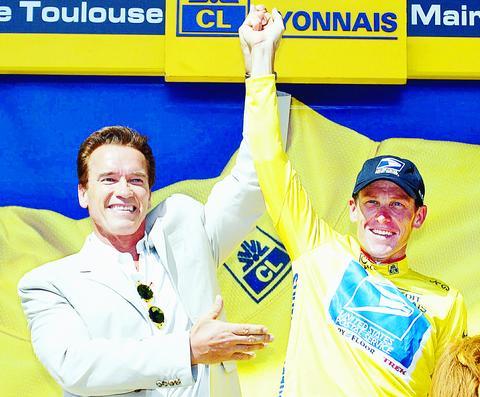 Lance Armstrong celebrates with Arnold Schwarzenegger on the podium of the eleventh stage of the Tour de France between Narbonne and Toulouse on Thursday. IBanesto team rider Juan Antonio Flecha of Spain won the stage and Armstrong retained the yellow jersey.
PHOTO: REUTERS
Comments will be moderated. Keep comments relevant to the article. Remarks containing abusive and obscene language, personal attacks of any kind or promotion will be removed and the user banned. Final decision will be at the discretion of the Taipei Times.