Taiwanese teenager signs minor-league contract with Seattle
Less than a month after the Los Angeles Dodgers made Chen Chin-feng (陳金鋒) the first Taiwan-born baseball player to make the US major leagues, the Seattle Mariners yesterday announced the signing of catcher Wu Chao-kuan (武昭關) to a minor league contract.
Terms were not disclosed but Seattle Pacific Rim scout Jamey Storvick said Wu received a signing bonus, incentives and college scholarship money.
Wu, 18, is the second position player in the past three years to head to the US to play professionally. Taiwan has also exported five pitchers to the US.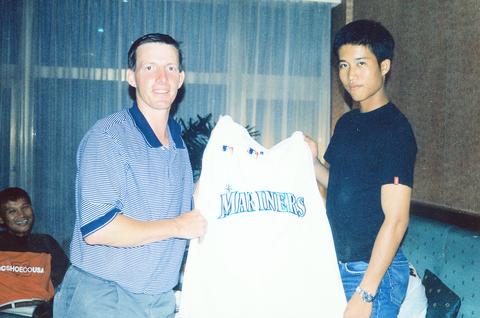 Seattle Mariners scout Jamey Storvick presents a team shirt to Wu Chao-kuan after announcing his signing yesterday in Kaohsiung.
PHOTO COURTESY OF PHILIP GLAMANN
Storvick said he thought seeing Chen make the Dodgers roster in September might have convinced Wu he had a realistic shot at making the big leagues in the US.
"The fact that he saw a kid go over there and make it might have done it," Storvick said. "It was something I think maybe he and his parents discussed."
Wu, who graduated from San-Ming High School (三民高中) in Kaohsiung and attends Fu Jen Catholic University (輔仁大學) in Hsinchuang, will head to the Mariners minor league spring training in March near Phoenix, Arizona. Storvick said it was likely Wu would then stay in Arizona and play for a Mariners rookie team.
"Sizewise he compares to the American kids," Storvick said of the 190cm Wu. "He is strong and we think he will just get stronger."
Besides changing cultures, Wu will also be changing positions. A first baseman in high school, the Mariners intend to transform Wu, who bats lefthanded and throws right, into a catcher. Since most catchers bat righthanded, finding one who bats from the other side of the plate could make Wu a valuable commodity for the Mariners.
"We have basically taken him as a catcher," Storvick said. "What he doesn't know about the position we can teach him. It could give him a better shot."
A change in positions didn't seem to bother Wu at the AAA World Junior Baseball Championships held in August in Canada. When the Taiwan team's starting catcher went down with an injury, Wu took over and helped the team to a second-place finish. He hit .419 (13 for 31) and hit four home runs in the tournament, including one in the championship game, which Taiwan lost to Cuba 9-6.
Wu, who speaks little English, will be assisted by a full-time translator from Taiwan, Sam Kao, who spent last season in the US minor leagues with Wang Chao, the first mainland Chinese player to play in the US.
Wu will spend this offseason in Taiwan studying at Fu Ren and working with a catching coach to learn his new position.
"Other guys have had problems with being able to adjust but one thing about Wu is he is pretty intelligent," Storvick said.
Comments will be moderated. Keep comments relevant to the article. Remarks containing abusive and obscene language, personal attacks of any kind or promotion will be removed and the user banned. Final decision will be at the discretion of the Taipei Times.