`Next' offices attacked by thugs
PAPARAZZI MEDIA Hong Kong media tycoon Jimmy Lai's local office was vandalized by three men wielding baseball bats, but employees said the magazine would be on newsstands across the nation as usual this week
The offices of the paparazzi magazine Next (壹周刊) were vandalized yesterday. \nThe magazine said that the incident would not affect the publication of its latest issue. The weekly usually hits newsstands late every Wednesday night. \nThree unmasked men burst into the magazine's administrative office wielding baseball bats, destroyed equipment including glass doors and computers, and left within five minutes. \nThe magazine's executive editor, Pei Wei (裴偉), said that the magazine had received threatening calls from individuals it had covered in its stories. But the editor refused to comment as to whether yesterday's incident was linked to these calls or any of the magazine's reports, especially as the case was still under investigation. \nPei, however, insisted that the magazine's style of reporting would not be changed. \n"We have reported every story with balance and objectivity. If individuals don't like our stance, there's nothing we can do about it," Pei said. \nChinese-language media estimated the damage caused by yesterday's attack at about NT$100,000, but staff at the magazine said that they hadn't yet calculated the losses. The office was shut down after the incident. \nOne Next employee, who wished to remain anonymous, said that high-ranking managers from the magazine's Hong Kong office were planning to visit Taiwan to evaluate the insurance compensation today. \nThe magazine's paparazzi style has stoked controversy around Taiwan since the publication was launched here. \nTwo young TV show hostesses, A-Ya (阿雅), Hsiao-S (小S) and popular singer Fan Hsiao-hsuan (范曉萱) filed suits against the magazine last week for violating their privacy. \nThe magazine's 11th edition, published on Aug. 9, had reported that the three had attended a drug and sex orgy in Peitou. \nLin Chin-lung (林金龍), a male friend of Taiwan soap star Hsiao Chiang (蕭薔), also filed suit last week against the magazine for violation of his personal freedom and privacy, demanding NT$10 million in compensation. \nThe Presidential Office is suing four employees of the magazine who pretended to be photographers' assistants in an attempt to enter the presidential residence to cover the engagement party of President Chen Shui-bian's (陳水扁) daughter in July. \nThe first issue of Next magazine was published at the end of May. The magazine's owner, Jimmy Lai (黎智英), promised to reveal the private lives of Taiwan's public officials and celebrities to Taiwanese readers. \nEach issue of the magazine has attracted coverage from most of Taiwan's media and prompted discussion in academic circles about the paparazzi-style media culture it has brought to Taiwan.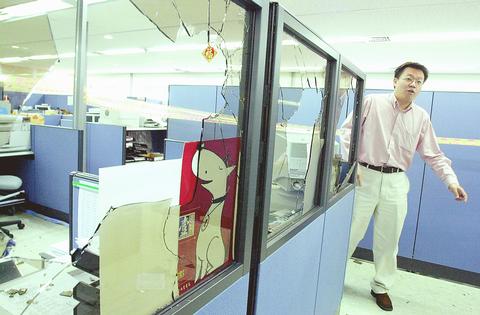 The offices of controversial magazine Next were vandalized yesterday by three unidentified men who smashed glass, computers and other facilities on the 10th floor of the office building. No one was injured in the attack. The magazine's sensational reports about Taiwanese celebrities and politicians have caused uproar in recent weeks.
PHOTO: LIAO RAY-SHANG, TAIPEI TIMES N
Comments will be moderated. Keep comments relevant to the article. Remarks containing abusive and obscene language, personal attacks of any kind or promotion will be removed and the user banned. Final decision will be at the discretion of the Taipei Times.