Liberal group asks EU to accept Chen
Hans van Baalen, vice president of Liberal International, a London-based global federation of liberal parties that granted President Chen Shui-bian the 2001 Prize for Freedom, revealed the latest developments with regard to the international body's attempt to find a country within in the EU where Chen would be able to receive the award in person. Van Baalen, talked to staff reporter Monique Chu on THursday about the prize after his meeting with Chen
Taipei Times: Can you briefly talk about your meeting with President Chen (陳水扁)?
Hans van Baalen: I had a one-hour discussion with your president ... We debated the Liberal International and [this year's] Prize for Freedom because we must find a place where we can physically give the award to the president. There are some hurdles to overcome ... we need to arrange a visa for the president to receive the prize in an EU country.
Another thing was cross-strait relations, [including] one-China policy or independence of Taiwan, and the relationship with China. The third item was the relationship with the EU, the US, and also the WTO. And we also talked about the elections of Dec. 1.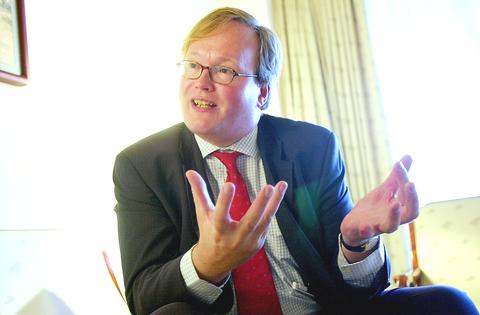 Hans van Baalen, vice president of Liberal International and member of the Dutch parliament.
PHOTO: CHEN CHENG-CHANG, TAIPEI TIMES
TT: As you know, the Danish government made it very clear earlier this month that it would not grant Chen a visa to facilitate his trip to Denmark to receive the award. What's the main reason for Denmark's refusal?
Van Baalen: I speak now as the vice president of Liberal International, although I am also a member of the Dutch parliament.
We deplore the fact that the president was denied a visa for Denmark.
The Danish government referred to the EU's unofficial rule, which stated that the five most important political figures of the ROC, including the president, vice president, premier, foreign minister, and defense minister, would not get a visa even [if] they apply for private reasons. This is a thing we deplore very much because it is a human right to travel, and they are elected by the people, at least the president and the vice president are directly elected by the people.
So I think they should be able to travel, just as the US has issued a visa to the president recently when he was going to Latin America.
We would like the EU to adopt a line common to that of the US.
I myself have tabled, as a European affairs spokesman in parliament, questions to the Dutch government, and the Dutch government [is] also concerned [about] that EU line. This is something we deplore.
As Liberal International, we can lobby, we can speak out -- like I am doing now -- we can put pressure on our government, but we have no ability to issue a visa ourselves.
But I have promised President Chen to do my utmost to make it possible that we find options inside the EU. That means options other than Denmark.
TT: Will your country, Holland, become a possible destination for Chen to receive the award?
Van Baalen: Unhappily, no. I asked this question in parliament on July 5, which was the day before recess. The minister of foreign affairs, in a letter dated July 19, replied that the Dutch government [would] stick to the European line.
But you know there are differences in opinion inside the EU on that line. So I do not know what other governments will say. But we are exploring the options.
TT: As of now, what's the latest development in your exploration?
Van Baalen: Let me be clear on this. This is a matter on which I can't give you the information because it's by silent diplomacy. If tomorrow I said that country X, Y or Z is thinking of giving a visa [to Chen], you know what would happen.
So we would talk with governments and talk with members of parliament.
We have good relations with the European Parliament, in which the Liberals have tabled questions to the commissioner in charge of external relations, Chris Patten. We will explore other options.
TT: Who are the European Parliament members that have tabled related questions to Patten?
Van Baalen: Graham Watson, a member of the European Parliament for the Liberals.
TT: Is Liberal International's main goal to find an EU country that will grant Chen a visa and to allow him to receive the award?
Van Baalen: We've decided to award the 2001 Prize for Freedom to President Chen. And we are supportive of finding a place inside the EU where Chen can be awarded the prize in person. I think your foreign ministry can help us toward that end. We will do what we can.
TT: What if at the end of the day none of the EU countries are willing to grant Chen a visa?
Van Baalen: We must look into that option if and when it occurs.
TT: During your recent meeting with China's official in charge of Taiwan affairs, Mingwei Zhou (周明偉), was this issue discussed?
Van Baalen: I told him that Liberal International decides to whom it will give the freedom prize. That's our business.
We saw Chen as a human-rights fighter, as a man of democracy, and we wanted to honor him for that. The Chinese did not comment on that because I stated indirectly that it's our business, not theirs.
And I did not discuss it further because it's not something between us and Beijing.
TT: In your view, how will the award, once formally given to Chen, show the world that here we have an elected president but whose physical movement has been hindered because of pressure from China?
Van Baalen: The fact is President Chen, like Vice President [Annette] Lu (呂秀蓮), were both in prison for their democratic convictions.
Today they are democratically elected president and vice president, and they are in prison again. They are now imprisoned in their own country. That's not acceptable.
When I spoke with the PRC as the vice president of Liberal International, I didn't speak about institutional matters concerning the political status of Taiwan -- I spoke about the human right to travel.
So I told them not to link the right to travel for President Chen and Vice President Lu to any institutional dealing.
It is a human right to travel. Therefore, President Chen should have the opportunity to receive in person the freedom prize of Liberal International.
Of course that will mark his achievement, and it will also mark the achievement of democracy on Taiwan soil.
Comments will be moderated. Keep comments relevant to the article. Remarks containing abusive and obscene language, personal attacks of any kind or promotion will be removed and the user banned. Final decision will be at the discretion of the Taipei Times.