Fasting hijacker's fate uncertain
DETENTION The Hsinchu Refugee Camp for Mainland Chinese has asked that hijacker Gao Jun be sent back to jail for his refusal to end his hunger strike
In the wake of Chinese hijacker Gao Jun (高軍) launching a hunger strike last month, ahead of his repatriation to China, the Hsinchu Refugee Camp for Mainland Chinese decided to file a report asking the Ministry of Justice (MOJ) to revoke his parole and return him to a Taipei Prison. \nHowever, Lai Hsieh-yi (賴械壹), director of the National Police Administration-run refugee camp, said he is not optimistic that the request will be granted. \n"They [the MOJ and the prison] won't let him go back because he's such a troublemaker," he said. \nGao Jun was one of 16 Chinese who hijacked 12 Chinese domestic flights to Taiwan seeking political asylum in a so-called "hijacking fever" that occurred between April 1993 and June 1994. Armed only with a scalpel, Gao single-handedly hijacked a Chinese Northern Airlines MD-82 jet on a Qingdao to Fuzhou flight on Dec. 8, 1993. \nAfter serving over two-thirds of his 10-year sentence, Gao was paroled on Feb. 19 and was sent to the Hsinchu refugee camp, where he was put on probation to await repatriation to China. \nAs soon as Gao arrived at the refugee camp he started a hunger strike -- the purpose of which was not clear, Lai said. \n"He wants to draw attention and distinguish himself by not cooperating. He used to refuse repatriation; now he says he wants to go back [to China] soon. But I wonder if, when we're to send him back, he might resist again," Lai said. \nCiting the concern that Gao's mood might be disturbed, Lai declined a request by the Taipei Times to interview the hijacker, but allowed reporters to see him outside the railings of his cell. Inmates typically live together in large bunk dormitories and are only placed in single-person cells as a security measure or for punishment when they break certain regulations. \nGao looked sane and well. Knowing there was a photographer outside, he sat or stood with his back constantly to the door. When Lai reproached him for not eating, he replied, "I said I don't eat; I just don't." \nGao's hunger strike has now moved into its 15th day, and the refugee camp today plans to have him force-fed by doctors for a third time. \nLai said Gao continues to resist every instruction and knocks over his food tray at meals. \nGao is the last of the 16 hijackers to receive parole and to be transferred to the Hsinchu refugee camp. However, he is by no means the only hijacker to have given camp officials a hard time. \nAs Gao's probation officer, Lai said it is his duty to report Gao's breach of the conduct rules to the MOJ via the Bureau of Immigration and suggest that Gao's parole be revoked. But Lai said he had tried such a move with another hijacker and failed. \nIn July 1999, hijacker Qi Dachuan (祁大全) also resisted eating for three days while at the refugee camp and smashed a TV set. Lai suggested that Qi's parole be repealed and that he be sent back to prison. But Lai said the MOJ's reply was that it was better for a hijacker to be repatriated sooner rather than be incarcerated again. \nIt has been widely reported by the media that the hijackers have caused significant trouble while in prison. For example, Gao is reported to have swallowed toothbrushes and a thermometer. Hunger strikes, riots and fights in the prison were also frequently reported. \n"It is understandable that the prison wants them to stay here until repatriation," Lai said. \nThe most notable and shocking act of the hijackers took place on Feb. 8, 1999, when three of them repeated the crime. On their pre-repatriation flight from Hsinchu to Kinmen with six other hijackers, Yang Mingde (楊明德), Lin Wenqiang (林文強) and Wang Zhihua (王志華) injured Jan Jyh-horng (詹志宏), deputy secretary general of the Straits Exchange Foundation, with a sharp iron weapon and demanded that the plane be flown to Guam. \nThe attempt failed and the trio were brought back to Taiwan and convicted of hijacking a second time. They are now in the process of appeals. \nSeveral officials were disciplined over the incident, including the refugee camp director, who was replaced because he was deemed to have been negligent in failing to prevent the trio from making the weapon and taking it on board the plane. \nThe state watchdog Control Yuan also formally condemned the National Police Administration and demanded the refugee camp enhance the management of hijackers being held on probation. \nThe reasons for hijackers' inclination to be emotionally frustrated are multifold, successive directors of the refugee camp have said. \nFirst, unlike other inmates, most of whom are illegal immigrants, the hijackers will still face further trials and harsh punishments after they go back to China. \nIt was reported that the first repatriated Chinese hijacker, Huang Shugang (黃樹剛), who hijacked a flight to Taiwan on April 6, 1993 and was sent back to China in July 1997, was sentenced to 20 years in jail -- although the three years and nine months he served in Taiwan counted toward the new sentence. \nFormer camp directors also said that by escaping China the hijackers expected to receive a hero's treatment in Taiwan, as was the case for their counterparts during the Cold War era. However, the change of history put them instead behind bars, and they found the reality hard to accept. \nBesides, Lai said, some hijackers see themselves as superior to ordinary illegal immigrants. "They regard themselves as coming to Taiwan with a brave act and a political belief and they believe they are different from others who came here on boats just to get a job," Lai said. \n"Therefore, some of them don't get along very well with other inmates." \nAs Lai gave the Taipei Times reporters a tour of a secure zone dormitory, an inmate shouted: "Sir! Someone hit me!" \nThe man who shouted was Han Shuxue (韓書學), Lai said. Han and his partner Li Xiangyu (李向譽) hijacked a Chinese Northern Airlines MD-82 jet armed with a scalpel and a sphygmomanometer -- the pump device nurses use to measure a patient's blood pressure -- on Nov. 12, 1993. \nHan was sentenced to 11 years and was paroled and sent to the refugee camp in February 1999. Li has already been sent back to China. Lai said Han has been noisy for more than a month this time. \n"He has been very fussy and likes to make complaints against camp staff and other inmates," Lai said, "However, his situation is not very serious and what we do is admonish him." \nThere are now six hijackers waiting to be repatriated in the camp, excluding Yuan Bin (袁斌) and his wife Xu Mei (徐梅). Yuan was himself a captain and he flew a B737 plane to Taiwan on Oct. 28, 1998. \nLai said the couple behaves very well in the camp and that they are allowed to visit each other weekly.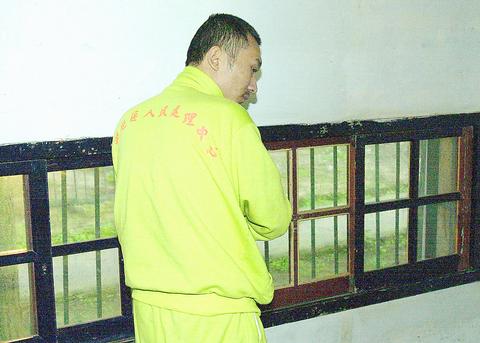 Chinese hijacker Gao Jun turns his back on reporters at the Hsinchu Refugee Camp for Mainland Chinese yesterday. Gao is in the 15th day of a hunger strike.
PHOTO: CHIANG YING-YING, TAIPEI TIMES
Comments will be moderated. Keep comments relevant to the article. Remarks containing abusive and obscene language, personal attacks of any kind or promotion will be removed and the user banned. Final decision will be at the discretion of the Taipei Times.