Mayor disgruntled with Taipei
LOOKING AHEAD Upon learning after his trip to Hong Kong that Taipei was not on par with its counterpart in some areas, Ma is taking steps to ensure the city improves
Coming back from his four-day visit to Hong Kong, Taipei Mayor Ma Ying-jeou (馬英九) yesterday showed his anger at Taipei's poor city management compared with its counterpart in Hong Kong.
After listening to the briefing delivered by the Bureau of Transportation (交通局) yesterday morning, Ma demanded bureau officials formulate a measure within one month to deal with the city's increasing road deaths.
He also cited examples that praised Hong Kong's efficiency in carrying out construction projects.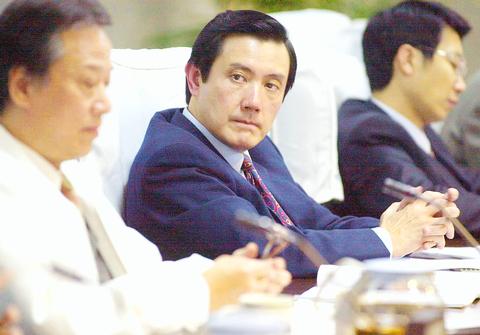 Taipei City Mayor Ma Ying-jeou, center, held a meeting yesterday at the Taipei City Government after a five-day high-profile visit to Hong Kong.
PHOTO: CHIANG YING-YING, TAIPEI TIMES
"It takes Hong Kong one year to build a 60-story building, but it takes us seven years to complete a 12-floor building ... I have no idea what the heck you guys have been doing," Ma said.
Though Ma said he was genuinely upset by the city's poor performance, some analysts say that he seized on the issue only to draw attention to city-to-city matters, in an attempt to deflect accusations made by the media that his visit was primarily geared toward cross-strait relations.
As media attention focused on the issues of cross-strait relations during Ma's ice-breaking visit, little notice was paid to the correction made by China's state-run media after it had misquoted Ma and the no-show of Anson Chan (陳方安生), Hong Kong's soon-to-retire chief secretary for administration.
While the correction, which is rare in Chinese media, is widely seen as one of the many successes of Ma's visit, the failure to see Chan is seen by some to be one of the setbacks.
Unprecedented move
On Wednesday, a Beijing English-language newspaper, the China Daily, quoted Ma as saying that Taiwan should accept the "one country, two systems" model used by China to govern Hong Kong.
The paper was later quick to apologize for the mistake it had made by printing a correction on page two. The correction did not, however, mention "one country, two systems" nor explain how the error had occurred.
The correction read: "Taipei Mayor Ma Ying-jeou said in Hong Kong yesterday that he agrees the Taiwan authorities should accept the one China principle, and that Shanghai, Hong Kong and Taipei could further cooperate under this principle."
Although King Pu-tsung (金浦聰), spokesman for the Taipei City Government, said that the city acknowledges the quick action made by the paper, it could have worded the statement in a more precise manner.
"Mayor Ma has repeatedly and clearly stated the idea of `one China with different interpretations' during his visit. Although the correction mentioned the `one China principle,' we regret that it failed to mention the part on different interpretations, which we think is very important," he said.
Nevertheless, corrections are rarely seen in China's state-run media because it frequently misquotes Taiwanese officials without later correcting the erroneous reports.
The unprecedented move was widely seen by political analysts as a sign that China favors Ma over President Chen Shu-bian (陳水扁), who has displeased China since taking office by refusing to embrace the "one China" policy.
China's act of kindness, however, might not benefit Ma in the end -- who might campaign for presidency, because, after all, only a small percentage of Taiwan's population favors the idea of unification with China.
Chao Chien-min (趙建民), political science professor at the Sun Yat-sen Graduate Institute for Social Sciences and Humanities (中山人文社會科學研究所) at National Chengchi University (政治大學), said that it is hard to say whether the move was a positive one for Ma.
"But at least China sends out a clear message that it doesn't want Ma to be misquoted nor does it wish to see Ma misunderstood by his supporters, because after all Ma is more in line with China's policy," he said.
However, China's friendly response cannot be interpreted as China's strong preference for Ma.
"China has long been hostile to Taiwan and the KMT. It's hard to say that this single move shows China's particular penchant for Ma," he said.
Chang Wu-ueh (張五岳), director of the Institute of China Studies (大陸研究所) at Tamkang University (淡江大學), said that China's support for Ma may have both a positive and negative impact.
"The positive side is that Ma may be one of only a few suitable candidates for bilateral talks with China," Chang said. "The flip side is that he might lose support from the electorate, especially those grassroots Taiwanese groups who prefer the idea of independence or maintaining the status quo," Chang said.
The Anson effect
The no-show of Anson Chan is seen by many as one of the biggest setbacks of Ma's high-profile visit. Some political analysts, however, dismissed the event's significance.
"Although Chan was Hong Kong's No. 2 official, since she is about to retire from her current post, I don't think it matters that much that Ma failed to see her," Chang said.
"Since Chan is no longer a key figure in Hong Kong's political arena, what matters to Ma is that he gets to see the No. 1 man," he said.
Chang's view was echoed by Chao. "I don't think Ma's visit was undermined by the no-show of Chan although Chan represents the legacy of western-style autonomy and rule of law during the British colonial era," he said. "Ma's visit overall has more of a positive impact than a negative one, on both Ma and Taiwan, thanks to the overwhelming and positive media coverage."
Ma had originally been scheduled to have a dinner date with Anson Chan on Wednesday, but the plan fell flat when Chan failed to show up due to a "tight schedule."
It is widely suspected that Beijing's interference might have been behind Chan's absence. The no-show is also widely seen by many as part of a continuing series of attempts by China to force her out of the civil service.
Chan, who has held her post since British colonial days, had enjoyed overwhelming popularity over Chief Executive Tung Chee-hwa (董建華), but she plans to retire in April.
On Thursday, Tung named Donald Tsang (曾蔭權) to replace Chan, marking the territory's biggest political shuffle since returning to China in 1997.
Popularity on Chinese soil
Ma's unprecedented goodwill mission to Chinese soil has stirred up a media frenzy rarely created by Hong Kong officials, especially his counterpart, Tung Chee-hwa.
During the closed-door meeting between the two, Tung even asked Ma's advice on how to improve his personal image. Ma jokingly told Tung to develop the habit of exercising, especially jogging.
In addition to his good looks, Huang Te-pei (黃德北), political science professor at National Chengchi University, said that Ma's popularity has a lot to do with his close association with Hong Kong.
"Because he was born there, Hong Kong people see him as one of their own," he said. "Besides, Ma, an elected government official, knows how to sell himself by being open and close to the public," he said.
Taipei City Councilor Teng Chia-chi (鄧家基) of the New Party agrees.
"He's not like those big shot politicians of Hong Kong, most of whom are appointed by Beijing and need not court their voters," he said.
Taipei City Councilor Tuan Yi-kang (段宜康) of the DPP said that Ma's popularity derives from his clean personal image.
"Hong Kong doesn't know many of Taiwan's politicians, but they're familiar with Ma not only because he was born in Hong Kong, but also because he's one of Taiwan's rising political stars who has good looks and a clean-cut reputation," he said.
Tuan added that the media also plays a pivotal role.
"The media gives him extensive and positive coverage because he's the first Taiwanese official received by the Hong Kong government," he said.
Overall, critics give high marks to Ma's ice-breaking trip to the Chinese territory.
"Although the trip may seem futile because no treaty or agreements were signed nor was the exact time of Tung's visit finalized, it serves as the stepping stone for future interaction for both parties," Teng said.
Tuan said it was a successful trip more for Ma himself than for the country.
"It seems Ma has done a good job in endorsing President Chen and in protecting Taiwan's national dignity by singing the ROC's national anthem during a speech. The efforts seem more aimed at shaping his personal image than helping foster closer ties with the territory," Tuan said.
Despite Ma's insistence on seeking a second term as city mayor, he has been seen as one of the potential candidates to run for the presidency.
Tuan, however, disagrees.
"Well, at least he's not qualified to run in the next presidential election," he said. "It will take time for him to mature as a state leader. Besides, he has to overcome many obstacles, including pressure from his own party."
Tuan's remark was echoed by Teng.
"I'm sure that he's a good mayor, but I'm not that certain he'll make a good president, at least not for now," he said. "I think he has the potential but he needs to spend more time learning how to become one and learning how to gain the support of the Taiwanese and grassroots voters. When the time is right, I'm sure he'll shine."
Comments will be moderated. Keep comments relevant to the article. Remarks containing abusive and obscene language, personal attacks of any kind or promotion will be removed and the user banned. Final decision will be at the discretion of the Taipei Times.