Legislator found not guilty of corruption
TAXING ISSUE When Liao Hsueh-kuang began charging Hsichih businesses development fees, prosecutors indicted him on charges of corruption. The Taiwan High Court yesterday said it was within his administrative right as township chief to levy the tax
The Taiwan High Court found independent legislator and former township chief Liao Hsueh-kuang (廖學廣) not guilty of corruption yesterday for creating a special tax to boost local government revenues. \nLiao, a former township chief for Hsichih (汐止) in Taipei County, had previously been given an 18-year sentence for levying the so-called "township chief tax" against local companies six years ago. \nLiao levied the tax during his term between 1990 and 1993, and was the first township chief to charge the assessment. \nAccording to Tsai Kuang-chih (蔡光治), the ruling judge in the case, some 267 private companies and more than 400 venders at local night markets paid the "township chief tax." Total receipts, he said, "were as high as NT$220 billion." \nAccording to government regulations, all construction companies need to obtain a local township's permission before applying for a construction license from a city or county government. \nIn order to boost the township's revenues, Liao created a special "community development fund" (回饋地方建設基金) and asked local businesses to pay the "township chief tax" when requesting construction permits. \nTsai said yesterday, that in the absence of a better local tax regulation, it was reasonable and acceptable for Hsichih to create a community development fund. \n"How can local chiefs develop their communities when they lack necessary administrative powers like these?" Tsai said. \nLee Hsiang-chu (李相助), the presiding judge in the appeals case, said yesterday that, according to Taiwan's construction laws, it was reasonable for firms to pay compensation for damage resulting from construction work. \nIn addition, both Lee and Tsai said, Liao never put the collected tax into his own pocket -- a fact that favored the lawmaker. \nIn response to the judges' decision, Liao -- who had been suspended from his township post because of the case and was later elected to the legislature -- said yesterday that he was delighted by the judgement. "I have been tortured by the case for too long," he said. \nLiao also said yesterday that he would run in the legislative election at the end of the year. \nLiao's wife, Chou Li-mei (周麗美), was elected as township chief for Hsichih after Liao stepped down. \nMeanwhile, Liao said yesterday's ruling was a victory for other local government chiefs who are also being prosecuted for charging development fees to local businesses in order to fill local coffers. \nOther targeted local government heads include Liao Pen-yen (廖本煙) of Shulin (樹林); Chen Chun-che (陳俊哲) of Tamsui (淡水); and Lai Chung-cheng (賴忠政) of Tsaotun (草屯). \nHsinchu Mayor Tsai Jen-chien (蔡仁堅) has also been prosecuted for forcing United Microelectronics Corp (聯電) to pay so-called "community development" fees for its construction projects. \nProsecutors who brought the case against Liao said yesterday that they were unsure whether to appeal yesterday's verdict to the Supreme Court.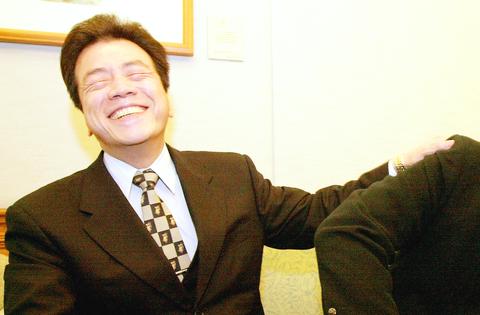 Independent legislator Liao Hsueh-kuang is all smiles yesterday after his conviction for levying, in his capacity as Hsichih township chief, the so-called "township chief tax," was overturned by the Taiwan High Court. Liao was sentenced to 18 years' imprisonment for collecting an estimated NT$220 billion in illegal revenues.
PHOTO: GEORGE TSORNG, TAIPEI TIMES
Comments will be moderated. Keep comments relevant to the article. Remarks containing abusive and obscene language, personal attacks of any kind or promotion will be removed and the user banned. Final decision will be at the discretion of the Taipei Times.