Day of protest takes aim at Chen
DISSENTION DPP supporters who want the legislature downsized and KMT followers who want the president to step down organized two large rallies yesterday
Two political demonstrations representing diametrically opposite positions took place in Taipei yesterday. \nThe first was made up of DPP supporters, who were advocating the downsizing of the Legislative Yuan to reduce the nation's budget. The other protest, led by the KMT, called upon President Chen Shui-bian (陳水扁) to resign to take responsibility for the downturn in the economy. \nOn Christmas day, also Taiwan's Constitution Day, thousands of people marched in Taipei to protest against the government and lawmakers. Leaders of the main opposition party, the KMT, launched a demonstration they called "Protecting the Constitution, Saving Taiwan," to persuade President Chen to step down. \nLed by KMT Vice Chairman Chiang Chung-ling (蔣仲伶) and Secretary-General Lin Fen-cheng (林豐正), some 10,000 protesters marched through Taipei to the square in front of the Presidential Office and the Executive Yuan to express their anger with President Chen's administration. \nThe protesters shouted, "Recall President Chen and let the stock market rise," and "Vice President Lu is lying about the President's affairs and should step down." \nThe crowd called on Chen and Lu to accept the blame for rising unemployment and slumping share prices. \nProtest leader Chen Chien-chih (陳健治), a lawmaker who sits on the KMT's Central Standing Committee, smashed bowls in symbolic reference to the Chinese phrase, "smashed rice bowl," which means "losing one's job." "Taiwan's economy has never been worse," he said. \nAt the square in front of the Presidential Office building, demonstrators set fire to effigies of the president, Annette Lu and Premier Chang Chun-hsiung (張俊雄) before a police officer put out the blaze with an extinguisher. \nMeanwhile, Chen attended a Buddhist rally in the southern port city of Kaohsiung, Taiwan's second biggest city. \nLater in the day, taking almost the same route, pro-Taiwan independence groups led another demonstration to advocate eliminating half the seats in the Legislative Yuan to end the "main source" of Taiwan's political chaos. \nOther protest leaders accused the government of cutting budgets at the same as lawmakers raised the level of their own governmnt funds. \nOver 20 groups, mostly DPP supporters, took part in the protest. They said they have established the "Action Alliance to Halve the Legislature (立委減半行動聯盟)" in order to promote their cause.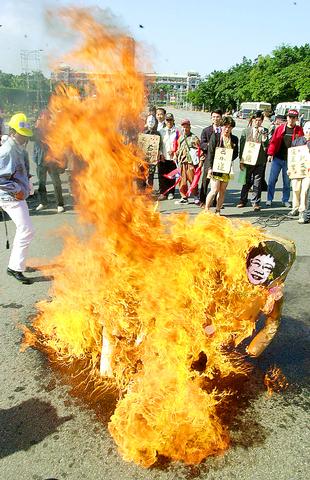 Demonstrators burn effigies of the president, Vice President Annette Lu and Premier Chang Chun-hsiung in front of the Presidential Office yesterday during a KMT-led protest aimed at "protecting the Constitution and saving Taiwan."
PHOTO: CHEN CHENG-CHANG, TAIPEI TIMES
Comments will be moderated. Keep comments relevant to the article. Remarks containing abusive and obscene language, personal attacks of any kind or promotion will be removed and the user banned. Final decision will be at the discretion of the Taipei Times.