Genes, ethics and Aborigines
As Taiwan begins collecting samples to create a DNA database, scientists are facing criticism over the methods they have used to obtain blood from Aborigines - blood that is now highly valued for research projects
DNA research has been a hot issue worldwide in recent years, and one which culminated in the decoding of the DNA sequence of the entire human genome, accomplished by scientists from six countries in June.
In keeping with the global trend, Academia Sinica members last month urged the government to establish a Taiwanese gene database of Taiwan's ethnic groups for the purposes of medical research and further study of the diversity of human populations and languages.
But some researchers have expressed reservations about the plan, saying the database should be used only for disease research, not for ethnic studies, lest these give rise to political disputes.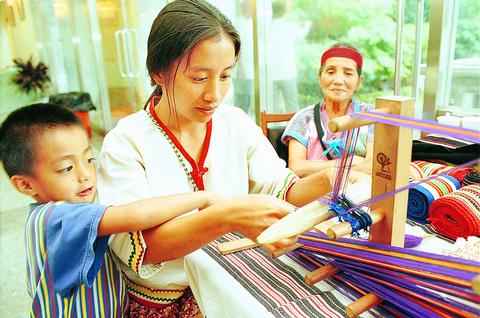 Biyc Yadawuyugana, a woman from the Tsou tribe and a member of an organization of weaving artists in Wulai, was invited to give a performance of her weaving skills outside a seminar on biodiversity and the future of Aboriginal people in this file photo from August.
PHOTO: CHEN CHENG-CHANG, TAIPEI TIMES
In addition, some say the classification of ethnic groups in Taiwan is based on a biased theory in the first place, and distorts the proportions of the population that different ethnic groups in Taiwan represent.
More importantly, the ethics of genetic research is of primary concern. It has been discussed in many other countries within the past decade and recently became controversial in Taiwan, particularly among Aborigines, who some say have been subject to gene sampling more than other ethnic groups in Taiwan.
Reflections on 'Gene Hunter'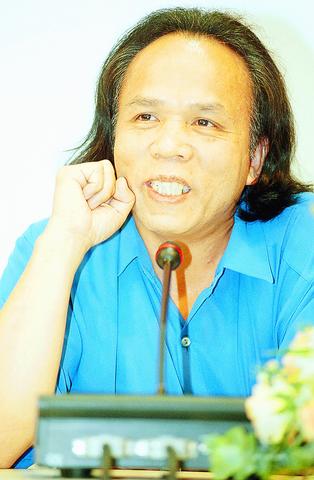 Watan (娃丹), a reporter of Taiwan-ese Aboriginal origin, participated in a UN forum on issues affecting indigenous people in 1995 and was surprised to hear a familiar story when he watched a documentary film called Gene Hunter there.
The documentary tells of a group of American and British geneticists who visited tribes of American Indians to take blood samples. They told the native peoples that the research they were conducting was for health reasons and did not reveal their actual research motives.
"I was immediately shocked," Watan said, "but it's the same in Taiwan."
"Taiwanese Aborigines have been facing the same situation for decades, but no one pointed out the ethical problems before," he said.
Chen Shu-cho (陳叔倬), currently a lecturer at Tzu Chi College of Medicine and Humanities and former assistant on various genome projects, is also aware of the potential violation of Aborigines' human rights posed by genome research.
"No researcher told the people whose blood was taken why and how their blood would in fact be used," Chen said. "Different researchers told them the same thing: that their blood was to be used for a health check," he said.
"But why should a mere health check require so much blood?" Watan and Chen asked as they recounted how, although 3ml of blood was sufficient for a health check, many researchers drew between 10ml and 20ml and divided the blood into different tubes.
Three years ago, the former provincial health bureau implemented an overall health checkup for gout and liver diseases in Aboriginal areas. The researchers drew 10ml of blood from each person and divided it into three tubes.
"One tube for a gout check, one for liver diseases, and the third tube for what?" asked Watan.
"Some research centers and medical institutions have drawn many thousands of tubes totalling tens of thousands of milliliters of blood from Taiwanese Aborigines," Aboriginal lawmaker Tsai Chung-han (蔡中涵) said.
"Aborigines on Orchid Island had the worst experience," said Aboriginal physician Kao Cheng-chi (高正治), a former National Assembly member who worked as the director of a health center on Orchid Island.
Why do research centers and medical institutions focus on Aboriginal blood?
The Hypothesis for Aborigines
According to geneticists worldwide, there are two reasons to target Aboriginal blood. One is that researchers believe that Aborig-ines have purer heredity than the most people in mainstream societies worldwide, which, they believe, will enable them to obtain archetypal blood samples; the other is that researchers believe that Aborigines adopted distinct means of adapting to their environments and developed specific genes for fighting diseases.
Both reasons revolve around the isolation and long histories of Aboriginal societies.
In Taiwan, the government has officially identified nine ethnic groups of Aborigines. Some independent researchers claim there are at least twelve.
The languages, cultures and physical characteristics of members of Aboriginal groups vary. Due to these differences -- including their lower social status -- from Han Chinese (the main ethnic group in Taiwan), researchers consider them to be a distinct group.
Because they are considered to be distinct, Aborigines are often targeted for research into phenomena such as liver disease and gout.
Determining whether Taiwan is the origin of Austronesian peoples, including Australian Aborigines, is another question driving researchers to target Aborigines and one to which an answer has, as yet, remained elusive.
Researchers have tried different ways to trace the origin of Austronesian peoples. Eight years ago, HLA (Human Leukocyte Antigen) research became popular as a means of investigating the ethnic, genetic and cultural proximity between human populations.
HLA is one factor that can give researchers a way to measure such proximity. Taiwanese researchers found that the HLA of Aborigines showed a very high degree of species purity, in common with that of Austronesian peoples.
Academia Sinica, at the time this type of research became popular, launched a project on kinship and cultural relationships between Taiwanese Aborigines and South-east Asian indigenous peoples. Researchers visited the tribes, with the assistance of local health centers, on the pretext of health checks, Kao said, who was officially responsible for organizing the collecting of blood on Orchid Island at the time.
Orchid Islanders are widely thought to have the closest kinship with some Austronesian populations and were considered important to the research.
Last year, Aborigines again became the target of a research project. Researchers in Pintung Christian Hospital and Kaohsiung Medical College sought their blood for AIDS research. Acting on the hypothesis that Aborigines had some genome variation that counteracted HIV, since no death from AIDS among Aborigines had ever been recorded, the researchers planned to collect blood from 40,000 Aborigines.
Some Aborigines cast doubts on this plan. They said, according to an Aboriginal physician who declined to be named, that: "One reason for the low mortality from AIDS among Aborigines was their low population in Taiwan. Besides, many people have died of other related diseases rather than AIDS itself."
The first person known to have contracted HIV in Taiwan, Han Sen (韓森), is of Aboriginal origin. He offered cultural and therapeutic interpretations instead of genetic reasons for the low mortality rate from AIDS among Aborigines.
"There is greater solidarity among Aboriginal families than among many native Taiwanese families," Han Sen said. "We enjoy more support from the family."
"Moreover, the survival of AIDS patients hinges more on whether they can follow strict therapeutic regimes rather than anything else," stressed Han Sen, who has been working as a social worker in a center for AIDS patients since he contracted HIV.
The Lack of Informed Consent
Many whose blood is now being used for research never gave formal consent for its use, however, because of the way it was collected.
Since 1990, Mackay Memorial Hospital has used Aboriginal blood for genetic research. It has targeted 11 ethnic groups of Aborigines, 1377 individuals, and used red blood cells of 37 kinds of blood types.
In 1998, the Pintung County Government, on instructions from the former provincial health bureau and in cooperation with Pintung Christian Hospital, drew 10ml of blood from 1,900 Aborigines for health checks.
This year, the Taipei City Government's bureau of health will provide a one-day free health check for Aboriginal residents of Taipei over the age of 40. The health department plans to target around 1,900 Aborigines and accomplish the checkup in five municipal hospitals by September.
The purpose of this health check is to look into why Aborigines have an average lifespan that is 10 years shorter than that of Taiwanese of Han descent, according to officials in the health bureau.
All of the blood extracted for research purposes so far has been conducted along with free health checks, and mostly under the arrangement of official health centers.
Everyone concerned with genetic issues agrees that genetic research is helpful and beneficial to the well-being of people all over the world, especially from the point of view of improving overall health.
"But the problem is that researchers have only concentrated on the results and have overlooked the process," Chen said, adding that, "the research results also became the intellectual property of the researchers, with the Aborigines gaining nothing in return for their contributions."
The ethical principle of informed consent was ignored in all the above activities, Chen said.
Genome researchers in Taiwan are also criticized for misjudging how taking blood and carrying out genome research would be perceived by Aborigines, some of whose cultures may have taboos about the use of blood and body tissues.
More Ethical Concerns
In 1991, a group of international human geneticists and molecular biologists proposed a Human Genome Diversity Project (HGDP) to undertake a worldwide survey of the human genome.
HGDP planning workshops proposed guidelines on ethical issues, which included informed consent and benefits to contributing peoples.
"Should a patent be granted on any specific product, the project must work to ensure that the sampled populations benefit from the financial return from sales," said one of the guidelines.
Aboriginal communities worldwide, however, still voiced suspicion about the project. UNESCO decided not to start the project until it had acquired the trust of Aborigines worldwide.
Patents are another consideration affecting genome research among Aborigines. "If commercial goals are involved, genome research will be more complicated," Watan said.
"Taiwan should legislate to the effect that genome researchers may not apply for patents for their research results," said lawmaker Tsai.
Chen also pointed out that the Philippines, Bolivia, Columbia, Peru, and Venezuela -- where Aborigines constitute the majority of citizens -- have adopted laws monitoring the acquisition of genetic resources.
But there is no related legislation in Taiwan. The only related law is the Medical Treatment Law (醫療法) which is overseen by the Department of Health (DOH). The law stipulates that any medical research upon the human body should be approved by the DOH before implementation.
"This law, however, fails to regulate researchers mainly because of its limited definition," said Lin Chin-fen (林慶豐), a DOH official responsible for Aboriginal issues.
"Researchers argued that genome research was not research upon the human body," Lin said, adding, "Few researchers informed the DOH before they conducted health checks and drew blood from Aborigines."
The DOH's position within the government's hierarchy is another hindrance to the monitoring of this kind of genome research, Lin added.
Academia Sinica, the National Science Council and National Health Research Institute are the main institutions involved in genome research. "But the DOH's seniority within government is no higher than that of these organizations, which presents difficulties for it in its monitoring role."
"The DOH has suggested that the government organize a Cabinet-level ad hoc committee and incorporate an ethical protocol into legislation relating to research," Lin said. "The existing Medical Treatment Law should be expanded to cover genetic research and other research related to people."
Comments will be moderated. Keep comments relevant to the article. Remarks containing abusive and obscene language, personal attacks of any kind or promotion will be removed and the user banned. Final decision will be at the discretion of the Taipei Times.