Chiang Kai-shek's official residence opens its doors
The generalissimo has been dead for 25 years, and while people have been able to visit the grounds of his Shihlin house since 1996, the buildings themselves are only now being opened up
As the security guards last Friday slowly pulled open the gate, the mystery surrounding the main building of the late Chiang Kai-shek's (蔣介石) official residence in Shihlin was unveiled to the media for the first time ever, having been closed off to the public for 50 years.
Once the heart of power, the building, which is nestled among lush trees, is still monitored 24 hours a day by the National Security Bureau. Its former residents -- Generalissimo Chiang Kai-shek and his wife Madame Chiang (蔣宋美齡) -- lived in the house for 26 years before Chiang's death in 1975.
To respect the wishes and privacy of Madam Chiang -- who has lived in the US since 1975 -- the general public had to wait until now for a glimpse of the interior of the house. The outer and middle gardens in front of the building were opened to the public in 1996.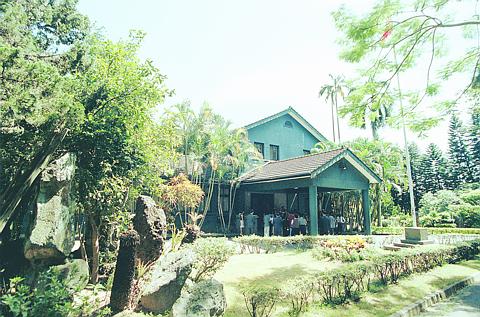 Journalists were allowed for the first time into the main mansion of Chiang Kai-shek's residence compound in Shihlin on Friday. The Taipei City Government designated the mansion as a cultural heritage site on April 20.
PHOTO: LU CHUN-WEI, LIBERTY TIMES
Taipei City Government's Bureau of Cultural Affairs (文化局) decided on April 20 to designate the compound -- officially called "the former official residence of Chiang Kai-shek and Madam Chiang" -- as the city's 93rd municipal heritage site and planned to make it into a local and global study center for the study of the lives and times of the couple.
Three major projects include the gathering of related historical documents, narrative histories, and the restoration of its original look.
The compound covers the main building, a guest house, a church, a pagoda, and a garden.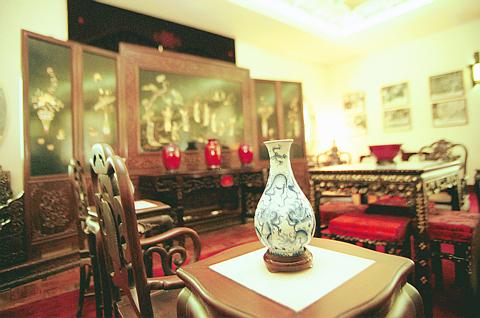 Inside Chiang Kai-shek's official residence is a wide variety of antique Chinese and foreign furniture, valuable antiques, such as the vase pictured above, as well as paintings from his wife, Madam Chiang.
PHOTO: LU CHUN-WEI, LIBERTY TIMES
Built in 1950, the two-story main building was the second official residence for the Chiangs after they relocated to Taiwan from China in 1949 with the KMT's forces following their loss to the Communists in the civil war. While the front part of the building was built in the Japanese style, the latter was built in a modern Western style.
Upon entering the door, what one sees first is a large thick carved wooden screen, while on the wings are the living rooms and offices for the military aides and secretaries in residence.
Passing through the arched corridor, one sees a small living room and a dining room before one enters the spacious ball room. Built in 1960, the room has a maximum capacity of more than 250 people. Prestigious guests who have been entertained here include former US presidents Richard Nixon and Dwight Eisenhower.
Decorations in the red-carpeted ballroom include furniture from the Ching and Ming Dynasties, western sofas with light maroon covers made of silk and a personal collection of antiques and valuable items including framed family pictures, crystal ash trays, china vases, antique lanterns, Madam Chiang's hand-drawn Chinese paintings, and delicately carved wooden screens, which were part of her luxurious dowry.
The nearby Kaiketang (凱歌堂) church, was built in 1949 for the Chiangs, both of whom proclaimed to be devout Christians.
There are different stories about the origin of the church's name. Some say that it stands for "triumph," while others have said the name comes from the Bible. Chou Lien-hua (周聯華), who was the church's minister for over 40 years, said the chapel is a testimony to God's power.
According to Chou, when Chiang was paying a visit to a rural township in Nanking, China, during the Sino-Japanese war in 1937, he prayed to God for his victory in the war in return for the donation of a church. His wish was granted in 1945, and he kept his promise by presenting a church named Kaiketang to symbolize his triumph in the war.
Standing on top of Fushan (福山, or Fortune Mountain), the pagoda, Tzuyunting (慈雲亭), was built in 1963 in memory of Chiang's mother, who was buried in a family graveyard in their hometown of Ci-an (慈庵) in Zhejiang province, China.
Chien Yi-fang (錢義芳), the curator of the residence, said the Chiangs had treated him like one of the family since he started serving them at the age of 17.
"They lived a very regular life. They were well-tempered and read the Bible a lot," he said.
Quiet and restrained, Chien offered some tempting tidbits about Madam Chiang.
"She paid a lot of attention to hygiene," he said. "For example, we had to wipe the windows and tables everyday. The floor needed to be waxed everyday too, and believe you me, she could tell from a distance whether it was clean or not."
Retired deputy head of the National Security Bureau, Chen Tsung-tsui (陳宗璀), outlined a detailed account of life with the Chiangs' during his 30 years of service at the residence in his memoir entitled Thirty Years in the Shihlin Official Residence (士林官邸三十年). He said that while Chiang had liked to go to bed early and get up early, Madam Chiang liked to stay up late and get up late.
It is well-known that Madam Chiang -- who was educated in the US -- has a strong command of the English language. While Chiang was receiving foreign guests, Chen said, Madam Chiang would sit quietly and listen carefully to the translator, but would sometimes take over the translation job herself so she could have a closer relationship with the guests.
Born to a Buddhist family, Chiang was christened in 1930, three years into his marriage with Madam Chiang, who was born into a Christian family. In a letter dated July 1975, Madam Chiang wrote that she was moved by Chiang's diligence and determination to study the Bible to become a Christian.
"Since we got married in 1927, he started to put into practice what he had promised my mother when he asked her for my hand -- that is to study the Bible diligently. He obtained his first Bible from her and has since studied very hard to understand its meaning and memorize the contents," she once said.
After they moved into the Shihlin residence, Chen said, the couple went to church every Sunday morning and usually invited other government officials to go along as well.
Madame Chiang was from a well-to-do family while her husband had a humble background, and this was reflected in their different tastes.
"Master Chiang liked old things such as vintage caps and shoes, because he said they were more comfortable to wear," he said. "Madam Chiang, on the other hand, preferred new things such as the latest fashion of Qipaos [traditional Chinese long gowns for women]. Their dresses, most of them Chinese, were all custom-made by the two in-house tailors." As for food, Chen said, Chiang was fond of Chinese cuisine, while Madam Chiang appreciated western dishes more.
"Master Chiang liked such hometown food as baked sweet potato and potherb mustard leaves, but his false teeth prevented him from eating many of his favorite foods later in life," he said.
"Although Madam Chiang preferred western food, in order to keep fit and healthy, she usually ate very little."
The residence had several in-house chefs specializing in both western and Chinese food. Madam Chiang always gave final personal approval of the menu for special occasions, or outside chefs from the Grand Hotel were called in to offer assistance for more elaborate occasions, he said.
Chen added that Chiang particularly liked Cadillacs and changed vehicles every four years. It was later switched to every two years, Chen said, after a 1969 car accident in Yangmingshan. During their limited leisure time, Chen said, Chiang liked to engage in meditation, taiqi, walking, and hiking. Playing bridge and Chinese chess were Madam Chiang's favorite relaxation activities.
However, their long-time passion was the movies, he said.
"Films were shown in the small living room. While Master Chiang had a penchant for epics and war movies, Madam Chiang preferred foreign films such as romances and westerns," he said. "Religious films were always welcome, but from 1967 on, Master Chiang seldom watched movies in order to protect his eyesight."
While Madam Chiang is now 102 years old, the house is 50 years old and Generalissimo Chiang, who once ruled all of China before his humiliating retreat to Taiwan and long years of exile, has been dead for nearly a quarter of a century.
With the changes both in China and in Taiwan in recent years, their places in the history books are far from secure, remaining highly controversial. While the opening of the Shihlin residence might do little to end the controversy, it provides a fascinating insight onto the human side of two leading figures in 20th-century Chinese history.
Comments will be moderated. Keep comments relevant to the article. Remarks containing abusive and obscene language, personal attacks of any kind or promotion will be removed and the user banned. Final decision will be at the discretion of the Taipei Times.