Annette Lu favors a unified Asia
REGIONAL STRENGTH Lu said a union between Asian countries, modeled on the EU, would promote democracy, tolerance and human rights throughout the region
Vice President Annette Lu (呂秀蓮) called for the establishment of a Union of Asian States similar to the EU during a meeting of Harvard alumni yesterday.
"Meaningful partnership can be achieved only through trust and consent ? I call for a Union of Asian States, then, to be brought about not by the force of arms, but by the forces of goodwill; not by subjugation, but by cooperation and mutual respect," she said.
Lu made her remarks at the opening ceremony of the Association of Harvard University Alumni Clubs of Asia (AHUACA, 亞洲區哈佛校友會聯合會), a three-day event whose theme is "Asia into the 21st century: regional perspectives and global vision."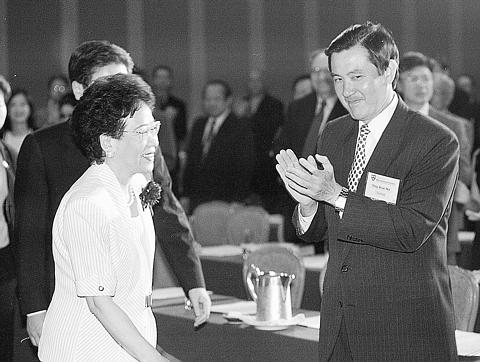 Vice President Annette Lu greets Taipei City Mayor Ma Ying-jeou at a gathering of Asian graduates of Harvard University.
PHOTO: FANG PIN-CHAO, LIBERTY TIMES
"We're all brothers and sisters, and we are all neighbors," she said. "More extensive social, cultural and economic exchanges between our countries would strengthen the values of democracy, tolerance and respect for human rights throughout the region."
While Lu's straightforward manner of speaking has sparked strong criticism from China, she said her call for unification may surprise many.
"Whether it is `one China' or not is not the real issue. Rather, the question is what is the relationship between Taiwan and China, and what would bring the most benefit to the people on both sides," she said.
Talking about China's recent barrage of vitriolic attacks on her, Lu said the message was clear.
"First, as an outspoken woman and the first woman vice president in both Taiwanese and Chinese history, I am unacceptable to them in their patriarchal conceptions of society," she said.
"But most importantly, the attacks on me reveal a fundamental flaw in Beijing's thinking: the singular focus of their nationalism is on territory rather than on people," she said.
In the modern era, efforts to achieve union by military means are simply self-defeating, Lu said.
Some 200 Harvard graduates from over 10 Asian countries and the US participated in the meeting.
Among the local alumni attending yesterday's ceremony were Taipei City Mayor Ma Ying-jeou (馬英九); director general of the Ministry of Foreign Affairs' protocol office, John Feng (馮寄台); and chairman of the Taiwan Securities Company (台證綜合證券) Eric Wu (吳東昇).
Ma was dubious about the feasibility of Lu's Asian union idea.
"It seems a sound proposal but it's rather difficult to emulate as Asian countries differ in nature," he said. "There have been many other regions trying to follow suit over the past 50 years, but most of them failed mainly due to historic and cultural differences."
Comments will be moderated. Keep comments relevant to the article. Remarks containing abusive and obscene language, personal attacks of any kind or promotion will be removed and the user banned. Final decision will be at the discretion of the Taipei Times.