輕鬆華語GO: EASY CHINESE GO
亞太經濟合作會議在美國召開 The APEC Economic Leaders' Meeting is being held in the US
對話 Dialogue
清清:華華,你聽說過「亞太經濟合作會議」嗎?
Qīngqing: Huáhua, nǐ tīngshuōguò 'Yàtài Jīngjì Hézuò Huìyì' ma?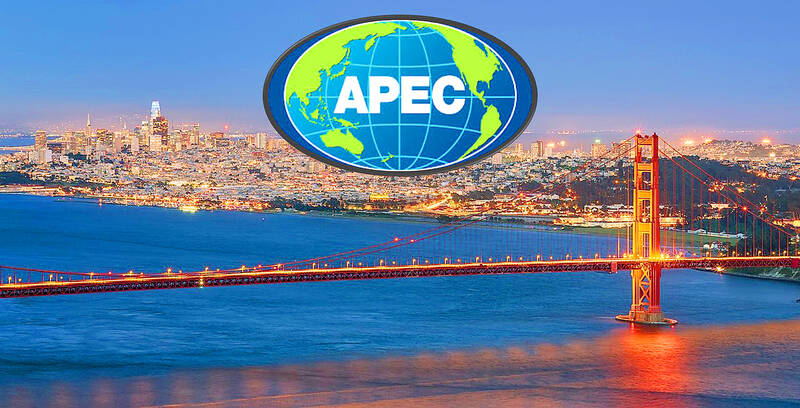 Photo courtesy of Wikimedia commons 提供
華華:當然聽說過!這可是亞太地區在經濟方面的年度盛事呢!
Huáhua: Dāngrán tīngshuōguò! Zhè kěshì Yàtài dìqū zài jīngjì fāngmiàn de niándù shèngshì ne!
清清:你知不知道現在有多少成員呢?
Qīngqing: Nǐ zhī bù zhīdào xiànzài yǒu duōshǎo chéngyuán ne?
華華:現在的成員有21個全球重要經濟體,包括了東北亞、東亞、東南亞、大洋洲、北美跟中南美地區,整體經濟力量非常龐大。
Huáhua: Xiànzài de chéngyuán yǒu 21 ge quánqiú zhòngyào jīngjìtǐ, bāokuò le Dōngběiyà, Dōngyà, Dōngnányà, Dàyángzhōu, Běiměi gēn Zhōngnánměi dìqū, zhěngtǐ jīngjì lìliàng fēicháng pángdà.
清清:記得去年是在泰國舉行的,今年呢?
Qīngqing: Jìdé qùnián shì zài Tàiguó jǔxíng de, jīnnián ne?
華華:經濟領袖會議在美國舊金山召開啊!這麼大的新聞還要問我。
Huáhua: Jīngjì Lǐngxiù Huìyì zài Měiguó Jiùjīnshān zhàokāi a! Zhème dà de xīnwén hái yào wèn wǒ.
清清:就想考考你嘛!你果然很關心時事,沒被我考倒,讚喔!
Qīngqing: Jiù xiǎng kǎokǎo nǐ ma! Nǐ guǒrán hěn guānxīn shíshì, méi bèi wǒ kǎodào, zàn ō!
翻譯 Translation
Q?ngqing: Huahua, have you heard of the Asia-Pacific Economic Cooperation Conference?
Huahua: Of course I've heard of it! It's a significant annual event for the Asia-Pacific region in terms of economic cooperation.
Q?ngqing: Do you know how many members there are now? Huahua: Currently, there are 21 member economies, including Northeast Asia, East Asia, Southeast Asia, Oceania, North America, and Central and South America. It represents a formidable collective economic power.
Q?ngqing: I remember it was held in Thailand last year. How about this year?
Huahua: The Economic Leaders' Meeting is taking place in San Francisco in the United States. It is such big news, and you still ask me.
Q?ngqing: Just wanted to test your knowledge. You are indeed well-informed about current affairs. I didn't stump you. Well done!
生詞 Vocabulary
1. 亞太經濟合作會議 ( Yàtài Jīngjì Hézuò Huìyì) APEC
2. 領袖 (lǐngxiù) leader
3. 召開 (zhàokāi) to convene, to hold
4. 年度 (niándù) annual
5. 盛事 (shèngshì) grand event, major event
6. 成員 (chéngyuán) member
7. 龐大 (pángdà) huge, enormous
教材音檔 Audio Files
國立清華大學華語中心提供
By National Tsing Hua University Chinese Language Center:
Comments will be moderated. Keep comments relevant to the article. Remarks containing abusive and obscene language, personal attacks of any kind or promotion will be removed and the user banned. Final decision will be at the discretion of the Taipei Times.