ENGLISH DIGEST 實用英語
U10: 'Hariko:' Traditional paper craft of Japan 「張子」:充滿愛與祝福的日本傳統工藝
Japan has a rich culture of art. One particularly distinctive craft is "hariko," which uses paper and glue to make figures. This technique originally came from China, but gained popularity in Japan during the Edo period (1603–1867). It involves layering paper carefully by hand to make toys and lucky charms. One popular hariko figure is the tiger. It was put outside homes when the son was sent to war. Hariko tigers were talismans that people believed would help the son return home safely, just like a tiger always returns to its den after a hunt.
The process of making hariko is time-consuming and labor-intensive. The initial step involves wetting thin pieces of paper and gluing them onto a wooden mold. This step is repeated to reinforce the item. Once the layers are all dry, a hole is cut in the paper to remove the mold. Then, a layer of powder made from crushed shells is mixed with glue and put on the item. Finally, it is painted with the desired design.
Hariko fell out of popularity during World War II. However, a number of artists around Japan are trying to revive the hariko tradition. One such artist is Hashimoto Shoichi, who is based in the Fukushima Prefecture. This area was hit by an earthquake and tsunami on March 11, 2011. Hashimoto wanted to do something to help with the reconstruction effort. He crafted a gigantic daruma doll, which, according to popular belief, protects from disaster.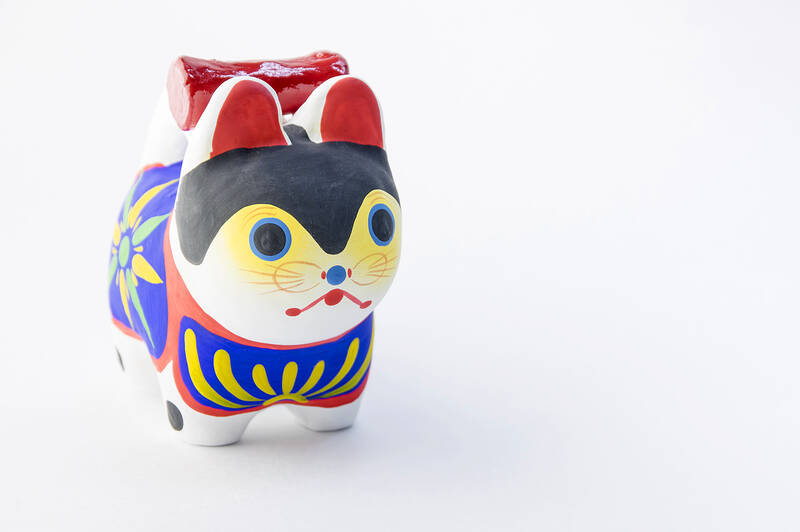 Photo taken from the Internet / 照片翻攝自網路
The daruma had the Japanese word for "reconstruction" on its belly, and people were encouraged to write messages on it. The artist also facilitates workshops to help keep the tradition of hariko alive. He hopes to motivate people to learn about hariko and bring the art to the next generation. Hashimoto believes the possibilities for hariko are infinite!
日本擁有豐富的藝術文化。其中一項特別獨特的工藝是「張子」,它使用紙和膠水來製作人物塑像。這種技術最初來自中國,但日本在江戶時代(西元1603-1867年)流行起來。它需要仔細地將紙手工層層堆疊來製作玩具和幸運符。其中一款流行的張子形狀是老虎。當兒子被派往戰場時,張子虎會被掛在家門外。人們相信張子虎是可以幫助兒子安全返家的護身符,就像老虎總是在狩獵後返回牠的巢穴一樣。
製作張子的過程耗時又費工。第一步需要潤濕薄紙並將它們黏於木製模具上。此步驟會重複進行以加固作品。當各層乾燥後,在紙上劃出切口取出模具。緊接著,將一層由壓碎的貝殼製成的粉末與膠水混合並塗在作品上。最後,再依所需的設計上色。
張子在第二次世界大戰期間退了流行。然而,日本各地的一些藝術家正試圖復興張子傳統。其中一位藝術家是橋本彰一,他居住在福島縣。這個地區在西元2011年3月11日遭受地震和海嘯的襲擊。橋本想做些事來協助重建工作。他製作了一個巨大的達摩娃娃,根據民間信仰,達摩可以保護人們免受災難。
這個達摩娃娃的腹部有關於重建的日語單詞,人們被鼓勵在上面寫下訊息。這位藝術家還舉辦工坊,協助保存張子傳統的生命力。他希望激勵人們學習張子並將這門藝術傳給下一代。橋本相信張子的可能性是無限的!
MORE INFORMATION
Edo period 江戶時代
talisman n. 護身符;吉祥物
den n. (動物的)巢穴;活動場所
mold n. 模具;性格
Fukushima Prefecture 福島縣
tsunami n. 海嘯
reconstruction n. 重建;改造;重現
belly n. 腹部;胃
revive v. (使)復興;復原
KEY VOCABULARY
1. craft n. 手(工)藝;技術/craft vt. (運用技巧)製作
Becoming a master of any craft requires years and years of practice.
要成為任何一項技藝的大師都需要經年累月的練習。
2. popularity n. 流行;人氣
gain / lose popularity 受/不受歡迎
This director's popularity increased rapidly after he won an Oscar.
在獲得奧斯卡獎後,這位導演的人氣迅速攀升。
3. layer vt. 分層放置;按層排列/layer n. 層;塗層
The architect layered the building with different materials to create a unique design.
這名建築師使用不同的材料分層設計建築,打造出獨特風格。
4. initial adj. 最初的;開始的
Scientists are still in the initial stages of testing whether the new medicine is effective.
科學家們仍處於測試這個新藥是否有效的初始階段。
5. reinforce vt. 加固;強化;增援
This building is reinforced with a steel beam that runs through the middle of it.
這棟大樓由一根貫穿其中的鋼樑加固。
6. gigantic adj. 巨大的;巨人的
The amusement park features a gigantic roller coaster that can be seen from miles away.
這座遊樂園有一個巨大的雲霄飛車,可以從幾英里外就看得到。
7. disaster n. 災難;災害
If the fire reaches the city, it will be a huge disaster!
如果火勢蔓延到都市,那將是場天大的災難!
8. motivate vt. 激勵;產生動機;激發
My coach always knows how to motivate me to work harder in practice.
我的教練總是知道如何激勵我在訓練中更加努力。
9. infinite adj. 無限的;無邊無際的
The beauty of nature is infinite and can never be fully captured by words or images.
大自然的美是無限的,無法用文字或影像完全表現出來。
學習音檔: https://magazine.english4u.net/Magdata/menu/qg3ey
《空中美語》雜誌APP免費下載: https://www.english4u.net/apps/index.aspx
免費收聽當月《空中美語》雜誌課文朗讀及解析 !
文章由AMC空中美語授權使用: https://www.english4u.net
Comments will be moderated. Keep comments relevant to the article. Remarks containing abusive and obscene language, personal attacks of any kind or promotion will be removed and the user banned. Final decision will be at the discretion of the Taipei Times.