Japanese distributor apologizes for parent firm's Barbenheimer comment 「芭本海默」迷因在原爆傷口上灑鹽 華納日本片商致歉
The Japanese distributor of the Warner Bros. movie Barbie has apologized for its US parent company's reaction to social media posts about the "Barbenheimer" blitz that combined images of Barbie and a mushroom cloud. The memes triggered criticisms in Japan for what many described as minimizing the atomic bomb attacks on Hiroshima and Nagasaki.
The movie about the world-famous doll and Universal Pictures' Oppenheimer, a biography of Robert Oppenheimer, who helped develop the weapon, were both released on July 21 in the United States, sparking the Barbenheimer craze for watching both and prompting memes combining the two.
Some of the images, which were not created by Warner Bros., showed Margot Robbie, who played Barbie, sitting on the shoulders of Oppenheimer, played by Cillian Murphy, with an orange inferno of an atomic blast in the background.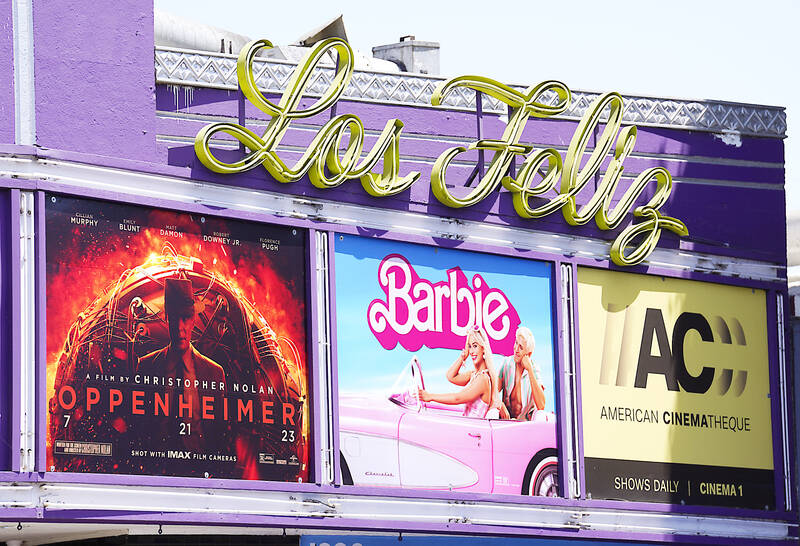 The marquee for the Los Feliz Theatre features the films Oppenheimer and Barbie on July 28, in Los Angeles, US. 洛斯費利斯劇院遮棚上的《奧本海默》與《Barbie芭比》電影招牌。7月28日攝於美國洛杉磯。
Photo: AP 照片:美聯社
The official Barbie account said in response to the combined Barbenheimer meme: "It's going to be a summer to remember."
In Japan, the only country to have suffered atomic attacks, the posts drew criticism for what was perceived as belittling remarks about the nuclear attacks, triggering angry messages and trending on social media with the hashtag #NoBarbenheimer.
"We apologize to those who felt uncomfortable because of these inconsiderable reactions," Warner Bros. Japan said in a statement posted on X, formerly Twitter.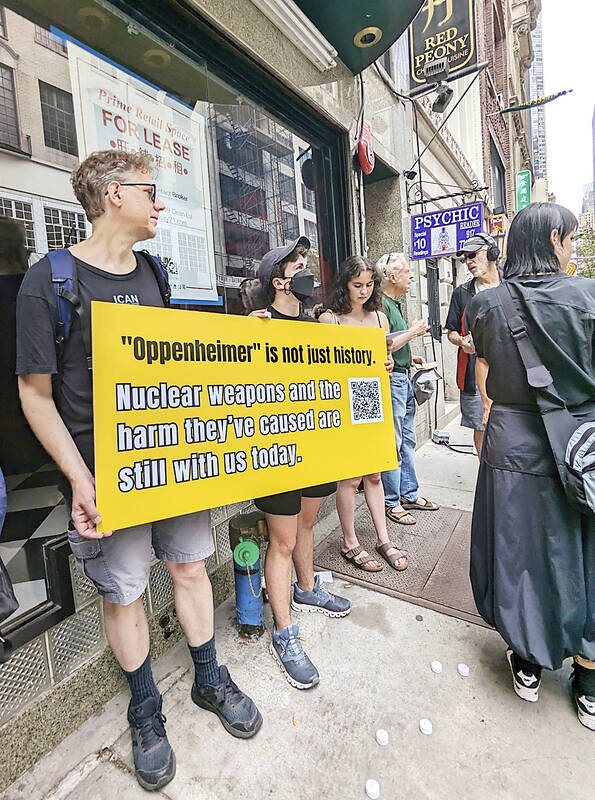 Activists hold a sign while rallying in New York City on July 15. The group gathered to bring attention to residents in New Mexico who were exposed to radiation during the Trinity atomic test done in 1945 as part of the Manhattan Project. 活動人士7月15日在美國紐約市集會時舉著標語,以喚起大眾關注1945年曼哈頓計畫中,因三位一體原子試爆而暴露於輻射的新墨西哥州居民。
Photo: AP 照片:美聯社
One critical posting said many victims who perished under the mushroom clouds were children the same age of those playing with Barbie dolls and that the memes were inconsiderate. Others called them stupid and unforgivable, and urged for a boycott of the movie.
The United States dropped the world's first atomic bomb on Hiroshima on Aug. 6, 1945, destroying the city and killing 140,000 people. It dropped a second bomb three days later on Nagasaki, killing another 70,000. Japan surrendered on Aug. 15, ending World War II and Japan's nearly half-century of aggression in Asia.
Many survivors of the bombings have lasting injuries and illnesses resulting from the explosions and radiation exposure and face discrimination in Japanese society.
Warner Bros. Japan said the Barbenheimer blitz is not part of an official company campaign, but said the reaction of its parent company's Barbie account to memes combining images of the two movies lacked sensitivity. "We believe it was extremely regrettable," the Japanese distributor said, adding that it has requested its parent company to take appropriate action
Barbie was released in Japan on Aug. 11. Meanwhile, a decision has yet to be made for Oppenheimer's Japan release date, or whether it will be released there at all.
(AP)
華納兄弟電影《Barbie芭比》的日本發行商,為其美國母公司對社群媒體上不斷出現的「Barbenheimer」(芭本海默)——結合芭比娃娃及蕈狀雲之貼文——的反應道歉。這些迷因在日本引發批評,許多人說該片極度淡化了廣島與長崎所受的原子彈攻擊。
《Barbie芭比》這部講述全球知名娃娃故事的電影,和環球影業的《奧本海默》(幫助研發此武器的羅伯特.歐本海默之傳記電影),在美國均於7月21日上映,因而引發兩片皆看的「芭本海默」觀影熱,以及結合兩部片的迷因。
一些圖片顯示,飾演芭比娃娃的瑪格‧羅比坐在席尼‧墨菲所飾奧本海默的肩膀上,背景是原子彈爆炸的橙色熊熊烈火。但這些圖像並非由華納兄弟所製作。
《Barbie芭比》官方帳號對「芭本海默」迷因回應道:「這將是令人難忘的夏天」。
在日本這唯一遭受過原子彈攻擊的國家,這些貼文被認為在消遣核攻擊而受批評,引發許多訊息表達憤怒,以及社群媒體上的「#NoBarbenheimer」(拒看芭本海默)主題標籤。
華納兄弟日本子公司在社群媒體X(前身為Twitter)上發布聲明表示:「對這些不足掛齒的回應感到不舒服的人,我們向他們致歉」。
一篇批評的貼文寫道,許多在蕈狀雲下喪生的受害者,都與玩芭比娃娃的孩子同齡,這些迷因並未顧及他人感受。其他人則說這些迷因愚蠢且不可原諒,並敦促抵制這部電影。
1945年8月6日,美國在廣島投下世界上第一顆原子彈,摧毀了這座城市,並造成14萬人死亡。三天後,又在長崎投下了第二枚原子彈,造成7萬人死亡。日本於8月15日投降,結束了第二次世界大戰,以及日本對亞洲近半世紀的侵略。
許多原子彈爆炸的倖存者因爆炸及輻射而遭受永久的傷害與疾病,並在日本社會受歧視。
華納兄弟日本子公司表示,「芭本海默」的宣傳熱潮並非公司官方活動,但表示其母公司的《Barbie芭比》帳號對結合兩部電影圖像之迷因的反應缺乏敏感度。該日本片商表示:「我們認為這非常令人遺憾」,並補充說已要求其母公司採取適當行動。
《Barbie芭比》已於8月11日在日本上映。然而,《奧本海默》尚未公佈日本的上映日期,或是否會上映。
(台北時報林俐凱編譯)
Comments will be moderated. Keep comments relevant to the article. Remarks containing abusive and obscene language, personal attacks of any kind or promotion will be removed and the user banned. Final decision will be at the discretion of the Taipei Times.