SPEAK UP: 'Carpool Karaoke' bids farewell to audience 「車上卡拉OK」成絕響
A: I can't believe it! "The Late Late Show" has ended after host James Corden quit the show.
B: I really like that talk show, especially the popular segment "Carpool Karaoke."
A: Yeah, me too. The host always invites singers to sing along to their songs while traveling in a car. Many superstars such as Madonna, Mariah Carey, Celine Dion and even BTS have sung with him.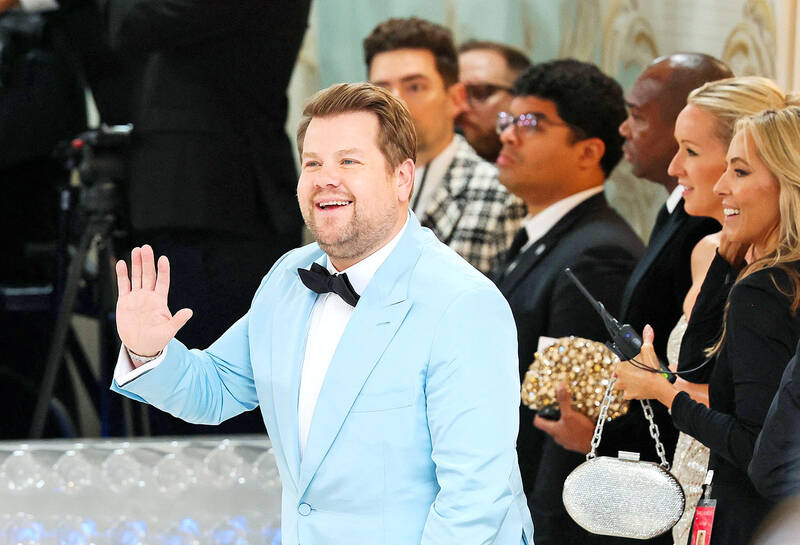 James Corden at the Met Gala. 詹姆士柯登出席Met Gala。
Photo: Reuters 照片:路透
B: And the guest for "Carpool Karaoke" on the last episode was Corden's friend: Adele.
A: I suddenly want to sing now. Let's go karaoke.
A: 不敢相信!詹姆士柯登主持的《深夜秀》竟然停播了。
B: 我很喜歡那個脫口秀,尤其是「車上卡拉OK」單元。
A: 我也是,他每次都會請大明星在車上跟他唱卡拉OK。像是瑪丹娜、瑪麗亞凱莉、席琳狄翁、BTS都去唱過唷。
B: 最後一集卡拉OK的來賓,則是柯登的好友愛黛兒。
A: 突然好想唱歌,我們去唱卡拉OK吧。
(By Eddy Chang, Taipei Times/台北時報張聖恩)
Comments will be moderated. Keep comments relevant to the article. Remarks containing abusive and obscene language, personal attacks of any kind or promotion will be removed and the user banned. Final decision will be at the discretion of the Taipei Times.