SPEAK UP: Dazzling holiday lanterns light up sky 各地燈會歡慶元宵節
A: The Lantern Festival, which is the 15th day of the first lunar month, will be here the day after tomorrow. Maybe we can go to the Taiwan Lantern Festival!
B: Good idea. Where will this year's main lantern be?
A: The main lantern — a "Jade Rabbit" in a spacesuit — will be displayed at the Sun Yat-sen Memorial Hall in Taipei.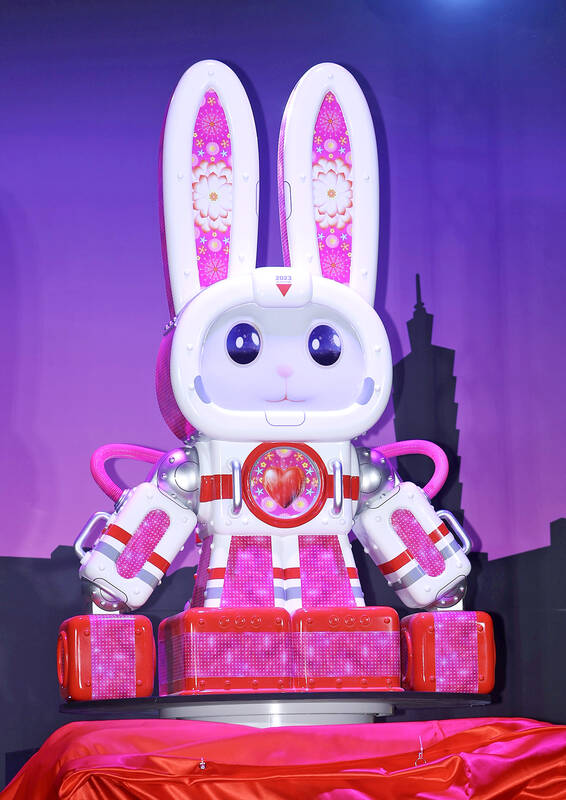 The Jade Rabbit-shaped main lantern for this year's Taiwan Lantern Festival. 今年「台灣燈會」玉兔造型主燈。
Photo: CNA 照片:中央社
B: I also want to go to the Pingxi Sky Lantern Festival in New Taipei City. I've always wanted to experience releasing sky lanterns myself.
A: Sky lantern releases are scheduled for this Sunday and next Saturday, while the Taiwan Lantern Festival will run until Feb. 19.
B: Let's go to the Taiwan Lantern Festival on a weekday, and go to release sky lanterns on a weekend.
A: 後天就是農曆1月15日元宵節,我們去逛「台灣燈會」吧!
B: 好啊,今年的主燈將在哪裡展出呢?
A: 主燈將設置在台北市的國父紀念館,是隻穿著太空裝的玉兔。
B: 我還想去新北市的「平溪天燈節」,我一直想體驗放天燈。
A: 放天燈是在本週日和下週六唷,燈會則將持續到2月19日為止。
B: 那我們平日去逛燈會,週末再去放天燈好了。
(By Eddy Chang, Taipei Times/台北時報張聖恩)
Publication Notes
Language Tip 語文小提示
Jade Rabbit The "Jade Rabbit" (or "Yu Tu"), also known as the "Moon Rabbit," is a mythical figure in Chinese folklore that lives on the moon with the Moon Goddess, Chang'e.
Comments will be moderated. Keep comments relevant to the article. Remarks containing abusive and obscene language, personal attacks of any kind or promotion will be removed and the user banned. Final decision will be at the discretion of the Taipei Times.