ENGLISH DIGEST 實用英語
Hooray! It's the Ouray Ice Festival 烏雷冰雪節:給所有人的「攀冰」天堂
The US state of Colorado is renowned as a destination for outdoor activities. The impressive Rocky Mountains, which cut through the state, are the focus of these pastimes, which include hiking and climbing. In Ouray, a town in southwestern Colorado, "ice climbing" is at the center of winter festivities. Every January since 1996, the town has held the Ouray Ice Festival. Its goal is to expose more people to the thrill of ice climbing.
The site of this exciting event is the Ouray Ice Park. The park, which fills a river gorge, features over a hundred different routes where expert ice climbers train. On the ice walls are sprinklers and pipes that are overseen by the park's "ice farmers." Over the course of the winter, these workers carefully cover the steep walls of the gorge with ice. They create exciting challenges that mirror natural ice formations like frozen waterfalls. They're also responsible for cleaning up hazards like icicles.
Professionals might come to the park to test their expertise, but Ouray Ice Park has been likened to a ski resort. That means that plenty of people just come to play! During the four days that the festival occupies in January, anyone can give ice climbing a try. There are classes to acquaint beginners of all ages, including young children, with the sport.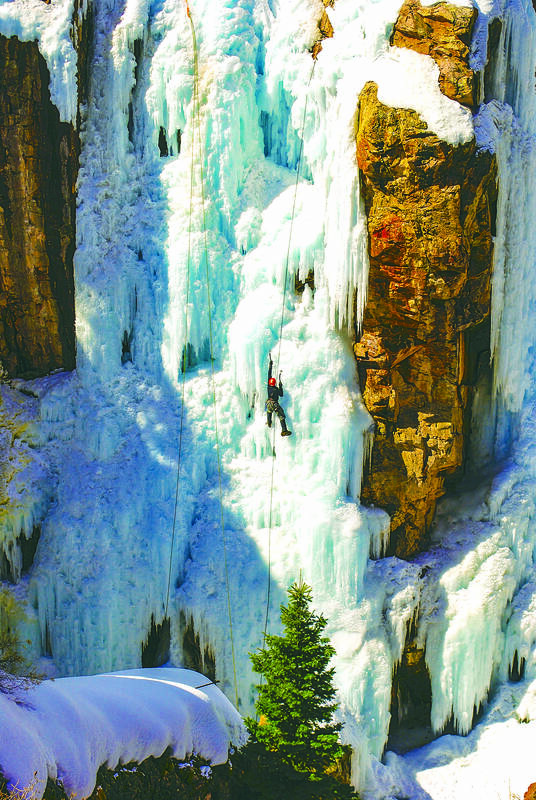 PHOTO COURTESY OF UNSPLASH / 照片:UNSPLASH提供
The fun isn't confined to the ice, either. Visitors can also attend movie screenings and costume parties—the atmosphere at the Ice Festival is warm and fun-filled, despite the wintry weather!
美國科羅拉多州是著名的戶外活動勝地。貫穿該州雄偉的洛磯山脈是這些娛樂的焦點,包含了健行及攀岩。在科羅拉多州西南部的烏雷鎮,「攀冰」是冬季慶祝活動的焦點。自西元1996年以來,該鎮每年一月都會舉辦烏雷冰雪節。它的目標是讓更多人接觸到攀冰的刺激感。
這項令人感到興奮的活動的舉辦地點在烏雷冰上公園。該園區河流峽谷遍布,以擁有超過一百條不同的路線為特色,讓專業的攀冰者可以在此訓練。冰壁上有灑水器和管線,由園區的「冰農」監管。在整個冬天期間,這些工人小心地將冰覆蓋在峽谷的峭壁上。他們創造出刺激的挑戰,與冰瀑等自然的冰層結構很相似。他們還負責清理冰錐等危險物。
專業人士可能會來這公園測試他們的技能,但烏雷冰上公園被比擬作是滑雪勝地。這意味著很多人只是來玩的!一月的冰雪節為期四天,任何人都可以嘗試攀冰。有一些課程可以讓包括幼童在內所有年齡層的初學者認識這項運動。
樂趣也並非局限於冰上。遊客還可以參加電影放映和化妝舞會──儘管天氣寒冷,冰雪節的氣氛卻是溫暖而充滿樂趣的!
MORE INFORMATION
hooray int. (表興奮或贊同)好啊
Rocky Mountains 洛磯山脈
pastime n. 消遣;娛樂
festivities n. pl. 慶祝活動
gorge n. 峽谷
sprinkler n. 灑水器
icicle n. 冰錐;冰柱
wintry adj. 寒冷的;冬季的
Key Vocabulary
1. renowned adj.
著名的;有聲望的
Our museum is honored to host an exhibition with artworks from several renowned artists.
我們的博物館很榮幸主辦一場多位著名藝術家作品的展覽。
2. thrill n. 刺激;興奮
Stephanie gets a big thrill out of performing live in front of an audience.
在觀眾面前現場表演讓史蒂芬妮興奮不已。
3. route n. 路線;途徑
Joy drives her car to work, and she always takes the same route every day.
喬伊開車上班,她每天總是走同樣的路線。
4. oversee vt. 監管;監督
(三態oversee-oversaw-overseen)
The human resources department will oversee all the new training manuals to make sure everything is included.
人力資源部門將監管所有新的培訓手冊,以確保所有事項都包含在內。
5. formation n. 結構;形狀;形成
There's a rock formation in Yehliu that looks like the ancient Egyptian queen Nefertiti.
野柳有一個岩石結構看起來像古埃及皇后娜芙蒂蒂。
6. professional n. 專業人士;專家
You should take your smartphone to a professional, rather than try to fix it yourself.
你應該把智慧型手機拿給專業人士修理,而不是試著自己修理。
7. occupy vt. 占據;占用(時間或空間)
A large marble statue occupied the center of the hotel lobby.
一座大型大理石雕像占據了飯店大廳中央的空間。
8. give sth a try 嘗試
I don't think I am very good at socializing, but I'll give it a try.
我不認為我很擅長社交,但我會嘗試看看。
9. acquaint vt. (使)認識;熟悉
acquaint oneself with sb / sth 熟悉;了解
Every new employee has to acquaint themselves with the company's policies and procedures.
每位新員工都必須熟悉公司的政策及程序。
學習音檔: https://magazine.english4u.net/Magdata/menu/lkmpb
《空中美語》雜誌APP免費下載: https://www.english4u.net/apps/index.aspx
免費收聽當月《空中美語》雜誌課文朗讀及解析 !
文章由AMC空中美語授權使用: https://www.english4u.net
Comments will be moderated. Keep comments relevant to the article. Remarks containing abusive and obscene language, personal attacks of any kind or promotion will be removed and the user banned. Final decision will be at the discretion of the Taipei Times.