SPEAK UP: What's your horoscope for this year? (3/3) 新年12星座運勢公開(三)
A: What else does astrologer Jesse Tang's horoscope reading say?
B: Librans may have romantic woes, Scorpios shouldn't waste time at work, and Sagittarians can show their ambition.
A: How about the other zodiac signs?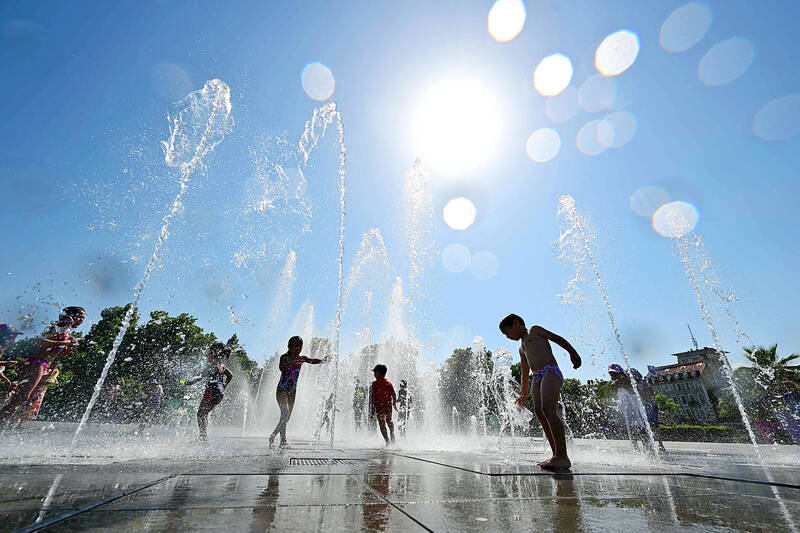 Children cool off in a fountain in Colmar, France. 兒童們在法國科爾馬一座噴泉裡降溫。
Photo: AFP 照片:法新社
B: Capricorns can bravely express their opinions, Aquarians can try to be practical, and Pisceans should avoid overworking.
A: 唐綺陽老師的12星座運勢還說了什麼?
B: 「天秤座」可能遇上爛桃花、「天蠍座」做事別浪費時間、「射手座」則要展 現企圖心。
A: 其它的星座呢?
B: 「魔羯座」應該勇於表達、「水瓶座」適合走務實路線、「雙魚座」則要避免 工作過勞。
(By Eddy Chang, Taipei Times/台北時報張聖恩)
Publication Notes
LANGUAGE TIP
語文小提示
12 astrological signs 7. Libra (天秤座, Sept. 24 – Oct. 23) 8. Scorpio (天蠍座, Oct. 24 – Nov. 22) 9. Sagittarius (射手座, Nov. 23 – Dec. 21) 10. Capricorn (魔羯座, Dec. 22 – Jan. 20) 11. Aquarius (水瓶座, Jan. 21 – Feb. 19) 12. Pisces (雙魚座, Feb. 20 – March 20)
Comments will be moderated. Keep comments relevant to the article. Remarks containing abusive and obscene language, personal attacks of any kind or promotion will be removed and the user banned. Final decision will be at the discretion of the Taipei Times.