ANALYTICAL ENGLISH 解析英語
Archaeology under the sea 水下考古:「潛」進歷史
Archaeologists tend to be stereotyped as people who work on land, digging up ancient ruins that lie below the surface of the earth. However, in recent decades, an exciting new form of archaeology has taken shape. This new practice is called underwater archaeology. Put simply, instead of looking under the ground for ancient artifacts, archaeologists dive deep into the ocean to conduct their searches. Underwater archaeology, although not without logistical difficulties, has been responsible for a number of high-profile findings in recent years.
The development of underwater archaeology owes much to concurrent technological progress. First and foremost, it was the invention of self-contained underwater breathing apparatuses, or scuba for short, that initially made this practice possible. Subsequently, more advanced technologies—such as light detection and ranging (or lidar) and submersibles, which are remotely controlled robotic vehicles that can travel underwater—have rendered underwater archaeology more straightforward by making ocean environments more accessible and easier to observe.
However, practical challenges still remain. For example, the archaeologists involved need to be skilled divers who can maneuver themselves underwater while properly handling any delicate discoveries. In addition, the success of a search relies heavily on good weather and water conditions.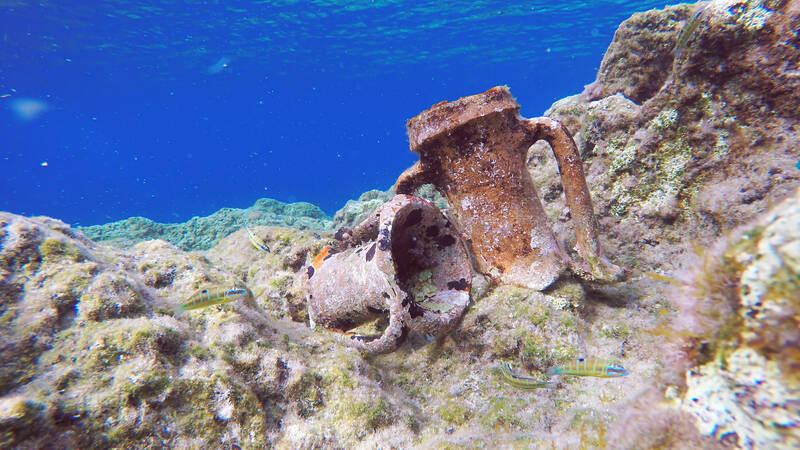 Photo courtesy of Shutterstock 照片:Shutterstock 提供
Nevertheless, underwater archaeology has led to some truly fascinating discoveries despite the limitations. In 1994, a group of archaeologists from France working in Egypt found the remains of the Lighthouse of Alexandria, one of the "Seven Wonders of the Ancient World," during a search in the modern city of Alexandria's Eastern Harbor. With such discoveries, it is clear why many of the world's archaeologists are now looking to deep waters to uncover the hidden treasures that lie beneath.
刻板印象中往往認為考古學家是在陸地上工作的人,他們挖掘地表下的古代廢墟。然而,近幾十年來,一種令人興奮的新考古形式已經成形。這種新做法被稱為「水下考古學」。簡而言之,考古學家不是在地下尋找古代文物,而是潛入海洋深處進行搜索。水下考古雖然並非沒有後勤方面的困難,但近年來出現了許多備受關注的發現。
水下考古學的發展很大程度上歸功於同時發展的技術進步。首先,是自給式水下呼吸器(簡稱「水肺」)的發明最初使這種做法成為可能。隨後,更先進的技術―― 例如光學雷達(縮寫為 lidar)和潛水器,它們是可以在水下行駛的遠端遙控機器人車輛──透過使海洋環境更容易到達及更容易觀察,水下考古變得更簡單。
然而,實際的挑戰仍然存在。例如,參與的考古學家需是熟練的潛水員,他們要能在水下控制自己的方向,同時妥善處理任何易碎的發現物。此外,搜索要成功,很大程度需仰賴良好的天氣和水況。
不過,儘管有所侷限,水下考古還是帶來了一些真正令人著迷的發現。1994年,一群在埃及工作的法國考古學家在現代城市亞歷山大東港的搜索中,發現了「古代世界七大奇觀」之一的亞歷山大燈塔的遺跡。有了這樣的發現,就很清楚為什麼世界上的許多考古學家現在都希望能在深海發現隱藏在海底的寶藏。
What Did You Learn?
1. Marvin is a professional archaeologist. Which of the following is most likely what he said, according to the passage?
(A) "Until now, no one has found underwater structures near the deep waters of Egypt."
(B) "Like that in the US, the development of underwater archaeology in Taiwan is still very new."
(C) "If you're interested in technical scuba diving, you can explore the ruins of the Lighthouse of Alexandria in France."
(D) "Conducting archaeological research underwater is a tough process; it is quite impossible for someone new to diving to do it."
2. According to the passage, which of the following statements is true?
(A) Scuba is a much more cutting-edge technology than lidar.
(B) In ancient times, Egypt was the only country to bury treasures underwater.
(C) Underwater archaeology has developed considerably because of simultaneous technological advancements.
(D) Underwater searches can be conducted in any kind of weather.
答案: 1. (D) 2. (C)
Word in Use
1. stereotype vt. 對…有刻板印象
Women are always stereotyped as more sensitive than men, which is not always true.
女性總是被定型為比男性更為敏感,這並不總是正確。
2. ruins n. 廢墟/遺跡(恆用複數)
The ancient ruins of the Parthenon are a must-see in Athens.
帕德嫩神廟的古遺址是雅典的必看景點。
3. conduct vt. 進行(研究、調查等)
The company has conducted a few experiments on animals.
這家公司已經進行了一些動物實驗。
4. high-profile a. 備受矚目的,引人注意的
The high-profile scandal was on every news channel in the country.
該國的每一個新聞頻道都在報導那件備受關注的醜聞。
5. subsequently adv. 後來,接著
John lost his job last month. Subsequently, he has had to do odd jobs to live.
約翰上個月失業了。後來,他必須靠打零工過活。
Practical Phrases
1. dig up . . . / dig . . . up 挖出…
Tina dug up a dying plant in her garden.
蒂娜挖起一株她花園裡快枯死的植物。
2. take shape 成形,形成
Our plans to build a house started to take shape last spring.
我們的建屋計畫在去年春天開始成形。
3. Put simply, S + V 簡言之,…
= Simply put, S + V
Put simply, Lily works harder than anyone else in the company.
簡單地說,莉莉是這家公司工作最認真的人。
4. owe A to B 將A歸功於B
I owe all my success today to my parents.
我今日的成功都歸功於我的父母。
5. First and foremost, . . . 首先/首要地,……
There are many things you need before baking a pie. First and foremost, you need a flat surface where you can prepare the crust.
烤派前有許多東西要先準備好。首先,你要有一個平坦的桌面來桿派皮。
聽文章朗讀及講解: https://ivy.pse.is/455bfu
本文出自常春藤解析英語雜誌: www.ivy.com.tw
Comments will be moderated. Keep comments relevant to the article. Remarks containing abusive and obscene language, personal attacks of any kind or promotion will be removed and the user banned. Final decision will be at the discretion of the Taipei Times.