ANALYTICAL ENGLISH 解析英語
DIY flower drying at home 乾燥花藝:凍結絕美時刻
For people who love flowers, drying flowers to keep them from withering is a fun hobby. Dried flowers last much longer than the normal lifespan of a flower. If you're interested in starting a flower collection or preserving a bouquet as a keepsake, here are two methods to try.
Air-drying Method
This is a traditional method used for centuries. It's also quite simple. First, cut off any excess leaves and trim the stems of your flowers, but leave at least six inches of length. After that, you use twine, ribbon, or string to tie your bunch of flowers securely together.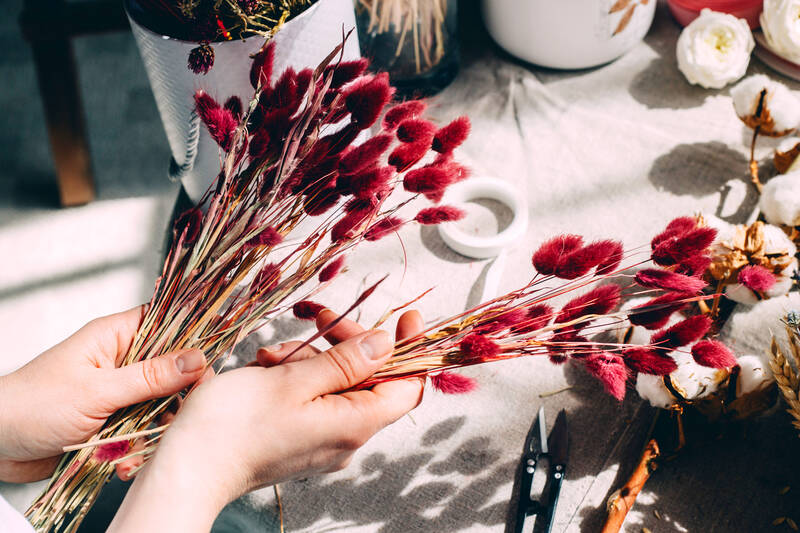 Photo courtesy of Shutterstock 照片:Shutterstock 提供
Then, all that is left to do is to hang them upside down to dry, but avoid hanging them in moist areas. Also, keep them away from light; otherwise, the flower's color may fade during the drying process, which takes about two to three weeks.
Microwave Method
This method is relatively new compared to the air-drying method. It is great for preserving flowers in full bloom. However, you'll need a microwave oven and something called silica gel. First, cut off the stems close to the base of the flower. Next, add silica gel to a microwave-safe container. The silica gel should be about two to three centimeters deep.
Then, place the blooms in the container, and sprinkle a bit more of the silica gel over the flowers and between the petals. Place the container into the microwave and heat it for two to five minutes. Once the flowers feel dry, take the container out of the microwave and cover it with a lid for 24 hours. Be sure to open the top slightly for it to vent.
Using either of these methods will create lovely decorations that look great for months or even years.
對愛花人士來說,將花乾燥以防止其枯萎是有趣的嗜好。乾燥花比花朵一般的壽命還要更長。如果你對於開始蒐集花或保存一束花作為紀念品有興趣的話,有兩個方法可以試試。
風乾法
這是已經實行數個世紀的傳統方法。它也十分簡單。首先,將任何多餘的葉子剪掉,並修剪花朵的莖,但留下至少六英寸的長度。在那之後,用麻繩、緞帶或細線將你的花束緊緊綁在一起。
接著,就只剩下把它們倒掛起來風乾了,但要避免把它們掛在潮濕的地方。此外,也別讓它們照到光;否則,花可能會在風乾過程中褪色,而風乾過程大約要兩到三週。
微波爐乾燥法
這個方法與風乾法相比要來得新許多。這個方法很適合用來保存盛開的花朵。不過,你會需要一臺微波爐跟矽膠。首先,從接近花的底部將莖剪掉。接著將矽膠放入可微波的容器。矽膠的深度要達約二到三公分深。
再來,把花朵放入容器中,在花朵上及花瓣之間再撒一些矽膠。將容器放入微波爐中,加熱三到五分鐘。一旦花朵摸起來乾乾的,就把容器從微波爐中拿出來,用蓋子蓋住二十四小時。記住,上面要微微打開來讓它透氣。
這兩種方法皆能創造出可愛的裝飾,能夠維持數個月或甚至數年。
What Did You Learn?
1. Which word in the passage means "becoming drier and smaller and starting to die?"
2. Which of the following statements are true, according to the passage?(多選題)
(A) Water might cause flowers to lose their color when they are hung to dry.
(B) Flowers must be dipped in silica gel before being placed in a dark room.
(C) The air-drying method uses less equipment than the microwave method.
(D) The microwave method has been around longer than the air-drying method.
(E) Before being put in a microwave to dry, flowers have to be hung for 24 hours.
(F) Flowers have to be removed from the stems if they are to be dried in the microwave.
答案
1. withering 2. (C)、(F)
Word in Use
1. wither vi. 枯萎
The girl is looking for roses that will never wither.
那女孩正在尋找永不凋謝的玫瑰。
2. lifespan n. 壽命
People in Japan enjoy a longer lifespan than those in most other countries.
日本人的壽命比其他大多數國家的人民長。
3. bouquet n. 花束
I like to keep a bouquet of roses on my desk.
我喜歡在書桌上擺放一束玫瑰花。
Anna's boyfriend brought her a bunch of roses.
安娜的男友帶了一束玫瑰花給她。
4. excess a. 多餘的;過多的
You need to pay extra for excess baggage.
行李超重你需多付一些費用。
5. trim vt. 修剪
The hair stylist trimmed too much hair from Kelly's bangs.
那名髮型設計師把凱莉的瀏海修得太短了。
Practical Phrases
1. cut off 剪掉∕移除
After getting the cast cut off, Zack kept it as a souvenir.
拆掉石膏後,柴克把它留下當作紀念。
2. upside down 上下顛倒
Passengers were thrown upside down when the plane rolled over.
飛機翻轉時,乘客被摔得四腳朝天。
3. keep. . . away from 使…遠離
Jimmy applied some insect repellent to the skin to keep bugs away from him.
吉米在皮膚上塗了一些防蚊液以使蚊蟲遠離他。
4. compared to / with. . . 與…相比
Compared to the mansion, our house is like a jail cell.
與那棟豪宅相比,我們的房子就像牢房一樣。
聽文章朗讀及講解: https://ivy.pse.is/455bfu
本文出自常春藤解析英語雜誌: www.ivy.com.tw
Comments will be moderated. Keep comments relevant to the article. Remarks containing abusive and obscene language, personal attacks of any kind or promotion will be removed and the user banned. Final decision will be at the discretion of the Taipei Times.