SPEAK UP: Meat products banned from entering Taiwan (2/2) 含肉食品入境恐受罰(二)
A: Why is the border control so tight in Taiwan?
B: Because African swine fever has been sweeping across the world.
A: Apart from meat products, what other items can't be carried into Taiwan?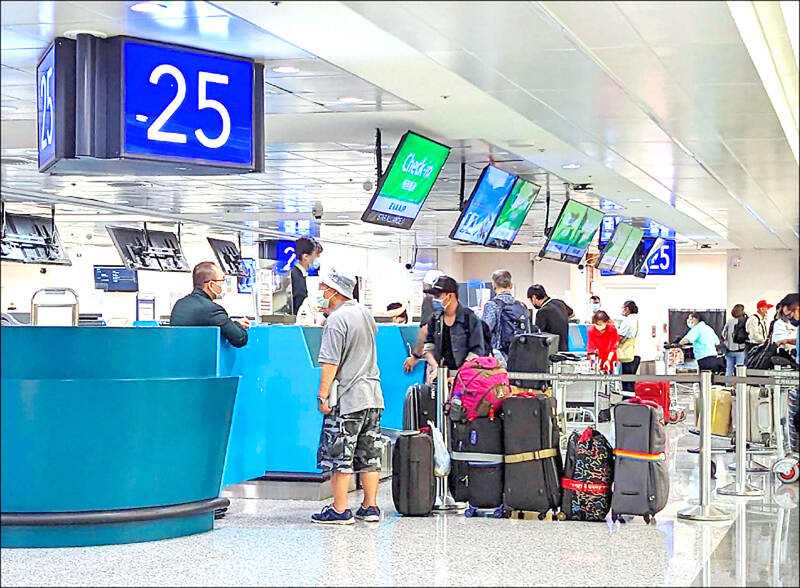 Taiwan Taoyuan International Airport.台灣桃園國際機場。
Photo courtesy of Taoyuan International Airport Corp. 照片:桃園國際機場公司提供
B: All snacks that contain meat, as well as pet food and even milk can't be carried into Taiwan.
A: 為什麼台灣邊境管制這麼嚴格?
B: 因為全球「非洲豬瘟」還是很嚴重!
A: 除了肉品以外還有什麼不能帶回台灣?
B: 像是含肉的所有點心、寵物食品甚至是鮮奶,都不能帶回來。
(Eddy Chang, Taipei Times/台北時報張聖恩)
Publication Notes
Language Tip 語文小提示
African swine fever African swine fever (ASF) is a highly contagious fatal disease of pigs caused by a myxovirus. The first known use of the term "African swine fever" was in 1935.
Comments will be moderated. Keep comments relevant to the article. Remarks containing abusive and obscene language, personal attacks of any kind or promotion will be removed and the user banned. Final decision will be at the discretion of the Taipei Times.