SPEAK UP ! 雙語會話
Taipei's best beef noodles restaurants revealed (1/2) 台北最強牛肉麵揭曉(一)
A: Hey, do you want to eat out this weekend?
B: Sure, let's get some beef noodles. The 2022 Taipei International Beef Noodles Festival revealed its winners just last month.
A: Great, I love braised beef noodles.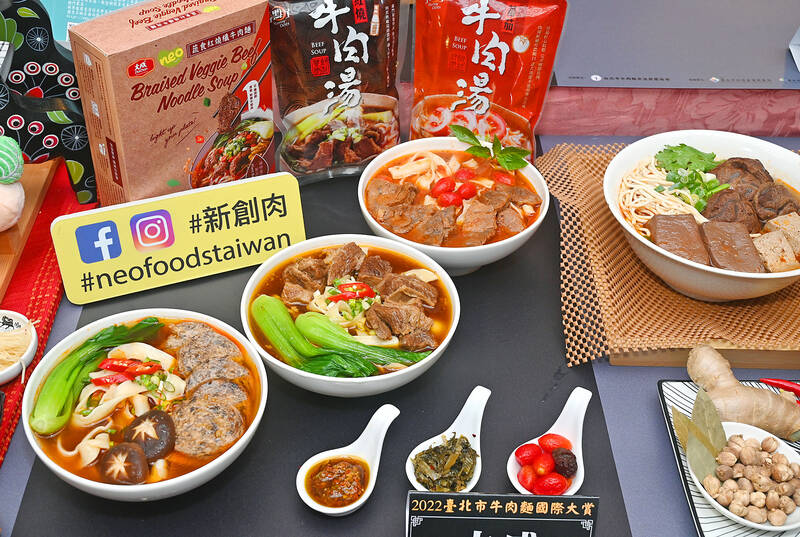 A news conference held to promote the 2022 Taipei International Beef Noodles Festival. 2022 台北牛肉麵節記者會。
Photo: Tien Yu-hua, Liberty Times 照片:自由時報田裕華
B: There are four categories this year. On top of the braised noodles, there are stewed and tomato ones, as well as convenience food packs.
A: Who won the braised beef noodles category?
B: Gold went to the Hotel Royal in Taipei, Two Food Restaurant in New Taipei City and Jing Da Fang in Taoyuan.
A: 你週末想出外用餐嗎?
B: 好啊,我們去吃牛肉麵吧,2022台北牛肉麵節上個月才剛公布得獎名單。
A: 太好了,我最愛吃紅燒牛肉麵。
B: 今年除了紅燒,還有清燉、番茄和調理包共四組。
A: 紅燒組得獎的有哪些?
B: 金獎有台北市「老爺大酒店」、新北市「兩支北方麵食館」、桃園市「金大方麵食館」。
Publication Notes
Language Tip 語文小提示
beef noodles In Taiwan, there are three major types of beef noodles: braised, stewed and tomato.
Comments will be moderated. Keep comments relevant to the article. Remarks containing abusive and obscene language, personal attacks of any kind or promotion will be removed and the user banned. Final decision will be at the discretion of the Taipei Times.