ENGLISH DIGEST 實用英語
Help our planet and save money by 'precycling' 「預循環」︰無包裝商店 告別包裝浪費!
After grocery shopping, we fill our cabinets and refrigerators with boxes, bags, bottles and cans. After they're used, they get thrown away. Yes, some of them can be recycled, but is there a more eco-friendly way of doing things? This is a question that can be answered with "precycling."
Precycling is the practice of avoiding waste before it's created. Before you buy something, you should check how much packaging is included and if that packaging is recyclable. You can also check if that packaging is made from recycled materials, or if the product needs packaging at all.
The "packaging-free store" is one concrete example of precycling. Instead of providing single-use packaging, these stores ask customers to bring their own reusable bags and containers when they shop there. One such store, Unpackaged.U in the Sanchong District of New Taipei City, has been growing in popularity.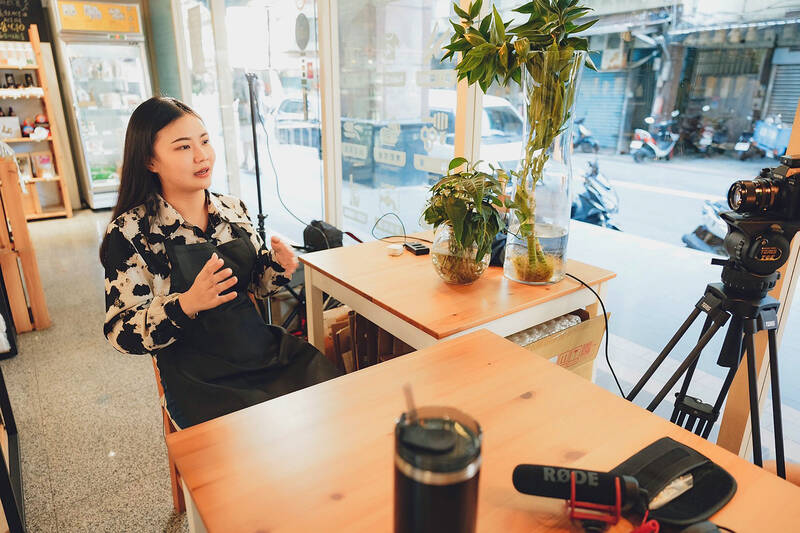 Unpackaged.U founder Chou Meng-hsuan. U 商店創辦人周孟宣。
Photo courtesy of New Taipei City Government's Department of Information 照片:新北市政府新聞局提供
The store sells cleaning products, dried fruits, honey, fair-trade spices and organic food. The products there are sold by weight and most have no packaging. The concept is not only ecological, but also economical. This is because customers buy only as much as they need instead of packages with set amounts.
Precycling helps us to significantly reduce the amount of waste we produce. By supporting precycling, we help contribute to a cleaner Earth.
到超市採購完後,我們將櫥櫃和冰箱裡堆滿盒子、袋子、瓶子和罐頭。使用後,它們會被丟棄。沒錯,其中一些是可以回收的,但有沒有更環保的做事方式呢?這是個可以透過「預循環」來回答的問題。
 預循環是在產生浪費之前,先避免浪費的做法。在你買東西之前,你應該先檢查它含有多少包裝,以及該包裝是否可以回收。你還可以檢查它的包裝是否由回收材料製成,或者這個產品到底是否需要包裝。
 「無包裝商店」就是預循環的一個實例。這些商店不提供一次性包裝,而是要求顧客在購物時帶他們自己可重複使用的袋子和容器。一間這樣的商店是位於新北市三重區的Unpackaged.U ,它越來越受到歡迎。
這家商店販售清潔用品、果乾、蜂蜜、公平貿易香料以及有機食品。那裡的產品按重量出售,大多數都沒有包裝。這種概念不僅是環保的,而且很節省。這是因為客戶只購買他們需要的數量,而非固定數量的一包。
 預循環幫助我們顯著地減少我們產生的廢物量。透過支持預循環,我們可以幫助促成更乾淨的地球。
MORE INFORMATION
precycling n. 預循環
reusable adj. 可重複使用的
ecological adj. 環保的;生態的
Key Vocabulary
1. recycle v. 回收
recyclable adj. 可回收的
You should recycle all of your bottles, cans and paper products.
你應該回收你全部的瓶子、罐子及紙製品。
2. packaging v. 包裝(材料)
The store clerk wrapped the glass cup in paper packaging and put it in a bag.
店員將玻璃杯用紙質包裝材料包好,並裝進袋子裡。
3. product n. 產品
The new shop on the corner sells groceries and some household products.
轉角的新商店販售雜貨和一些家用產品。
4. popularity n. 受歡迎;流行
Brad's popularity at school was due to him being the captain of the basketball team.
布萊德在學校受歡迎是因為他是籃球隊的隊長。
5. organic adj. 有機的
Many people believe organic food to be healthier, though this is not fully supported by research.
許多人相信有機食物比較健康,即便這並未充分被研究所證實。
6. significantly adv. 明顯地;顯著地
The weather today is significantly hotter than yesterday. Let's turn on the air conditioner.
今天的天氣明顯比昨天熱得多,讓我們打開冷氣吧。
7. contribute to 促成;導致
The millions of people protesting contributed to the government's decision to change the law. 上百萬人的抗議導致政府修改法律的決定。
學習音檔: https://magazine.english4u.net/Magdata/menu/0sr43
《空中美語》雜誌APP免費下載: https://www.english4u.net/apps/index.aspx
免費收聽當月《空中美語》雜誌課文朗讀及解析 !
文章由AMC空中美語授權使用: https://www.english4u.net
Comments will be moderated. Keep comments relevant to the article. Remarks containing abusive and obscene language, personal attacks of any kind or promotion will be removed and the user banned. Final decision will be at the discretion of the Taipei Times.