SPEAK UP ! 雙語會話
What's in an earthquake emergency kit? (2/2) 地震避難包裡有什麼?(二)
A: Apart from the seven essential items, is there anything else I should include in an emergency earthquake kit?
B: Yes. Less essential items include batteries, a radio, warm clothing, copies of identification documents, a light raincoat or poncho, disposable hand warmers and facial tissues.
A: Is there anything else?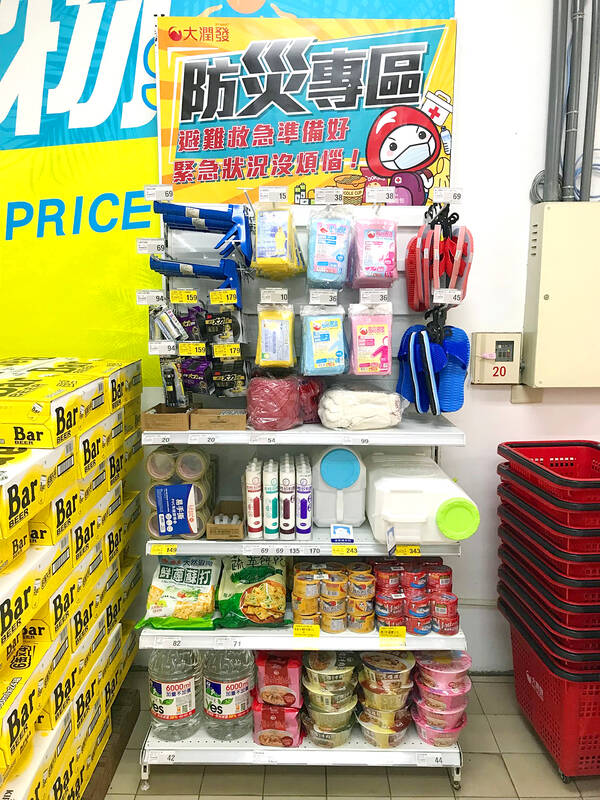 Essential items for disaster prevention. 必備防災物品。
Photo: Chen Hsien-yi, Liberty Times 照片:自由時報陳賢義
B: You could also include a towel, masks and stationery. You could even prepare a set of spare keys, a Swiss army knife and some cash.
A: I'm going to prepare an emergency kit right away.
B: Remember to check it once every six months and replace any items as necessary.
A: 除了七樣必備物品外,避難包裡還要放什麼?
B: 次要物品包括︰電池、收音機、禦寒衣物、證件影本、輕便型雨衣、暖暖包、面紙。
A: 還有呢?
B: 還有毛巾、口罩、文具用品,甚至備份鑰匙、瑞士刀、現金…等。
A: 那我快來準備。
B: 記得每半年檢查並更新一次唷。
(Translated by Edward Jones, Taipei Times/台北時報張聖恩)
Publication Notes
LANGUAGE TIP 語文小提示
raincoat / poncho A "raincoat" (雨衣) and a "poncho" (雨披) are similar. However, a poncho is a single piece or material that is worn by placing it over one's head; a raincoat is worn like a normal jacket with buttons or a zipper at the front.
Comments will be moderated. Keep comments relevant to the article. Remarks containing abusive and obscene language, personal attacks of any kind or promotion will be removed and the user banned. Final decision will be at the discretion of the Taipei Times.