ENGLISH DIGEST 實用英語
Scanning the environment with 'eDNA' testing 凡走過必留下痕跡 「環境DNA」讓生物無所遁形
Teams of scientists around the world have recently demonstrated the viability of airborne and waterborne DNA collection. The methods, which permit the analysis of large samples of soil, air or water for genetic material, rely on the concept of environmental DNA.
This "eDNA" is found in the innumerable particles of biological matter that creatures shed as they go about their lives. While these tiny scraps are invisible to the naked eye, eDNA tests can reveal a wealth of information to researchers.
For example, wildlife managers in the Susquehanna River system in Pennsylvania, US detected Didymosphenia geminata DNA through eDNA testing. This slimy species of algae, often called by the disgusting but apt name of "rock snot," disrupts ecosystems to which it is introduced. However, because scientists caught it early, the rock snot was contained to just one area of the river instead of spreading and leading to a wide-ranging ecological breakdown.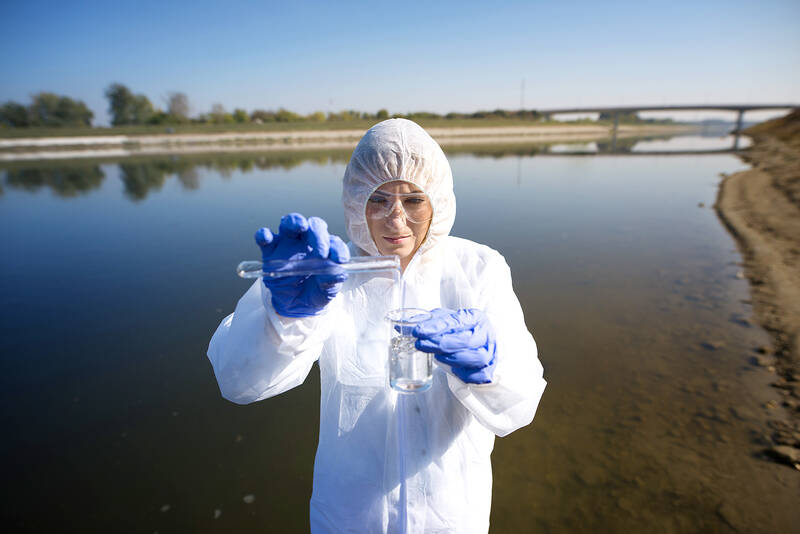 Photo courtesy of Freepik / 照片:Freepik 提供
In another usage of eDNA testing, researchers from the Hong Kong University Conservation Forensics laboratory tested eDNA collection and analysis methods at a seafood market. They pulled water samples from the drainage systems and identified 144 species, three of which were protected at an international level. While vendors may not have wished to answer questions from law enforcement about their wares, the eDNA from their stalls told the university forensics team everything they needed to know.
Though it seems like science fiction that a test of the air or water in an environment could tell us so much, it's a widely applicable tool. Even better, the more commonplace this tool becomes, the more uses scientists will find for it!
世界各地的科學家團隊最近證明了採集在空氣與水流中的DNA的可行性。這些方法仰賴於環境DNA的概念,能夠分析大量土壤、空氣或水中遺傳物質的樣本。
當生物持續存活,這種「環境DNA」就能在牠們脫落的無數生物物質微粒中被發現。雖然這些微小的碎屑肉眼無法看見,但環境DNA檢測能夠向研究人員揭露大量資訊。
舉例來說,美國賓州薩斯奎哈納河流域的野生生物管理員透過環境DNA檢測偵測到雙生雙楔藻的DNA。這種黏糊糊的藻類,通常被以「岩鼻涕」這種噁心但貼切的名字稱呼,它會破壞它所被引進的生態系統。然而,由於科學家們很早就注意到它,岩鼻涕因此僅被控制在河流的其中一個區域而沒有擴散並導致廣泛性的生態系統崩壞。
在環境DNA檢測的另一種用途中,香港大學鑑識保育實驗室的研究人員在海鮮市場測試了環境DNA的採集與分析方法。他們從汙水系統中抽取水中樣本並鑑定出一百四十四種物種,其中三種為受到國際等級保護的物種。雖然攤商可能不想回答執法人員詢問關於他們貨品的問題,但他們攤位上的環境DNA告訴了大學的鑑識團隊他們需要知道的一切。
儘管一項環境中空氣或水域的檢測就可以告訴我們這麼多東西看似科幻小說,但它已是一種能被廣泛應用的技術。更棒的是,這項技術變得越普遍,科學家就會找到越多的用途!
MORE INFORMATION
viability n. 可行性
airborne adj.
在空氣中(傳播)的
waterborne adj.
在水中(傳播)的
go about 從事;做
slimy adj. 黏糊糊的
algae n. pl. 藻類
contain vt.
遏止(有害之物擴散)
forensics n.
鑑識技術;法醫鑑定
drainage n.
汙水系統;下水道
wares n. pl.
商品;貨物
Key Vocabulary
genetic adj. 基因的;遺傳的
1. The laboratory is applying for additional funding for genetic research on new strains of plants.
這間實驗室正在申請額外的經費以做為新品種植物的基因研究之用。
2. innumerable adj. 無數的; 難以計算的
There are innumerable beautiful flowers all over this field. Aren't they lovely?
這片田野上開滿了無數美麗的花朵。它們不是很迷人嗎?
3. shed v. 脫落;掉落(三態shed-shed-shed)
Whenever I hold my dog, it always sheds its fur all over my shirt. 每當我抱著我的狗時,牠的毛總會掉滿我整件襯衫。
4. scrap n. 碎片;碎屑
Devin finished cutting the expensive cloth and swept all the fabric scraps into a basket for later use.
戴文裁剪完昂貴的布料後把所有的布料碎屑掃進一個籃子裡,以備之後使用。
5. wildlife n. 野生生物
Australia is full of interesting wildlife that isn't found anywhere else in the world, like koalas and kangaroos.
澳洲充滿著世界其他地方都找不到的有趣野生生物,例如無尾熊和袋鼠。
6. apt adj. 恰當的;合適的
A large fancy restaurant or a hotel ballroom are apt locations for a wedding party.
大間的高檔餐廳或飯店舞廳是適合舉行婚宴的場所。
7. breakdown n. 崩壞;瓦解;故障
The country suffered an economic breakdown after its military took over the government.
這個國家在軍方掌控政府後遭遇經濟崩盤。
8. enforcement n. 實施;執行 law enforcement 執法(單位或人員)
The people in this community have had conflicts with law enforcement that resulted in violence.
這個社區的居民與執法人員發生了導致暴力事件的衝突。
9. commonplace adj. 普遍的;常見的
Edith moved away from her hometown, as unemployment had become commonplace there. 伊迪絲搬離家鄉,因為失業在那裡已變得很普遍。
學習音檔: https://magazine.english4u.net/Magdata/menu/89t2h
《空中美語》雜誌APP免費下載: https://www.english4u.net/apps/index.aspx
免費收聽當月《空中美語》雜誌課文朗讀及解析 !
文章由AMC空中美語授權使用: https://www.english4u.net
Comments will be moderated. Keep comments relevant to the article. Remarks containing abusive and obscene language, personal attacks of any kind or promotion will be removed and the user banned. Final decision will be at the discretion of the Taipei Times.