SPEAK UP ! 雙語會話
Anime 'Spirited Away' celebrates 21st anniversary (2/2) 《神隱少女》21週年重映(二)
A: In addition to "Spirited Away," I'm a big fan of other anime by Studio Ghibli.
B: "Castle in the Sky," "Princess Mononoke" and "Howl's Moving Castle" are also spectacular.
A: I heard that Ghibli Park in Japan's Aichi Prefecture has finally confirmed it will open to the public from Nov. 1 this year.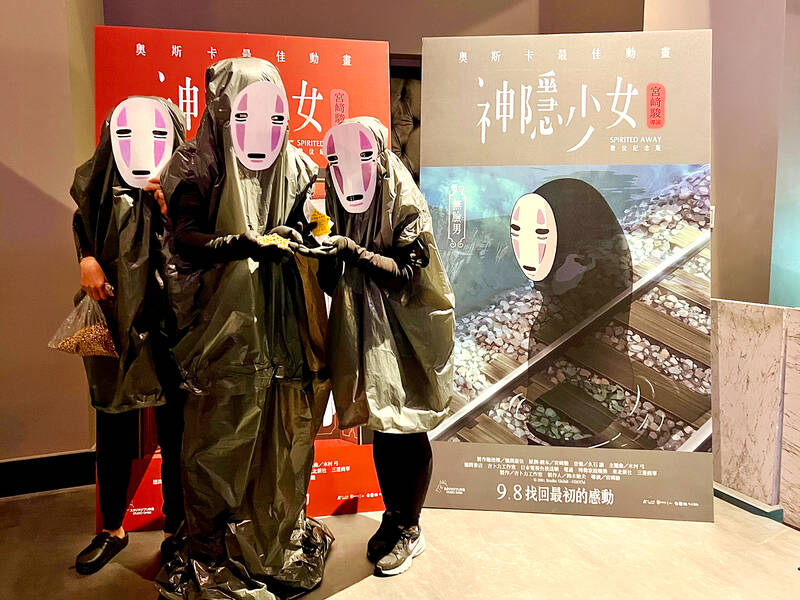 A special screening of Japanese anime "Spirited Away" in Taipei. 《神隱少女》台北特映會
Photo courtesy of Applause Entertainment 照片:甲上娛樂提供
B: Really? Do you know what the anime themes will be?
A: Each of Studio Ghibli's works will be on display, including a recreation of the food street scene from "Spirited Away," where the little girl's parents binge eat until they turn into pigs.
B: Wow, I'm going to book a ticket right away!
A: 除了《神隱少女》,我也很喜歡吉卜力其它的動畫。
B: 像是《天空之城》、《魔法公主》、《霍爾的移動城堡》,這些作品都很精彩。
A: 聽說位於日本愛知縣的吉卜力主題公園,終於確定將於今年十一月一日開園。
B: 真的嗎?會有哪些動畫主題啊?
A: 吉卜力的名作幾乎都會出現唷,像《神隱少女》中,讓少女的父母忍不住狂吃而變成豬的美食街,也將在此重現。
B: 哇,那我現在就來訂機票!
(Translated by Edward Jones, Taipei Times/台北時報張聖恩)
Publication Notes
Language Tip 語文小提示
spectacular The adjective "spectacular" is derived from the noun "spectacle," which means any event or performance that is particularly exciting or impressive, e.g. "The acrobatics display was a magnificent spectacle." "Spectacles" also means "glasses" 眼鏡, although that is now considered to be a rather old-fashioned term.
Comments will be moderated. Keep comments relevant to the article. Remarks containing abusive and obscene language, personal attacks of any kind or promotion will be removed and the user banned. Final decision will be at the discretion of the Taipei Times.