SPEAK UP ! 雙語會話
Anime 'Spirited Away' celebrates 21st anniversary (1/2) 《神隱少女》21週年重映(一)
A: How did you spend the Mid-Autumn Festival?
B: I watched a digitally remastered commemorative edition of the Japanese anime "Spirited Away."
A: I love that movie. The story of the little girl who wanders into a world ruled by spirits is so adorable.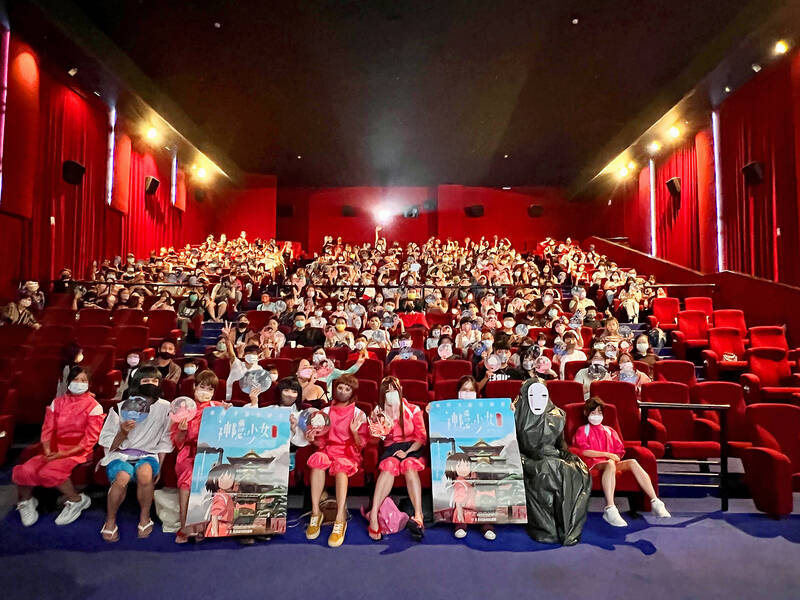 A special screening of "Spirited Away" in Taipei. 《神隱少女》台北特映會
Photo courtesy of Applause Entertainment 照片:甲上娛樂提供
B: It was first released back in 2001, so this year is the anime's 21st anniversary.
A: It's Studio Ghibli's most successful work, and it won an Oscar for Best Animated Feature.
B: For me, the most memorable moment from the anime is the scene where the little girl's parents are turned into pigs, and she shouts: "Don't get too fat, or they'll eat you!"
A: 你的中秋節過得如何?
B: 我去看了《神隱少女》數位紀念版。
A: 我很喜歡這部電影耶,劇中那位誤闖神靈世界的少女好可愛。
B: 這部動畫在二○○一年首映,今年已是二十一週年。
A: 它也是「吉卜力工作室」最成功的作品唷,更曾榮獲奧斯卡最佳動畫片獎。
B: 少女還對變成豬的父母大喊︰「不能吃太胖哦,太胖會被殺掉的!」真是令人印象深刻。
(Translated by Edward Jones, Taipei Times/台北時報張聖恩)
Publication Notes
Language Tip 語文小提示
work In this context, the noun "work" means 作品, but it can also mean job, 工作, and labor, 勞動. "Work" can also function as a verb.
Comments will be moderated. Keep comments relevant to the article. Remarks containing abusive and obscene language, personal attacks of any kind or promotion will be removed and the user banned. Final decision will be at the discretion of the Taipei Times.