華語簡易通 EASY CHINESE FOR YOU!
老闆,你們賣的是什麼? Boss, what are you selling?
對話 Dialogues
大為:老闆,你們賣的是什麼?
老闆:月餅。因為這個週末是中秋節。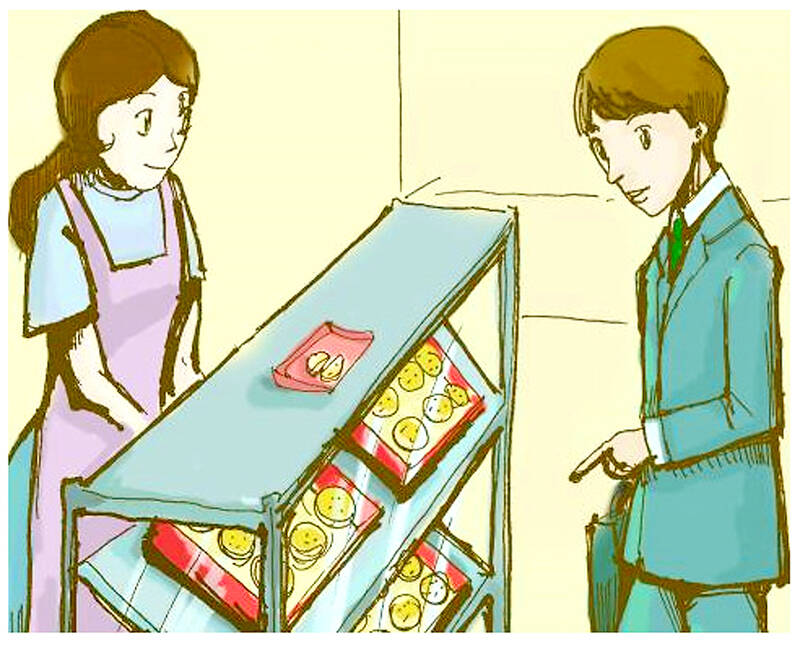 大為:你們中秋節都吃月餅嗎?
老闆:是啊!在台灣中秋節,我們吃月餅。
大為:那,我買兩個,哪種好吃?
老闆:都好吃。
大為:好。這兩種,我各買一個。
Dawei: Boss, what are you selling?
Boss: Mooncakes. This weekend is Mid-Autumn Festival.
Dawei: Do you all eat mooncakes on Mid-Autumn Festival?
Boss: Yes! On Mid-Autumn Festival in Taiwan, we eat mooncakes.
Dawei: Well, I'll buy two. Which one is delicious?
Boss: It's all delicious.
Dawei: Good. I'll buy one of each of these two.
生詞表 Vocabulary
賣 (mài) to sell
月餅 (yuè bǐng)
mooncake (shaped like the moon)
因為 (yīnwèi) because, because of
週末 (zhōumò)
weekend
中秋節(zhōng qiū jié)
Mid-Autumn Festival / Moon Festival
Get To Know Taiwan
生活小補帖
Chinese New Year
中國人在農曆新年的前夕,全家會在一起吃一頓豐盛的年夜飯。餐桌上通常有魚,可是不能把它吃完,因為這樣才能象徵「年年有餘」。
New Year's Eve and New Year's Day are celebrated as a family affair, a time of reunion. Meals celebrated on New Year's Eve include several special dishes, including a whole fish, to represent togetherness and abundance. Traditionally, part of the fish is left uneaten and the leftover means the family will have "enough to spare" and "accumulation of fortune year by year."
教材音檔 Audio Files
本文內容及音檔來源: 華語簡易通
For more audio files, visit the center's Web site at: http://mtc.ntnu.edu.tw/book/book-show-6.html
國立臺灣師範大學國語教學中心提供
Provided by NTNU Mandarin Training Center: http://www.mtc.ntnu.edu.tw/
COPYRIGHT c 2022 國立臺灣師範大學國語教學中心 ALL RIGHTS RESERVED
Comments will be moderated. Keep comments relevant to the article. Remarks containing abusive and obscene language, personal attacks of any kind or promotion will be removed and the user banned. Final decision will be at the discretion of the Taipei Times.