SPEAK UP ! 雙語會話
Serena Williams retires after US Open (2/2) 網球天后小威將封拍(二)
A: Serena Williams is already 40 years old, so it is increasingly hard for her to compete against younger athletes.
B: Also, after she married and had a child, her focus gradually shifted to her family life and her personal brand.
A: After Serena quits the international tennis circuit, I imagine she will still be able to attract eye-watering sums of money.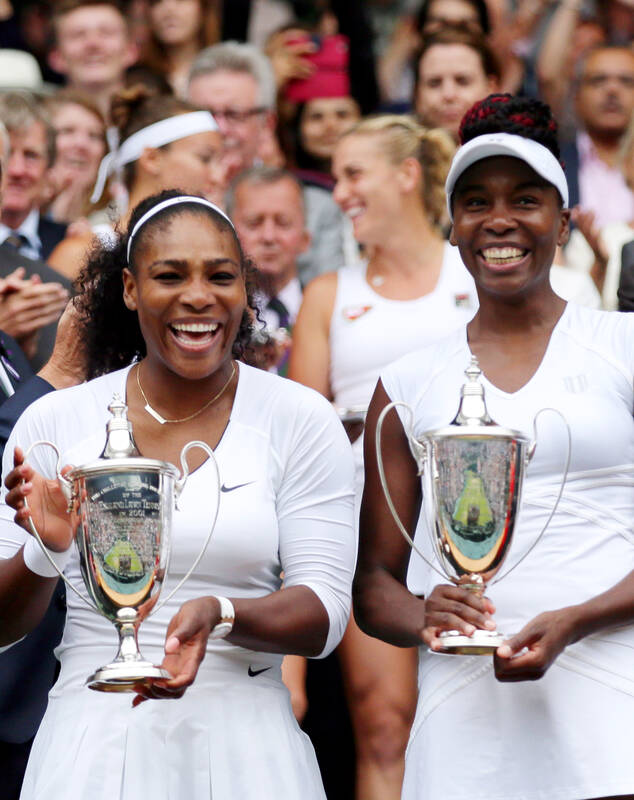 Venus Williams, right, and Serena Williams receive their trophies after winning the women's doubles final at the Wimbledon Tennis Championships in 2016. 大威廉斯(右)、小威廉斯於2016年再度勇奪溫布頓女雙金盃。
Photo: AP 照片:美聯社
B: Even though Serena was already in semi-retirement last year, she still earned more than US$35 million.
A: Having dominated international tennis for over two decades, I will really miss her.
B: She is such a huge talent, I'm sure that whatever field she turns to next, her star will continue to shine brightly.
A: 小威都四十歲了,跟年輕選手比賽越來越吃力。
B: 而且她在結婚生女後,逐漸把重心轉向家庭生活和個人品牌。
A: 從網壇退休後,她的吸金力應該還是很驚人吧?
B: 她去年在半退休狀態,還是大賺超過三千五百萬美元。
A: 威廉斯姊妹稱霸網壇二十幾年,我以後會很想念她們。
B: 她們這麼優秀,未來一定會在其它領域繼續發光發熱。
(Translated by Edward Jones, Taipei Times/台北時報張聖恩)
Publication Notes
Language Tip 語文小提示
her star will continue to shine brightly This phrase means that she will continue to be extremely successful.
Comments will be moderated. Keep comments relevant to the article. Remarks containing abusive and obscene language, personal attacks of any kind or promotion will be removed and the user banned. Final decision will be at the discretion of the Taipei Times.