SPEAK UP ! 雙語會話
K-drama 'Extraordinary Attorney' causes sensation (1/3) 《非常律師》成年度劇王(一)
A: Hey, you're watching "Extraordinary Attorney Woo." Me too!
B: Of course, it's the biggest K-drama of the year and a global phenomenon.
A: The lead actress Park Eun-bin plays a lawyer with autism. She plays the part so well that many viewers mistakenly believed the actress really is autistic.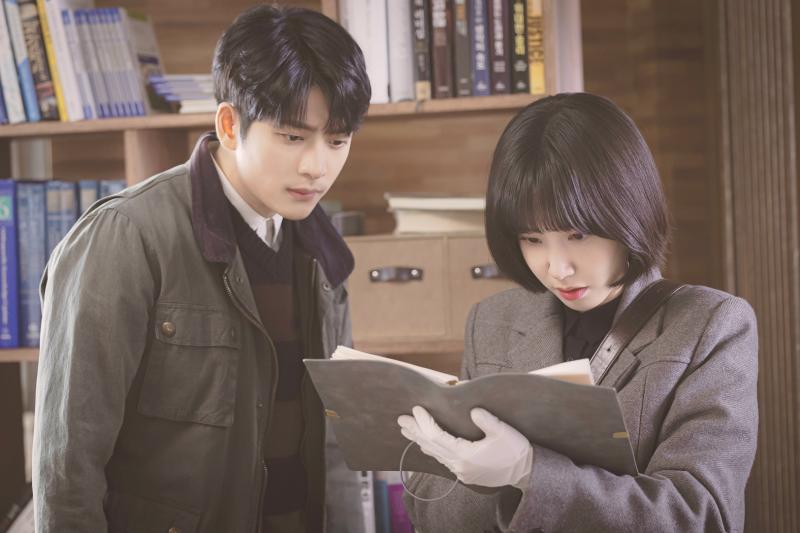 Actress Park Eun-bin and actor Kang Tae-oh in a still from "Extraordinary Attorney Woo." 《非常律師禹英禑》劇照中的韓星朴恩斌(右)、姜泰伍。
Photo courtesy of Netflix 照片︰網飛提供
B: Then there's lead actor Kang Tae-oh who plays the attorney's handsome assistant. He's totally my type!
A: 原來你也在看《非常律師禹英禑》,我也是。
B: 當然啦,這可是今年全球最紅的韓劇呢。
A: 女主角朴恩斌飾演自閉症律師,演技好到讓觀眾以為她真的有自閉症。
B: 飾演她同事的男主角姜泰伍也好帥唷,完全是我的菜!
(Translated by Edward Jones, Taipei Times/台北時報張聖恩)
Publication Notes
Language Tip 語文小提示
He's/she's (not) my type This means he or she is the type of person you are attracted to, on account of their attractive looks or personality. A similar phrase in British English (used only in the negative) is: "He's/she's/it's not my cup of tea," which can be used to describe any person or thing of which you have no interest.
Comments will be moderated. Keep comments relevant to the article. Remarks containing abusive and obscene language, personal attacks of any kind or promotion will be removed and the user banned. Final decision will be at the discretion of the Taipei Times.