SPEAK UP ! 雙語會話
You can bring some drinks over (3/5) 那你帶一些飲料過來好了(三)
A: Here's a menu. You can mark what you want to order on it.
B: OK, thanks. Wow, how come there are so many choices for the sweetness level? There is regular sugar, less sugar, half sugar, light sugar, sugar-free: Could you explain the difference between them?
A: To make it simple, it basically means 100%, 75%, 50%, 25% or zero sugar.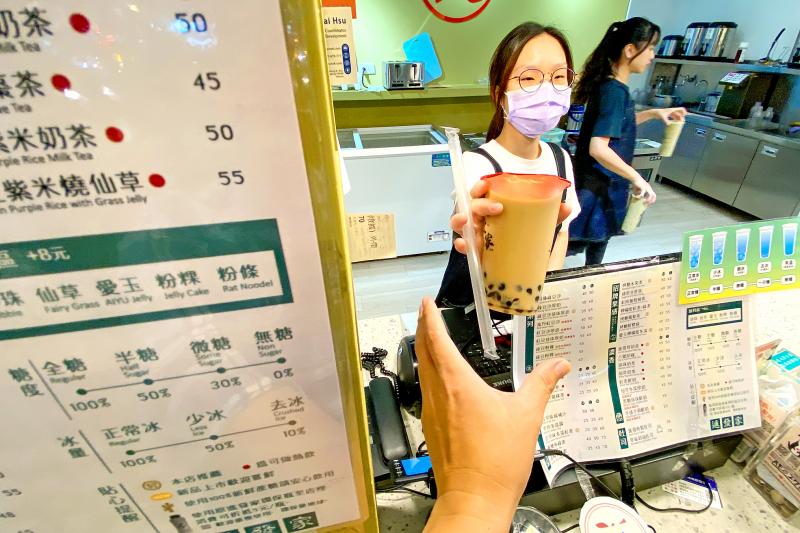 A store assistant hands a prepared hand-shaken drink to a customer. 店員將一杯製作好的手搖飲料遞給顧客。
Photo: George Tsorng, Liberty Times 照片:自由時報記者叢昌瑾
B: Oh. Then I'll have half sugar for all of them.
A: OK. Now, do you want regular ice, less ice, easy on the ice or no ice?
B: Good heavens, you even divide the amount of ice into categories. I'll have regular ice for all of them, just to keep things simple.
A: Sure. And would you like extra-large, large, medium or small?
A: 這張菜單給你,你要點什麼可以直接在上面劃記。
B: 好,謝謝。哇,怎麼甜度的選項有那麼多種啊?正常糖、少糖、半糖、微糖、無糖,差別在哪裡呀?可以麻煩你解釋一下嗎?
A: 簡單來說,大概就是100%、75%、50%、25%、0%的意思。
B: 喔。那都半糖好了。
A: OK。那請問你要正常冰、少冰、微冰,還是去冰?
B: 我的天哪,連冰塊的量也要分這麼細喔?就全部正常冰好了,省得麻煩。
A: 好的。那請問你要超大杯、大杯、中杯,還是小杯呢?
(Translated by Paul Cooper, Taipei Times/台北時報林俐凱)
Audio recordings for Speak Up! dialogues will be suspended until further notice due to the pandemic.
Publication Notes
LANGUAGE TIP 語文小提示
100% sugar
Obviously, the drink isn't actually 100% sugar, as that would be extremely unhealthy. The 100% just represents the highest degree of sugar content that the store provides in its beverages.
Comments will be moderated. Keep comments relevant to the article. Remarks containing abusive and obscene language, personal attacks of any kind or promotion will be removed and the user banned. Final decision will be at the discretion of the Taipei Times.