SPEAK UP ! 雙語會話
Why don't we make some egg fried rice? (3/5) 我們來做蛋炒飯好了!(三)
A: Do we have any garlic or onions? I've heard that aromatics like these can boost the immune system.
B: Yes, in the cabinet. Look, these are onions from Hengchun in Pingtung: I bought a big bag of them. And this garlic comes from Yunlin. It's famous for its fragrance and bite.
A: Wah, what are you like? We're in the middle of a pandemic and there you are, traipsing around the country buying up local specialties wherever you go.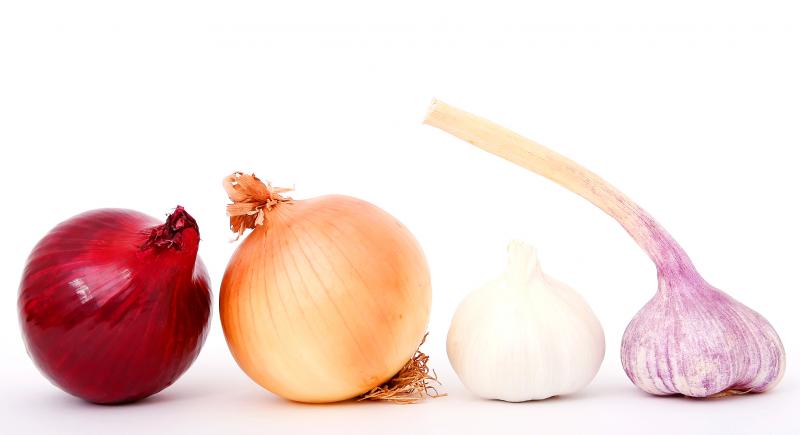 Two varieties of onions and two bulbs of garlic. 不同品種的洋蔥與大蒜。
Photo: Pixabay 照片:Pixabay
B: I got these all online, sent directly from source!
A: 家裡有大蒜或是洋蔥嗎?聽說這些香辛料可以增加免疫力。
B: 有,在櫃子裡。你看,這是屏東恆春的洋蔥,我買了一大袋。還有,這蒜頭是雲林出產的喲,很有名,又香又辣!
A: 哇,你是怎樣?疫情期間還全台走透透去買這些名產?
B: 這些網購都可以買得到啊!而且還是產地直送呢!
(Translated by Paul Cooper, Taipei Times/台北時報林俐凱)
Publication Notes
LANGUAGE TIP 語文小提示
Aromatics
The Chinese 香辛料, which add flavor to a dish, would ordinarily be translated as "spices," but includes onions and garlic. In English, onions and garlic are classed, together with carrots and celery, as "aromatics."
Comments will be moderated. Keep comments relevant to the article. Remarks containing abusive and obscene language, personal attacks of any kind or promotion will be removed and the user banned. Final decision will be at the discretion of the Taipei Times.