SPEAK UP ! 雙語會話
How are you finding the distance learning? (1/5) 你對遠距上課感想如何?(一)
A: So, how are you finding the distance learning?
B: It took a bit of getting used to at first, but I'm gradually getting to understand there are advantages and disadvantages.
A: I know exactly what you mean. I've been working from home for the last six months, and it's not without its benefits.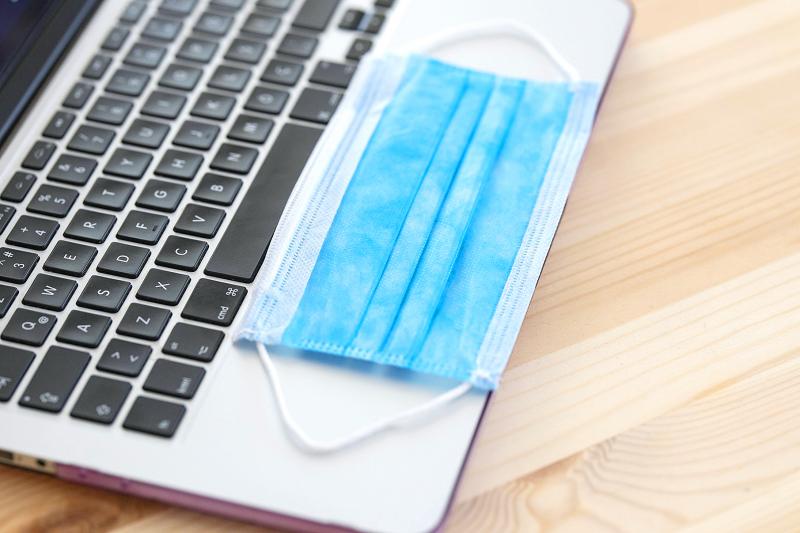 A laptop computer with a mask covering the mouse pad. 一片口罩置於筆記型電腦之觸控板上。
Photo: Pixabay 照片:Pixabay
B: I agree, on balance I would say the pros largely outweigh the cons.
A: 你對遠距上課感想如何?
B: 一開始要花點時間適應,不過我慢慢了解到它的好處跟壞處。
A: 我完全知道你的意思。我已經在家工作六個月了,發現這也不是沒有好處。
B: 我同意。總體來說,我覺得好處比壞處多。
(Paul Cooper, Taipei Times/台北時報林俐凱譯)
Audio recordings for Speak Up! dialogues will be suspended until further notice due to the pandemic.
Publication Notes
LANGUAGE TIP 語文小提示
Largely
Largely is not simply an adverb meaning "large." It does mean "to a great extent," but in the sense of "generally" or "for the most part," for example, "They are largely in agreement, but still have reservations."
Comments will be moderated. Keep comments relevant to the article. Remarks containing abusive and obscene language, personal attacks of any kind or promotion will be removed and the user banned. Final decision will be at the discretion of the Taipei Times.