SPEAK UP ! 雙語會話
Are you a dog person or a cat person? (2/5) 你是擁狗派還是擁貓派?(二)
A: Does the cat belong to the temple?
B: No. The temple acolyte says she goes there every day, but she's afraid of strangers, and just hides in a corner.
A: Doesn't anyone feed her?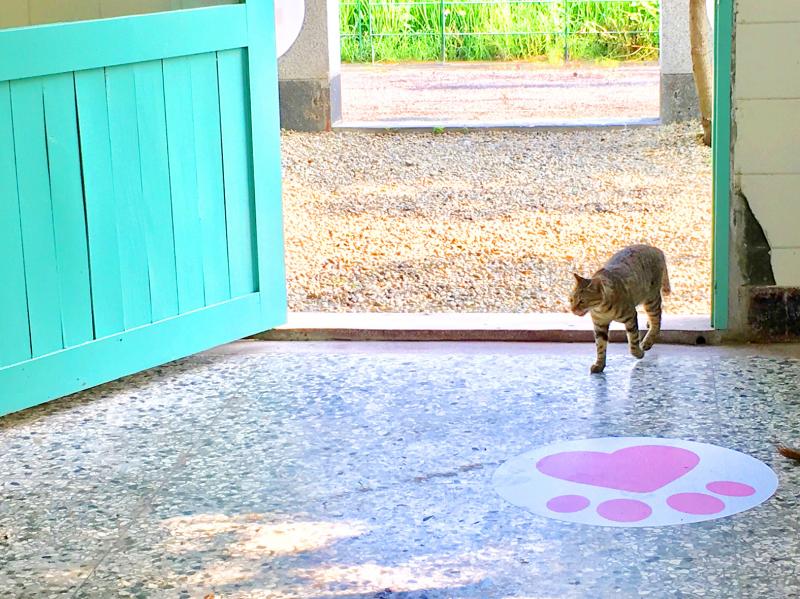 A cat strolls into a building in Cingshuei Veterans Village in Taichung on June 9, 2019. 清水眷村流浪貓成為「眷村貓屋」焦點。二○一九年六月九日攝於台中市。
Photo: Chang Hsuan-che, Liberty Times 照片:自由時報記者張軒哲
B: Yes, but she doesn't come out to eat. She eats the food I take, though!
A: Wow, Her Majesty has trained you well!
B: Ha, I think we have a special connection.
A: 那隻貓是廟裡養的嗎?
B: 不是。廟祝說牠幾乎每天都會來,可是牠蠻怕生的,只是躲在角落。
A: 沒有人餵牠嗎?
B: 有啊,可是牠都不出來吃。不過我帶去的東西,牠都會吃耶!
A: 哇!貓皇欽點你了!
B: 哈哈,我覺得我跟那隻貓還蠻有緣份的。
(Translated by Paul Cooper, Taipei Times/台北時報林俐凱)
English 英文:
Chinese 中文:
Publication Notes
LANGUAGE TIP 語文小提示
"Her Majesty"
A polite address when speaking to a queen. With a king, it would be His Majesty. Used jokingly here, because it's talking about a cat, albeit one that demands that it is accorded respect.
Comments will be moderated. Keep comments relevant to the article. Remarks containing abusive and obscene language, personal attacks of any kind or promotion will be removed and the user banned. Final decision will be at the discretion of the Taipei Times.