SPEAK UP ! 雙語會話
I really want to take that class! (4/5) 我好想要加選喔!(四)
A: Yesterday my roommate took me to sit in on one of the general education classes he'd selected, and good god! The teacher was great, I really want to take that class!
B: Because the teacher was hot?
A: Ha, there was that, but the main reason was the teacher's ability to explain complex concepts in a very simple way, such that even a dunce like me understood! I was really impressed by her.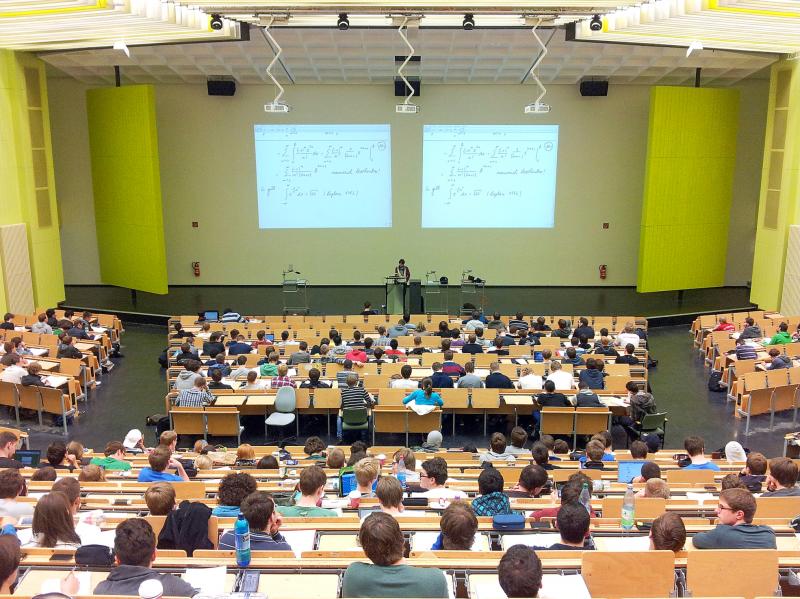 An instructor and students during class in a lecture hall. 老師與學生在階梯教室中上課。
Photo: Pixabay 照片:Pixabay
B: It was the complete opposite for me. I took an inter-departmental elective class today, and discovered my ex was there. I was knocked for six. I've decided I'm not going to take that class.
A: Seriously, you're going to drop the class for that reason? Grow up! Learn to let go.
A: 我昨天被室友拉去旁聽他選修的通識課,哇塞!老師好讚,我好想要加選喔!
B: 因為老師很美嗎?
A: 哈哈也算是啦。不過主要是因為老師可以把很複雜的概念用很簡單的方式解釋得好清楚,就連我這麼遲鈍的人都聽得懂欸!我真的很佩服她。
B: 我跟你相反,我今天上一堂跨系的選修課,竟然發現我前任也在班上!嚇死我了!我決定要退選這門課。
A: 拜託,因為這種原因退選,你真的很不成熟欸!你們難道不能好聚好散嗎?
(Translated by Paul Cooper, Taipei Times/台北時報林俐凱)
English 英文:
Chinese 中文:
Publication Notes
LANGUAGE TIP 語文小提示
"I was knocked for six"
To be "knocked for six" is a reference to the scoring system in cricket, and is therefore chiefly British English usage. It means to be really upset, overwhelmed or stunned by something.
Comments will be moderated. Keep comments relevant to the article. Remarks containing abusive and obscene language, personal attacks of any kind or promotion will be removed and the user banned. Final decision will be at the discretion of the Taipei Times.